Could Warby Parker Be Worth More Than Luxottica One Day?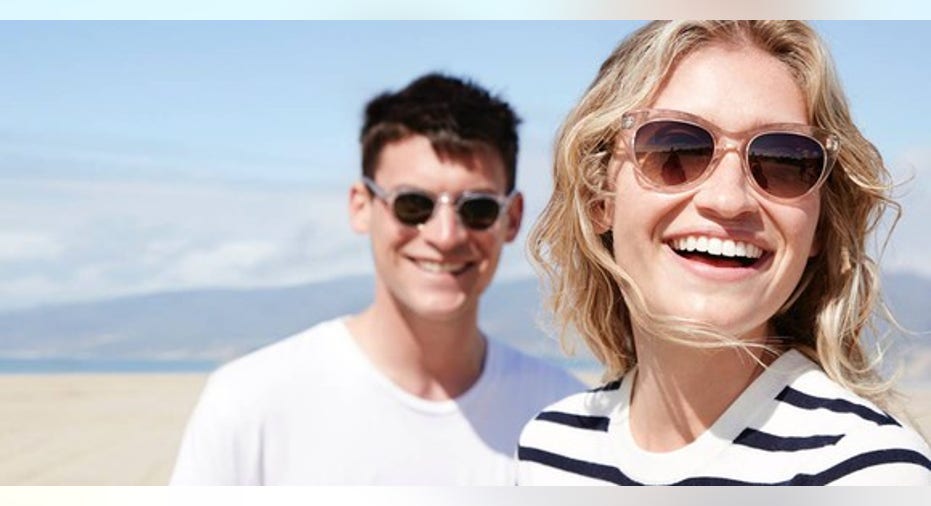 Eyewear maker Warby Parker's valuation hit $1.2 billion after its latest funding round in April 2015. The unicorn start-up is still considerably smaller than its only comparable publicly traded rival, eyewear giantLuxottica , which has an enterprise value of $24 billion. But looking ahead, could Warby, which was founded six years ago, be worth more than the 55-year-old eyewear maker one day?Let's take a closer look at both companies' growth trajectories, profitability, and valuations to find out.
Image source: Warby Parker.
How fast are Warby and Luxottica growing?
Warby Parker sells eyeglasses under $100 through a mostly online business model to avoid brick-and-mortar markups. Its custom-designed frames were well-received by fashion magazines like Elle, Esquire, and GQ, and its practice of shipping frames to customers to try on at home and donating a pair to charity for every pair purchased generated positive buzz.
Between 2013 and 2015, Warby's estimated revenue nearly tripled from $35 million to $100 million, and it opened brick-and-mortar showrooms across the country to build its brand. It also inked its first national retail partnership last August with Nordstrom to sell its eyewear in curated "pop-up" shops.
Luxottica sells glasses that costbetween $300 and $4,000. Its most well-known brands are Ray-Ban, Persol, and Oakley, andit licenses a wide variety of well-established brands like Chanel, DKNY, and Ralph Lauren . It also owns brick-and-mortarretailers LensCrafters, Pearle Vision, and Sunglass Hut.
Luxottica's business of selling high-priced eyewear through brick-and-mortar stores is essentially the polar opposite of Warby's online business of selling chic and affordable glasses online, but the older business is still posting healthy growth. Revenue rose 17% on a constant-currency basis to 9 billion ($10 billion) in 2015.
Warby's business looks more streamlined than Luxottica's and built for growth, but it's not profitable yet, and investments in showrooms and marketing will likely weigh down its bottom line. Luxottica is profitable, and its adjusted net income rose 24% to 875 million ($1.08 billion) last year.
Comparing valuations
If Warby Parker were valued as a public company, it would be trading with an EV/sales ratio of 12 based on its estimated valuation and 2015 sales. That would be a lofty figure for an eyewear retailer since Luxottica only has an EV/sales ratio of 2.5.
This means that Warby Parker would only be worth $250 million if it traded with an EV/sales ratio comparable to that of Luxottica, instead of the $1.2 billion valuation it was given. However, Luxottica's sales are only expected to rise about 5% this year, while Warby's sales might surge by double or triple digits.
Image source: Warby Parker.
However, it might be more sensible to compare Warby's valuation to other high-growth companies that have been posting 50% to 100% annual sales growth. Autohome , which owns Chinese automobile websites, has an enterprise value of $1.75 billion and is expected to post80% sales growth this year. Chinese finance site Yirendai has an enterprise value of $680 million and is expected to nearly double its sales this year.
Autohome has an EV/sales ratio of 3, and Yirendai has an EV/sales ratio of 7.5. If Warby Parker were valued more closely to these two high-growth companies, it would be worth $300 million to $750 million based on its estimated 2015 sales.
Will the underdog become bigger than the gorilla?
Venture capital investments generally inflate the value of start-ups in their early rounds of funding. While Warby Parker was valued at $1.2 billion last year, that doesn't necessarily mean that it has the fundamentals to support that figure during a public offering.
Warby's true value probably won't be known until its growth stabilizes and we understand how big its total addressable market actually is. But if Warby can keep posting double- or triple-digit sales growth over the next few years, stabilize its earnings, go public, and expand into new markets, it could eventually have a shot at challenging Luxottica.
After all, Luxottica had an enterprise value of just over $400 million when it went public in 1990.Assuming that Warby can grow its revenue by 50% every year for the next 10 years (and that's a tall order foranycompany), it could theoretically generate $5.8 billion in revenues by the tenth year. Unfortunately that would equal just over half of the revenue that Luxottica generated last year. But we should remember that it took Luxottica 26 years to hit its enterprise value of $24 billion, so Warby might eventually reach Luxottica's current valuation in a few decades if it continues to grow.
The article Could Warby Parker Be Worth More Than Luxottica One Day? originally appeared on Fool.com.
Leo Sun has no position in any stocks mentioned. The Motley Fool recommends Nordstrom. Try any of our Foolish newsletter services free for 30 days. We Fools may not all hold the same opinions, but we all believe that considering a diverse range of insights makes us better investors. The Motley Fool has a disclosure policy.
Copyright 1995 - 2016 The Motley Fool, LLC. All rights reserved. The Motley Fool has a disclosure policy.