Could This Be Why Pacific Biosciences of California Stock Climbed Today?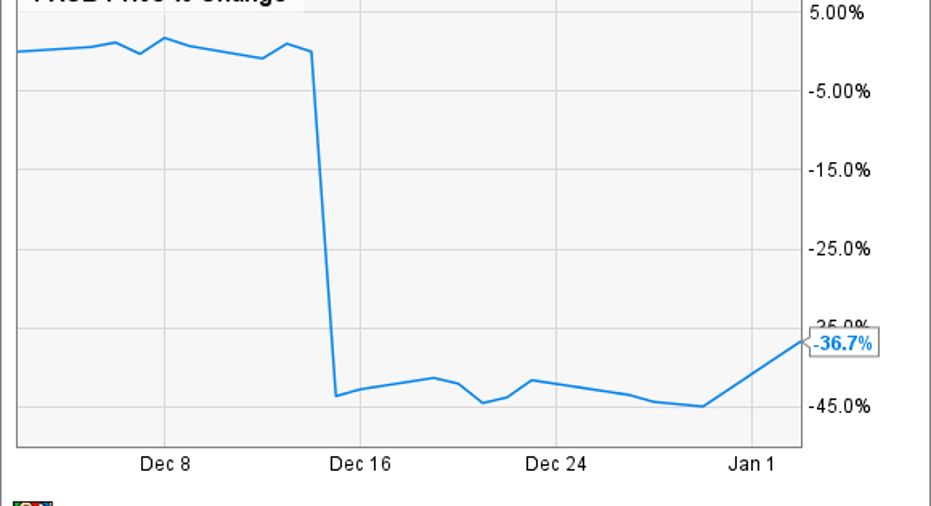 Image source: Getty Images.
What happened
Shares of Pacific Biosciences of California(NASDAQ: PACB), a DNA sequencing equipment specialist, gained about 14.5% in Tuesday's session. The reaction to the termination of a contract with Swiss pharma giant Roche last month was severe. It looks like value-minded investors are taking advantage of the stock's bargain bin price and perhaps salivating over the increased attractiveness of the company as an acquisition following the deal's termination.
So what
Halfway through last month, Pacific Biosciences stock tanked 45% after the company disclosed the contract termination, reflecting a loss of around $260 million in market capitalization. Following a startling guidance revision by industry peerIllumina, it seems fear gripped the market, leading to an overreaction.
While it's true that many had hoped the partnership with Roche would become a major growth driver for Pac Bio, the company had already achieved all of the milestones available under the agreement. During the third quarter last year, product and service revenue grew a stunning 109% over the prior-year period to $21.5 million.
Now what
Revenue from Roche recognized during the third quarter was just $3.6 million. Although it was a high-profile partnership with a diagnostics leader, it hardly seems losing the contract was worth such a severe beating.
Last year, the company recorded some impressive sales growth despite supply constraints in the first half of the year. Third-quarter figures suggest relief of the bottleneck is having the expected effect. Management recently stated it expects its top line to expand by another 40% to 60% this year, and it doesn't look like losing the Roche contract will make hitting those numbers difficult.
While investors should remain cautious until we can be certain Pacific Biosciences can meet its own lofty sales growth expectations, its enterprise value of just $277.6 million seems awfully cheap. Now that potential acquirers from its consolidating industry are no longer deterred by the Roche partnership, it's even more attractive.
10 stocks we like better than Pacific Biosciences of California When investing geniuses David and Tom Gardner have a stock tip, it can pay to listen. After all, the newsletter they have run for over a decade, Motley Fool Stock Advisor, has tripled the market.*
David and Tom just revealed what they believe are the 10 best stocks for investors to buy right now... and Pacific Biosciences of California wasn't one of them! That's right -- they think these 10 stocks are even better buys.
Click here to learn about these picks!
*Stock Advisor returns as of Nov. 7, 2016
Cory Renauer has no position in any stocks mentioned. You can follow Cory on Twitter @coryrenauer or LinkedIn for more healthcare investing insight.The Motley Fool owns shares of and recommends Illumina. The Motley Fool recommends Pacific Biosciences of California. The Motley Fool has a disclosure policy.