Could This Be an Overlooked Opportunity for Las Vegas Investors?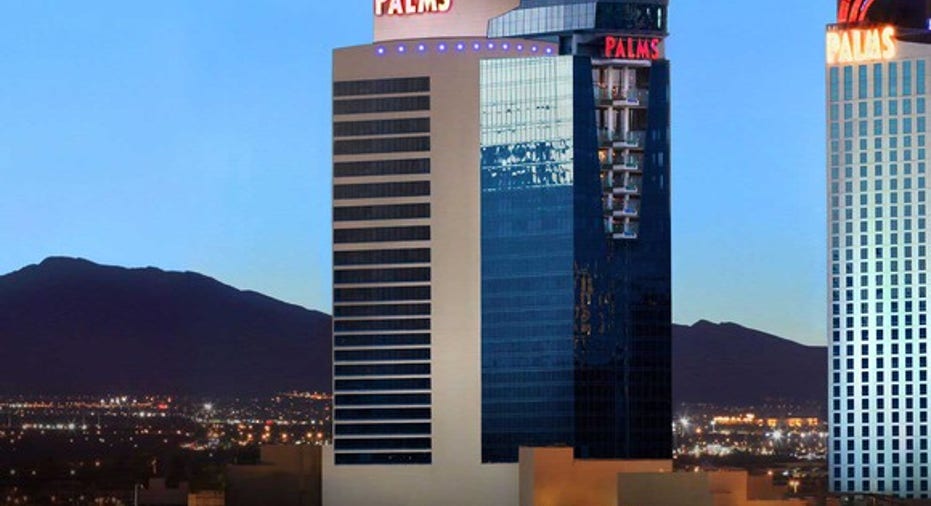 Only a small number of publicly traded companies are big players in the Las Vegas gambling market, but a newer entrant could be making a big splash in the years ahead. Red Rock Resorts (NASDAQ: RRR) is the parent company of multiple resort casinos in Las Vegas, including the namesake Red Rock Resort in the north part of the city, about 10 miles from the Strip; the famous Palms Casino Resort via an acquisition last year; and other properties.
Red Rock owns and/or operates 22 various casino and entertainment properties and calls itself "an established leader in Native American gaming," with various properties on native lands. In Las Vegas specifically, the company owns 20 properties that combined have over 20,000 slot machines and 4,750 rooms. Red Rock Resorts is the product of the company formerly called Station Casinos, which was public before being taken private in 2007, ended up declaring bankruptcy, and eventually restructured to the current company that went public again last year.Could this be an overlooked gem in a growing industry?
Image source: Getty Images.
Red Rock's first year public
Red Rock went public again in April 2016, and since then the stock has grown about 12%. The company reported mixed fourth-quarter and full-year 2016 earnings on March 7, and here's how the company's 2016 stacked up against Las Vegas behemothsWynn Resorts(NASDAQ: WYNN), andMGM Resorts International(NYSE: MGM):
| Company | Market Cap | P/E | 2016 Revenue | Change (YOY) | 2016 EPS | Change (YOY) |
| --- | --- | --- | --- | --- | --- | --- |
| Red Rock Resorts | $2.5 billion | 21 | $1.45 billion | 7.4% | $1.03 | (33%) |
| Wynn | $11.7 billion | 48 | $4.46 billion | 9.6% | $2.39 | 24% |
| MGM | $15.3 billion | 14 | $10.3 billion | 3% | $1.94 | * |
Data source: Yahoo! Finance and companies' 2016 earnings reports. EPS = earnings per share, YOY = year over year.*MGM Resorts posted a loss of $0.82 per share in 2015.
Red Rock's growth potential
Red Rock closed a deal in October to buy the Palms Resort and Casino for $312.5 million.The iconic Palms resort has one of the most expensive hotel rooms in Las Vegas -- a two-story suite that costs as much as $35,000 per night. Other than the ability to expand its overall portfolio with more elite service offerings, the Palms acquisition also gives Red Rock Resorts better access to the growing Las Vegas Strip, since most of the companies properties are off of the strip and cater more to Las Vegas locals.
The Palms. Image source: Palms.com / Red Rock Resorts.
Red Rock's CFO said in the acquisition announcement that "[w]ith its appeal to both Las Vegas residents and tourists alike, the Palms is a hybrid gaming property that is uniquely positioned to benefit from the strong economic trends in southern Nevada and record visitation levels in Las Vegas." According to the Las Vegas Convention and Visitors Authority, 43 million people visited Las Vegas in 2016, but the large majority of them stayed on the Strip. Red Rock could gain much more from the growing Strip thanks to its new property.
Additionally, Red Rock Resorts seems to have plenty of room to continue developing off the Strip as well. The company says it has sevengambling-entitled development sites, a total of about 398 acres, in Las Vegas and Reno, that it could still build on. The company could also develop more properties within its Native American and other segments, though Las Vegas operations still make up about 93% of total revenue.
The company certainly faces some risks as well, including an already very competitive market around the Las Vegas Strip that could make future growth there challenging, along with a relatively high debt load that looks stable but could still make future credit harder to get. Still, average analyst estimates are for Red Rock's EPS to grow around 30% in 2017 year over year, and the company's price to forward-looking earnings estimates of below 15 looks attractive for a company that has so many avenues of growth as it becomes a more established company in the gambling market.
Put that together, and this could be an overlooked opportunity for investors willing to make a bet on this young company.
10 stocks we like better than Red Rock Resorts (Class A)When investing geniuses David and Tom Gardner have a stock tip, it can pay to listen. After all, the newsletter they have run for over a decade, Motley Fool Stock Advisor, has tripled the market.*
David and Tom just revealed what they believe are the 10 best stocks for investors to buy right now... and Red Rock Resorts (Class A) wasn't one of them! That's right -- they think these 10 stocks are even better buys.
Click here to learn about these picks!
*Stock Advisor returns as of February 6, 2017
Seth McNew has no position in any stocks mentioned. The Motley Fool has no position in any of the stocks mentioned. The Motley Fool has a disclosure policy.