Could Real-World Studies Boost These 3 Big Pharma Stocks' Prospects?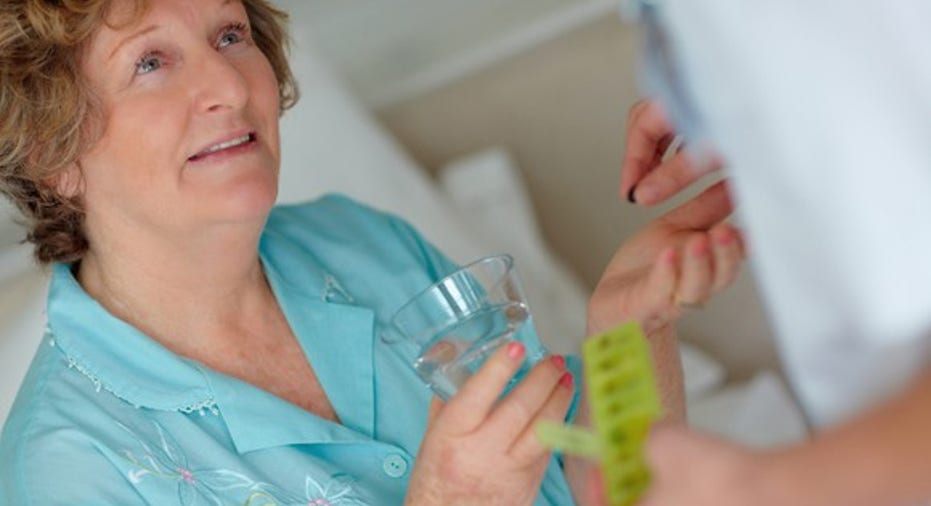 Pharmaceutical companies rely primarily on rigorous randomized clinical trials to demonstrate efficacy and safety for their prescription drugs. However, data from real-world usage of drugs has become a bigger factor in helping to convince physicians and patients to go with one medication over another.
AstraZeneca (NYSE: AZN), Bristol-Myers Squibb (NYSE: BMY), and Pfizer (NYSE: PFE) are three major drugmakers that recently reported good news from real-world studies. Could these findings boost these big pharma stocks?
Image source: Getty Images.
The real deal for a new class of diabetes drugs
On March 19, AstraZeneca announced results from the first largereal-world evidence studyevaluating the risk of hospitalization for heart failure and death for patients with type 2 diabetes treated with a newer class of diabetes medicines, SGLT-2 inhibitors. This study, dubbedCVD-REAL, looked at data from more than 300,000 patients across six countries.
AstraZeneca found thatSGLT-2 inhibitors reduced the rate offor heart failure by 39% compared to other type 2 diabetes medicines. In addition, the new class of drugsand reduced death from any cause for type 2 diabetes patients by 51% versus other kinds of medication.
These results are great news for AstraZeneca's Farxiga. The SGLT-2 inhibitor generated revenue of $835 million last year, becoming the company's most successful diabetes drug ever. But while the real-world study results should help AstraZeneca, they could also provide a boost to rivals.
The CVD-REAL study included Johnson & Johnson's (NYSE: JNJ) Invokana plus Jardiance, which is co-marketed byBoehringer Ingelheim and Eli Lilly. Because data from these other SGLT-2 inhibitors were part of the study, the boost for AstraZeneca probably won't be as significant as it would have otherwise. Boehringer and Lilly could be the biggest beneficiaries, since Jardiance already carries a label indicating reduction in risk of cardiovascular disease.
Thinning the herd?
There's plenty of fierce competition in the market for blood-thinning drugs. Johnson & Johnson's Xarelto and Boehringer's Pradaxa are both big sellers. But thanks to a recent real-world study, Bristol-Myers Squibb and Pfizer could gain an upper hand versus other anticoagulants.
The two big drugmakers announced results on March 17 from areal-world data analysis of the U.S. Medicare database comparing their drug, Eliquis, along with Xarelto and Pradaxa, against warfarin. Treatment with Eliquis reduced the risk of stroke by 60% versus warfarin. By comparison, Xarelto reduced stroke risk by 28%, while reduction of stroke risk for Pradaxa wasn't statistically significant.
Perhaps the bigger news was that Eliquisreduced major bleeding by 49% compared to warfarin. Neither Xarelto nor Pradaxa demonstrated significant bleeding reduction versus warfarin in the real-world study.
Bristol-Myers Squibb made more than $3.3 billion from Eliquis last year, while the drug generated sales for Pfizer of at least $1.6 billion. The recent results could help drive sales even higher.
Pros and cons for real-world studies
As Bristol-Myers Squibb and Pfizer noted in their announcement, "real-world data analyses cannot be used as stand-alone evidence to validate the efficacy and/or safety of a treatment." Such real-world studies like the companies conducted can only point to association between factors -- but not causation.That's a drawback for real-world studies.
However, these studies can nonetheless be important. You can bet that physicians who practice in the related therapeutic areas pay attention to these results. It wouldn't be surprising if these latest results add up to more prescriptions for SGLT-2 inhibitors and for Eliquis over the long run. That should be especially good news for Bristol-Myers and Pfizer.
10 stocks we like better than Bristol-Myers SquibbWhen investing geniuses David and Tom Gardner have a stock tip, it can pay to listen. After all, the newsletter they have run for over a decade, Motley Fool Stock Advisor, has tripled the market.*
David and Tom just revealed what they believe are the 10 best stocks for investors to buy right now... and Bristol-Myers Squibb wasn't one of them! That's right -- they think these 10 stocks are even better buys.
Click here to learn about these picks!
*Stock Advisor returns as of February 6, 2017
Keith Speights owns shares of Pfizer. The Motley Fool owns shares of and recommends Johnson and Johnson. The Motley Fool has a disclosure policy.