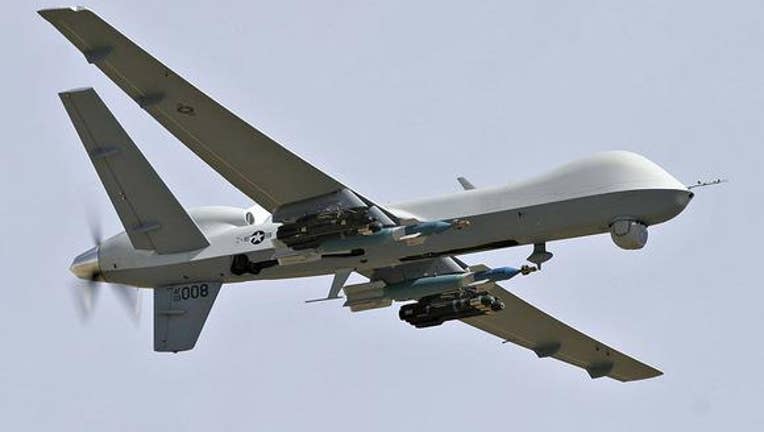 Artist's depiction of UTAP-22 in flight. Image source: Kratos Defense.
When it comes to building unmanned aerial vehicles that can fly high, fly fast, and shoot bad guys, General Atomics dominates the industry. There's just one problem, from an investor's perspective:
You can't invest in it.
General Atomics, you see, is a privately owned aerospace and defense company. Its stock does not trade publicly, and so you cannot buy it. Now, there are other companies involved in the combat drone industry. Tiny AeroVironment has a hunter-seeker mini-drone called Switchblade, which can be guided to a target and dive into it, exploding kamikaze-style. Textron has dabbled in arming its Shadow drones with small munitions. Northrop Grumman is arguably farthest along in developing an armed, aircraft carrier-capable drone with its X-47B (although X-47B isn't armed yet).
One company you've probably never heard of, though, may be closing the gap with General Atomics faster than all the others. Its name is Kratos Defense & Security , and it's the subject of today's column.
Introducing Kratos -- and its droneWe've been hearing rumblings about Kratos and its new combat drone for a few months now. Earlier this month, though, the drone -- dubbed UTAP-22 -- emerged from the cloud cover when Defense-Update.com reported on its successful test flight out at the Navy test range at China Lake in California.
Kratos describes UTAP-22 as a jet-powered, low-cost, unmanned aircraft with fighter-like-performance. Unlike slower drones such as General Atomics' Reaper, UTAP-22 is said to be "capable of operating at tactical speeds, in a hostile environment."
During the China Lake flights, UTAP-22 demonstrated such skills as flying in formation with a piloted Marine Corps AV-8B Harrier jet and with other UTAPs, exchanging data with the Harrier wirelessly, and operating under remote control from a distant base, with a single controller operating multiple combat drones. Other than that, Kratos is keeping most details on UTAP-22's capabilities hush-hush at this time, "for competitive and other considerations."
No weapons were fired, as far as we know. But UTAP-22 is designed to be an unmanned aerial combat vehicle. So weaponizing the drone is clearly where Kratos is heading with this project.
What it means to investorsWill UTAP-22 succeed in competing with, or even replacing, General Atomics' combat drones such as the jet-powered Reaper? That remains to be seen -- and probably depends a lot on the new drone's specifications, the details of which remain shrouded in mystery.
At the very least, though, UTAP-22's successful test flights suggest that the competitive field is getting more crowded for second-string would-be combat drone makers such as AeroVironment, Textron, and Northrop Grumman. While General Atomics is clearly the target everyone else is shooting for, Kratos' arrival on the scene with a fully functioning combat drone makes beating GA just a little bit harder for everyone else.
General Atomics' armed Reaper drone. Still king of the hill, and top of the reap. Image source: General Atomics.
The article Could Kratos Challenge General Atomics in Drones? originally appeared on Fool.com.
Rich Smithdoes not own shares of, nor is he short, any company named above. You can find him onMotley Fool CAPS, publicly pontificating under the handleTMFDitty, where he's currently ranked No. 308 out of more than 75,000 rated members.The Motley Fool recommends AeroVironment. Try any of our Foolish newsletter services free for 30 days. We Fools may not all hold the same opinions, but we all believe that considering a diverse range of insights makes us better investors. The Motley Fool has a disclosure policy.
Copyright 1995 - 2015 The Motley Fool, LLC. All rights reserved. The Motley Fool has a disclosure policy.