Could Intel Pose a Threat to NVIDIA's Driverless Car Business?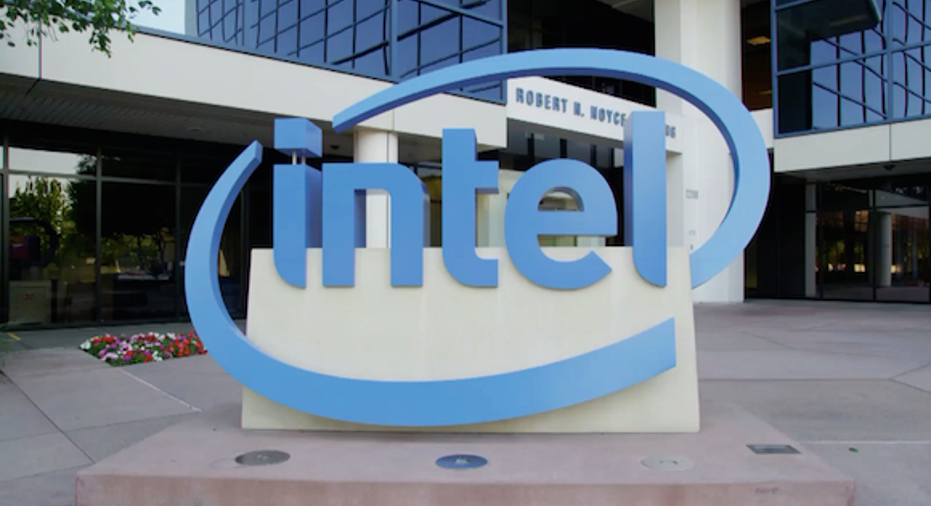 Image source: Intel.
There's a growing opportunity for chipmakers in the coming driverless tech revolution. That may sound a tad dramatic, but consider that by 2050 driverless cars will be nearly ubiquitous, according to IHS Automotive.
Those cars require a massive amount of processing power, both in the car and in the cloud, and chipmakers Intel and NVIDIA could certainly benefit from all that potential growth.
NVIDIA is quickly becoming a leader in the driverless car space, while Intel is arguably a recent entrant into the market. Let's take a look at what each company is doing in the space:
What Intel's doing with driverless autosIntel has used some of its processors in automotive systems for years. The company's chips can be found in Hyundai's Driver Information System, BMW's Connected Drive navigation system, as well as Infiniti and Kia's infotainment systems.
Back in 2013, Intel started making autos more of a priority. The company's general manager of automotive solutions,Elliot Garbus, said at the time that he wanted the company to expand beyond small markets and drive growth into broader automotive segments: "Make no mistake -- my objective is to drive this into volume, not just luxury German vehicles. We need to drive it into entry-level vehicles."
More recently, Intel has expanded into areas that touch on driverless car technology. The chipmaker purchased Italy based YOGITECH last month, which is an expert in Advanced Driver Assistance Systems (ADAS). ADAS systems refer to safety features like blind spot monitoring or lane change warning.
Purchasing YOGITECH was a big driverless car step for Intel because many ADAS systems are the basis for autonomous car driving capabilities.Intel said that the purchase will expand its reach in autonomous systems for robotics, automotive, industrial, and other IoT segments.
It was an unsurprising move considering Intel's recent restructuring around growing segments (like the Internet of Things) and away from its traditional PC processors business.
What's still unclear though is how exactly Intel will integrate YOGITECH into its current automotive plans. Intel could simply use the purchase to build better processors for ADAS chips. That market is expected to grow 14% each year through 2020, according to IHS.
But besides snatching up YOGITECH, and supplying some chips to automakers, Intel is still miles behind NVIDIA's driverless technology.
NVIDIA's big driverless autos betJust like Intel, NVIIDA's chips can be found in car infotainment systems, most notably for Tesla Motors.
But NVIDIA has also made huge strides in driverless car technology. The company has designed and built its own autonomous car computer and platform, called Drive PX, which works with sensors, cameras, LIDAR, and software to process tens of thousands of data points.
Drive PX is already on its second generation technology, and allows driverless cars to have a similar situational awareness that humans have. For example, the technology can determine whether the truck next to it is simply a van or an ambulance.
And just last month the company announced a new cloud-based supercomputer, called DGX-1, which can be paired with the on-board Drive PX 2 computer. The combination of the two computers will allow driverless vehicles to track 15,000 data points per second for each on-board driverless car camera, and 1.8 million points a second. Additionally, the company's software then allows the computers to useartificially intelligent learning to make driving decisions and learn from previous decisions.
These two systems are significantly ahead of anything Intel or other chipmakers are doing, the company's lead is likely to continue. NVIDIA's chips are already in 10 million vehicles on the road right now, and 50 automakers are either already using, or testing out its driverless platform.
No contest Sure, Intel could pose a threat at some point to NVIDIA's driverless technology, but not now, and probably not any time soon.
While Intel is repositioning itself to better take advantage of the Internet of Things (which includes driverless autos), NVIDIA is still two generations of driverless car technology ahead of Intel and has a host of automotive partnerships it's already capitalizing on.
Investors should know that NVIDIA isn't purely a driverless car play. The company made more than half of its fiscal Q4 2016 revenue from gaming processors, but its driverless tech opportunities are huge. IHS Automotive estimates that by 2035 10% of vehicles sold will be fully autonomous,and the company's current leadership position makes it a good bet for future autonomous car growth.
The article Could Intel Pose a Threat to NVIDIA's Driverless Car Business? originally appeared on Fool.com.
Chris Neiger has no position in any stocks mentioned. The Motley Fool owns shares of and recommends Nvidia and Tesla Motors. The Motley Fool recommends BMW and Intel. Try any of our Foolish newsletter services free for 30 days. We Fools may not all hold the same opinions, but we all believe that considering a diverse range of insights makes us better investors. The Motley Fool has a disclosure policy.
Copyright 1995 - 2016 The Motley Fool, LLC. All rights reserved. The Motley Fool has a disclosure policy.