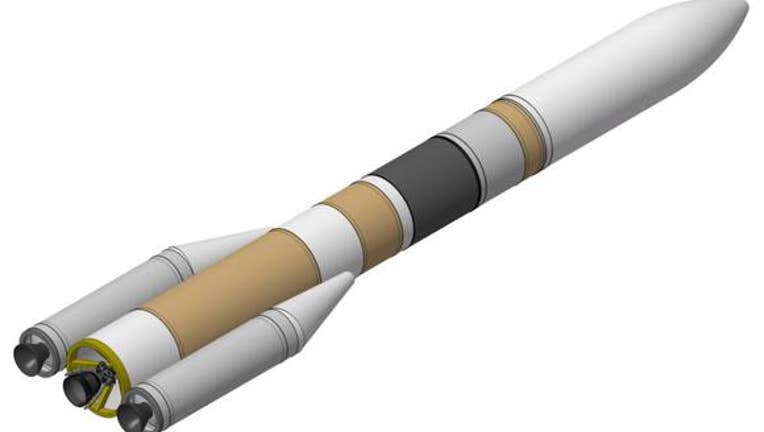 SpaceX's SES-9 mission: Still stuck on the launchpad. Image source: SpaceX.
SpaceX had a bad week last week. Over the course of four dispiriting days, Elon Musk's privately held space exploration company tried three timesto launch a six-ton communications satellite, SES-9, into orbit, only to be forced to scrub the launch each time.
Now, don't worry overmuch. They'll get the satellite launched eventually -- perhaps as soon as this week. But even after overcoming this hurdle, there's a new threat looming on SpaceX's horizon, and it comes from France.
Lafayette, we are here! (With low, low prices)SpaceX is not particularly popular in France. A few years ago, representatives of local space launch provider Arianespace were having a conversation with U.S. Congresswoman Loretta Sanchez, at which (she says), they confided to her that they'd really love to "get rid of SpaceX ... Because they were going to drive them out of business!"
SpaceX, you see, can send a satellite into orbit aboard one of its Falcon 9 rockets for about $61 million. That's not only cheaper than the $400 million that Boeing and Lockheed Martin are reported to charge for some of their United Launch Alliance (ULA) launches. It's more than the "$200 million equivalent" that Sanchez said Arianespace reported it was charging for its launches.
That's a difficult situation for Arianespace to be in -- but they're planning to do something about it.
Airbus Safran plans to make two new rockets out of its new Ariane 6. Image source: Airbus Safran Launchers.
Introducing the Ariane 6Last month, Arianespace's rocket supplier Airbus Safran Launchers (a joint venture betweenAirbus and Safran) announced it has finalized the design of a new Ariane 6 heavy launch vehicle for Arianespace.
Make that two designs. As reported in France's Le Figaronewspaper, the new Ariane 6 will come in two configurations:
Ariane 62 will feature a core engine supplemented by two rocket boosters. Designed as a medium-lift rocket to replace Soyuz rockets from Russia's Roscosmos, it will launch primarily scientific satellites weighing up to 5 tons (for geostationary transfer orbit)at a cost of approximately 70 million euros ($77 million).
Ariane 64 will boast roughly twice the oomph of Ariane 62,for use in commercial operations. Its core-plus-four-booster configuration should be able to hoist twice as muchmass into orbit, and the cost will be 115 million euros ($126 million).
Is better good enough? So how does this compare to what SpaceX offers? Well, to be blunt, it's not cheaper than SpaceX -- but it's a closer match than Airbus Safran (and Arianespace) offered previously. According to SpaceX data, an ordinary $61 million Falcon 9 rocket should only be capable of lifting 4.85 metric tons into orbit. (Although we know that the SES-9 mission will lift quite a bit more than that, once it gets off the ground.) The new Falcon 9 Heavy, featuring two big booster rockets of its own, will lift up to 6.4 tons.
Roughly speaking, Ariane 62 appears designed to do a Falcon 9's job for 25% more money. Ariane 64 will cost 40% more than the $90 million SpaceX will charge for a Falcon Heavy launch -- but it should carry a whole lot more cargo.
Crucially, Ariane 64 will cost 28% less than the $175 million that Arianespace currently chargesfor an Ariane 5 launch.
The upshot for investorsAirbus Safran -- and by extension, their customer Arianespace -- coming down from $200 million a launch to just $126 million, or even $77 million, is a pretty big move. For local buyers with a local bias, the smaller version of their new Ariane 6 rocket may now be cheap enough to compete with SpaceX. Meanwhile, the Ariane 64 four-booster heavy-lift rocket, with its greater capabilities, could even beat SpaceX at the low-price, high-performance game.
The Europeans' new rockets are going to create an even greater headache for Boeing and Lockheed over at ULA. If Arianespace wasn't scared of Boeing and Lockheed before, then the cheaper launch cost of its new rockets is going to give them even less reason to worry about competition from America's space launch duopolists.
ULA's one hope? Airbus Safran says it won't have Ariane 6 ready for launch before 2020, whereas Boeing and Lockheed hope to have a new Vulcan rocket featuring new American-made engines ready to begin testing by next year, and ready to fly by 2019. (Switching horses to an alternate engine designed by Aerojet Rocketdyne could delay that date to 2020.)
The upshot? Ariane 6 makes Arianespace more competitive with SpaceX -- but it's not a clear winner. As for its effect on Boeing and Lockheed Martin... Well, with any luck, we'll soon know their new rocket's capabilities -- and its price -- and be able to gauge just how big of a threat Ariane 6 poses to America's leading rocket stocks.
Ariane 62: Aiming to beat SpaceX and the Falcon 9, will it fall short? Image source: Airbus Safran Launchers.
The article Could Europe's Ariane 6 Rocket Beat SpaceX's? originally appeared on Fool.com.
Rich Smithdoes not own shares of any company named above. You can find him onMotley Fool CAPS, publicly pontificating under the handleTMFDitty, where he's currently ranked No. 260 out of more than 75,000 rated members.The Motley Fool has no position in any of the stocks mentioned. Try any of our Foolish newsletter services free for 30 days. We Fools may not all hold the same opinions, but we all believe that considering a diverse range of insights makes us better investors. The Motley Fool has a disclosure policy.
Copyright 1995 - 2016 The Motley Fool, LLC. All rights reserved. The Motley Fool has a disclosure policy.