Could Best Buy Stock Surge Another 30%?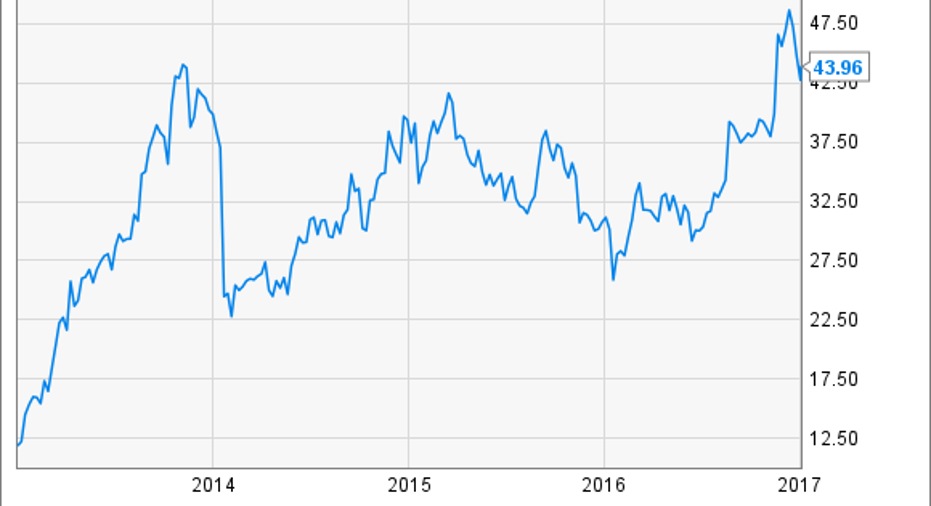 Image source: Best Buy.
Consumer electronics retailer Best Buy (NYSE: BBY) has been holding its own since it began its successful turnaround efforts in late 2012. Comparable sales have been rising, driven by market share gains, and profits have been soaring. Adjusted EPS jumped 51% during the third quarter, and online sales surged 24%. The argument that Best Buy can't possibly compete with Amazon.com no longer holds much water.
The stock has surged over the past few years, although with quite a bit of volatility. Since the start of 2013, shares of Best Buy have risen around 250%, reflecting both an extremely pessimistic valuation at the start of the company's turnaround and its financial performance since.
Are more gains in store for Best Buy shareholders? Loop Capital Markets seems to think so. Analysts at the investment bank have a price target of $58 on the stock, representing upside of more than 30%. The prospect of improved profitability from closing unproductive stores is the main reason for the lofty price target.
The $58 price target is plausible, but the reasoning behind it is flawed. Here's why.
No reason to close too many stores
Best Buy has closed some stores over the past few years, whittling down its U.S. store count from 1,503 at the end of 2012 to 1,397 today. Most of the stores closed have been the smaller Best Buy Mobile format, while the number of full-line Best Buy stores has only declined slightly. Best Buy has taken other steps in an effort to better utilize its square footage, including installing mini-stores for specific brands and opening five outlet stores to make use of unused space still under lease. But not too many full-line locations have been shuttered.
Best Buy will need its stores to take advantage of slumping sales at its smaller competitors. The company has been gaining market share, with its comparable sales growing while industrywide sales have been shrinking. Much of the market share Best Buy is picking up is likely coming from competitors that can't keep up. RadioShack went bankrupt in early 2015, and smaller chains like Conn's and hhgregg are suffering from steep declines in comparable sales. With Best Buy the only nationwide consumer electronics retailer left standing, it will continue to benefit from weakness at its smaller competitors.
There's another reason Best Buy isn't closing many stores: e-commerce. The company has been using its stores to fulfill online orders for the past few years, an initiative that has created a few major benefits. First, capital isn't being tied up building out a larger network of e-commerce fulfillment centers. Second, merchandise availability has improved, with the inventory of stores now available to online shoppers. Third, shipping times are faster. And fourth, clearance and returned items can be made available online, potentially reducing the markdown required to get rid of them.
Best Buy's stores have become a major asset in its fight against Amazon. Closing too many of them would be a bad idea.
Running the numbers
Despite the reasoning behind Loop Capital Markets' $58 price target not making much sense, Best Buy stock could have more gains ahead. The company expects to produce about $3.30 in adjusted earnings per share in fiscal 2017, which runs through the end of January. That's up from $2.78 last year. With the stock trading around $44 per share, the P/E ratio based on Best Buy's guidance is roughly 13.3.
But this ignores Best Buy's excess cash. The company has made it a goal over the past few years to fortify its balance sheet, only restarting its share buyback program once there was a comfortable cushion of cash. Net of debt, Best Buy had $1.75 billion of cash on the balance sheet at the end of the third quarter. If that total is backed out, Best Buy's cash-adjusted P/E ratio falls to just 11.7.
A price target of $58 per share represents a P/E ratio of 17.6 and a cash-adjusted P/E ratio of 15.9. Those are high for a retailer, but they'll come down over time if Best Buy continues to grow earnings. Optimistic? Yes. Implausible? No.
Best Buy won't be reporting holiday sales figures this year, so investors will need to wait until the company's fourth-quarter report sometime in February to get the scoop on its holiday performance. A great holiday season could send the stock closer to that $58 price target, while a disappointing one could erase the gains from 2016.
10 stocks we like better than Best Buy When investing geniuses David and Tom Gardner have a stock tip, it can pay to listen. After all, the newsletter they have run for over a decade, Motley Fool Stock Advisor, has tripled the market.*
David and Tom just revealed what they believe are the 10 best stocks for investors to buy right now...and Best Buy wasn't one of them! That's right -- they think these 10 stocks are even better buys.
Click here to learn about these picks!
*Stock Advisor returns as of January 4, 2017.
Timothy Green owns shares of Best Buy. The Motley Fool owns shares of and recommends Amazon.com. The Motley Fool has a disclosure policy.