Could Apple Be a Millionaire-Maker Stock?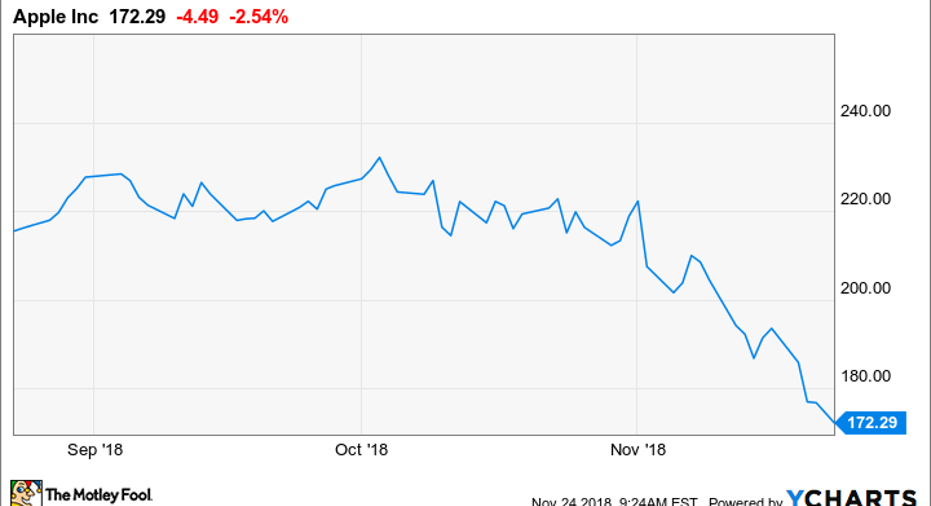 When a company dominates as thoroughly as Apple (NASDAQ: AAPL) has, investors look for reasons to believe that something has changed. In many cases, the perceived negatives are short term, something that does not really change the company's trajectory or business model.
That's what has happened to Apple over roughly the last month. It reported strong fourth-quarter results but its first-quarter guidance was below analyst expectations. In addition, it said it will no longer report unit sales, which led some to question whether it expects sales of the latest iPhone models to slow down.
Why has Apple stock fallen?
It's important to remember that Apple had a great quarter. CEO Tim Cook laid out some of the specifics in the company's Q4 earnings press release:
"We're thrilled to report another record-breaking quarter that caps a tremendous fiscal 2018, the year in which we shipped our 2 billionth iOS device, celebrated the 10th anniversary of the App Store and achieved the strongest revenue and earnings in Apple's history," he said.
That's good news, and if you question the company's success, CFO Luca Maestri went into the specifics in his remarks.
"We concluded a record year with our best September quarter ever, growing double digits in every geographic segment. We set September quarter revenue records for iPhone and Wearables and all-time quarterly records for Services and Mac," he said.
Despite that, its shares dropped dramatically the day after the company reported. Apple stock closed on Nov. 1 (the company reported after market close) at $222.22. It then dropped to $209.55 the next morning and has continued to free fall, finishing on Nov. 23 at $172.99, a 22% drop since Nov. 1.
Should Apple investors be worried?
Shares have fallen because Apple might not have quite as good a first quarter as expected. In many ways, that's like betting against the Golden State Warriors in the NBA Finals because Kevin Durant says he expects a tough series.
Apple isn't a quarter-by-quarter company. Record iPhone sales in Q4 -- driven by its new model releases -- could well lead to slower sales in the first quarter. That's not a sign that people have lost interest -- rather, it's just a quirk in the sales flow process. If you understand how strong Q4 was, it's reasonable to think that it pulled some potential sales from Q1. Maestri broke down the numbers during the Q4 earnings call:
A very successful Q4 sets up a slightly slower-than-expected Q1. Business isn't slowing overall -- it's just happening at a pace that does not line up with quarterly reporting.
Is Apple a millionaire-maker stock?
You can buy Apple shares at a discount. Nothing has fundamentally changed in the company's iPhone business. There's no competitor grabbing more market share and consumers have not shown that they're willing to hold on to older models for longer.
Apple deciding to no longer report unit sales isn't a sign that the company wants to hide slowing sales. Instead, the CFO explained why units no longer make sense as a financial metric for the company.
You can agree with that logic or disagree, but Maestri is right: Unit sales may tell a story when you look at them over years, but they're not a great quarter-to-quarter indicator.
Apple shares have fallen because investors are panicked over how they're interpreting the immediate future. Yes, the company may only have a very good Q1 -- not a record -- and iPhone sales may slow for that 90-day-period. Overall, however, the company will still hit its sales targets and interest in iPhone (and many of its other products) is at an all-time high.
This is a buying opportunity. Ultimately, the numbers will be there and the stock will recover.
Find out why Apple is one of the 10 best stocks to buy now
Motley Fool co-founders Tom and David Gardner have spent more than a decade beating the market. (In fact, the newsletter they run, Motley Fool Stock Advisor, has tripled the market!*)
Tom and David just revealed their ten top stock picks for investors to buy right now. Apple is on the list -- but there are nine others you may be overlooking.
Click here to get access to the full list!
*Stock Advisor returns as of November 14, 2018
Daniel B. Kline owns shares of Apple. The Motley Fool owns shares of and recommends Apple. The Motley Fool has the following options: long January 2020 $150 calls on Apple and short January 2020 $155 calls on Apple. The Motley Fool has a disclosure policy.