Could a New Drink Menu Be the Secret to Chipotle's Comeback?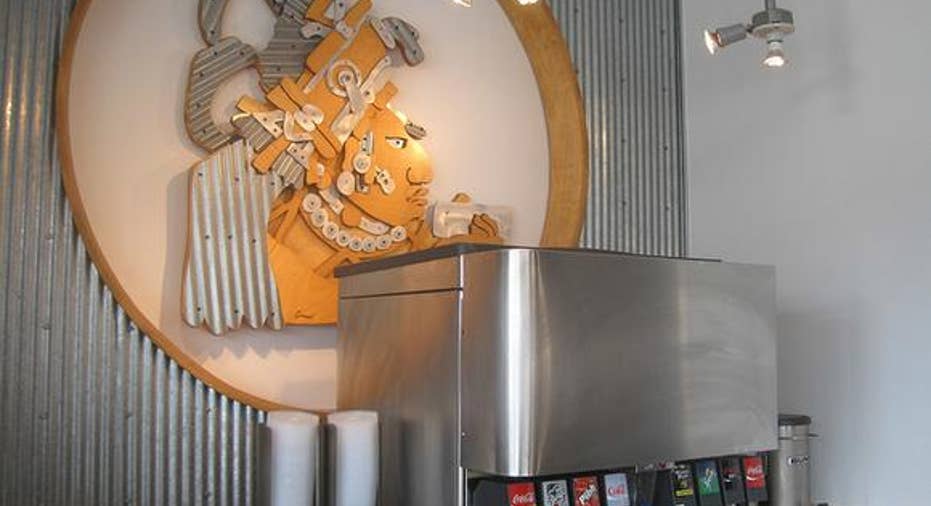 Though it doesn't get much attention,Chipotle Mexican Grill's beverage selection has long undermined the company's Food with Integrity platform. While the company offers margaritas and bottled beers, its primary beverage sales come from standard issueCoca-Cola fountain drinks.
Chipotle proudly boasted last year that it had removed GMOs from its kitchen, but the corn syrup inside the Coke machine next to the make station still comes from GMOs.
Now, the burrito chain is aiming to right that wrong with a new pilot program called "Beverages with Integrity."
According to Denver weeklyWestword, the company is testing a new beverage menu at a single location in the city it calls home, featuring a mezcal margarita, sangria, draft beer, non-alcoholic drinks, and new sodas.
The company partnered with master sommelier Richard Betts after he and Chipotle founder Steve Ellsbegan discussing how to elevate Chipotle's beverage menu two years ago, long before the company was afflicted with last year's series of foodborne illness outbreaks.
Betts' margarita will come in the frozen form, different from what Chipotle currently offers, with mezcal and tequlia, while the sangria will be shipped in from Eppa Sangria in California. Oskar Blues Brewery made a special Vienna Mexican lager for the burrito chain, known as Oskar Blues Beerito, and a canned version of Modelo Especial will also make an appearance. Non-alcoholic drinks will include watermelon agua fresca, a hibiscus tea, and a new iced tea. Finally, the fast casual chain will add several new fountain drinks, including Coca-Cola Life, a variety sweetened with Stevia, and Blue Sky sodas, which are part owned by Coca-Cola. Chipotle will also serve Izze sodas and Evolution Fresh juices.
A burrito with buzzAs sales have tumbled following the food safety issues, Chipotle's most important challenge is ensuring its food is safe and communicating that message to its guests. Beyond that, it needs to bring customers back into its stores, and an exciting new drink menu could be just the way to do thatt.
Chipotle has always been loath to offer the sort of gimmicks that its traditional rivals do to build foot traffic, gimmicks like limited-time offers, new menu items, discounts, and other promotions. The company has kept its menu small and tight, virtually identical to the one it launched in 1993, the main exception being the addition of tofu-based sofritas a few years ago.
But with the recent sales slide, it's made special promotions of free burritos and chips and guac to get customers back in the door. Beverages have long been one area where the company neglected to differentiate itself, offering the same fountain drinks as the burger-flipping fast food chains, but the time is right to change that. Not only could a new drink selection bring back customer traffic, but it could also build sales incrementally as customers who may have skipped a refreshment in the past choose to try an agua fresca or a sangria. Finally, the buzz in the media from the potential rollout of the new menu would also play to Chipotle's advantage.
Alcohol alone won't save Chipotle. The company has offered beer and margaritas since it opened its first store in 1993, and boozy beverages aren't a great fit for its workday customers, as many Chipotle locations are busiest during weekday lunches. Still, a tasty margarita for happy hour or on the weekends will be popular with some, and fans of traditional Mexican-food joints should appreciate the agua frescas.
There's no word yet on when the new beverage menu might expand or go national. Chipotle is awaiting the results of the pilot, which launches this month, but I'd expect it to be a success. Offering something new and different should please its customer base, and converting to a drink menu "with integrity" helps differentiate the brand further from traditional fast food. Hopefully we'll hear more from Chipotle management about the program when it reports earnings later this month.
The article Could a New Drink Menu Be the Secret to Chipotle's Comeback? originally appeared on Fool.com.
Jeremy Bowman owns shares of Chipotle Mexican Grill. The Motley Fool owns shares of and recommends Chipotle Mexican Grill. The Motley Fool recommends Coca-Cola. Try any of our Foolish newsletter services free for 30 days. We Fools may not all hold the same opinions, but we all believe that considering a diverse range of insights makes us better investors. The Motley Fool has a disclosure policy.
Copyright 1995 - 2016 The Motley Fool, LLC. All rights reserved. The Motley Fool has a disclosure policy.