Cotai Drives a Huge Quarter for Wynn Resorts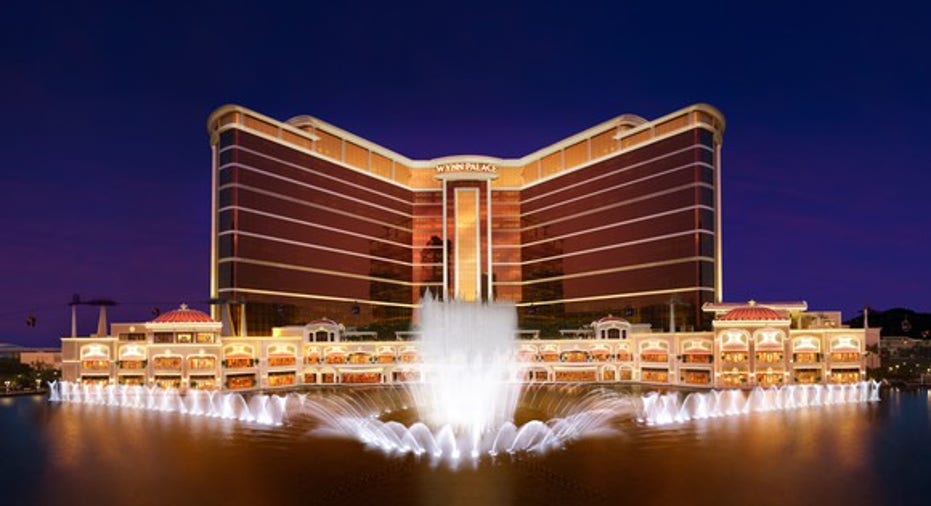 Macau's resurgence has come just in time for Wynn Resorts' (NASDAQ: WYNN) and its first-quarter results are showing a lot of promise. The opening of Wynn Palace in the Chinese territory, which has seen 13% gaming growth in the quarter, has helped drive revenue gains for the casino resort operator.
Those improving results indicate that the debt the company took out to build the $4.4 billion Wynn Palace will likely pay off. And we could even see Wynn's dividend rise if this performance keeps up.
Wynn Palace in the Cotai region of Macau. Image source: Wynn Resorts.
The numbers
First-quarter revenue for Wynn jumped 47.9% to $1.48 billion, property EBITDA rose 42.4% to $427.5 million, and net income was up 34% to $100.8 million, or $0.99 per share. Growth was driven by the addition of Wynn Palace, which opened on Aug. 22, 2016 and wasn't included in the year earlier results.
What was encouraging for investors is that all three of the company's major resorts in Las Vegas and Macau are performing well.
Macau's growth drives growth
Wynn Macau, its older resort on the Macau Peninsula, saw a 3.5% decline in revenue in the quarter to $587.0 million and adjusted EBITDA fell 5.3% to $181.1 million in the quarter. But that was a decent result considering that the number of VIP tables at the site fell from 189 a year ago to 87 last quarter and average number of mass market tables dropped from 245 to 204.
Wynn Palace had $475.8 million in revenue and $111.9 million in EBITDA during the quarter, despite construction taking place all around the resort, which isolates it from the action elsewhere in the territory. Macau is building a light rail system in Cotai, and its first stop will be Wynn Palace, but that presents the company with both an aesthetic and infrastructure challenge as it's built out. Further impairing the curb appeal for now is the construction of MGM Cotai, which is underway across the street. But the fact that Wynn Palace is on pace for nearly $2 billion in revenue and $500 million in EBITDA annually while it's still difficult to get to the property is impressive. Once a new ferry terminal opens and the light rail is completed, the resort should get a further boost. Long term, I wouldn't be surprised to see EBITDA trend toward $1 billionannually by the end of the decade.
Wynn Macau's margin of 31%, versus 24% at Wynn Palace, is reflective of it being a more mature resort; Wynn Palace can be expected to trend toward the 30% number eventually. But the simple fact that Wynn Macau is holding its own and is on pace for an annual EBITDA above $700 million is incredibly bullish for Wynn Resorts long term.
Las Vegas' bright future
Steve Wynn spent most of his prepared remarks time on Tuesday's conference call talking about the Paradise Park development in Las Vegas, which he will build on a site now occupied by a golf course adjacent to two other Wynn casinos. The $400 million to $500 million project has become more focused; it will be centered on a 20-plus acre lagoon, and will initially include entertainment including a boardwalk, beaches, water sports and attractions, as well as some meeting space. Long term, there could be another tower and an even bigger convention space at the resort.
Operationally, last quarter saw $412.9 million in revenue in Las Vegas, up 6% from a year ago, and $134.6 million in EBITDA, an increase of 23.4%. Good luck helped drive the improved results, but non-gaming revenue was also up 5.2% to $285.5 million, so there's a lot of strength in Sin City.
Wynn is realizing its potential
The last few years at Wynn have been building to this moment. Wynn Palace will likely be the company's most profitable resort ever, but until it was completed and Macau's gaming revenue started trending higher again, investors had concerns about the company and its stock. Those have faded away recently, and the steady streams of cash coming from Las Vegas and Macau will make the $9.8 billion debt load seem more manageable; we could eventually see the $0.50 quarterly dividend increase as well. Conditions are looking up for Wynn Resorts, and the first quarter offered investors a glimpse of the company's financial potential.
10 stocks we like better than Wynn ResortsWhen investing geniuses David and Tom Gardner have a stock tip, it can pay to listen. After all, the newsletter they have run for over a decade, Motley Fool Stock Advisor, has tripled the market.*
David and Tom just revealed what they believe are the 10 best stocks for investors to buy right now... and Wynn Resorts wasn't one of them! That's right -- they think these 10 stocks are even better buys.
Click here to learn about these picks!
*Stock Advisor returns as of April 3, 2017
Travis Hoium owns shares of Wynn Resorts. The Motley Fool has no position in any of the stocks mentioned. The Motley Fool has a disclosure policy.