Costco Wholesale Corporation's Biggest Win in 2016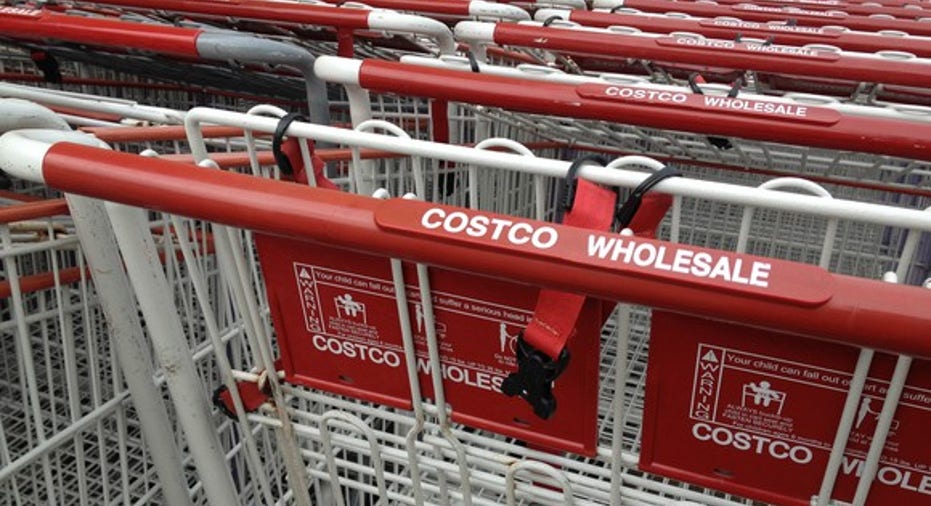 Costco (NASDAQ: COST) did something risky -- some would say foolhardy -- in June 2016, when it dropped its longtime credit card partner American Express (NYSE: AXP) in favor of Visa cards from Citigroup (NYSE: C).
It was a challenging move because all of its members who had the former American Express card would need to be issued the new Visa card and activate it. And, to compound the problem, because of the contracts involved, the actual switch was very abrupt.
On June 19, the old American Express cards worked, and the new ones did not. When Costco stores opened on June 20, the old cards were dead, and not only was Visa the company's new rewards card provider, the chain now did not accept American Express at all.
It was chaos at first
This, as you might imagine, created some initial confusion. In some cases, it was because consumers ignored the store signage and many mailings about the change. In others it was simply American Express cardholders who had no idea why their regular cards, not Costco rewards cards, were no longer accepted by the warehouse club.
Early problems with the switch led to more than 1.5 million calls to Citigroup, according to a spokeswoman for the card issuer, but the problems were short-lived. More people were hired in July, Citigroup spokesperson Jennifer Bombardier told The Motley Fool, and call volume and wait time soon dropped dramatically.
It was a tough switch, but CFO Richard Galanti explained during the company's Q4 earnings call that it was ultimately a triumphant one. There were problems, but very quickly, this difficult switch became a win for cardholders, the company, and shareholders.
Why is this a big deal for Costco?
Galanti acknowledged the early troubles in his remarks, but he quickly moved to explaining why the change was a win for all involved.
The CFO laid out some of the new benefits explaining that the cash back on gas purchases rose from 3% with the former card to 4% on thew new one. He also explained that the reward offered for restaurant and travel-related purchases has climbed from 2% to 3%. The biggest change, he noted, was that the reward offered on any Costco purchases had doubled from 1% to 2%.
In addition, the number of people converting from the old card has been strong, as have been the numbers signing up for the new one. It's worth noting that the immediate demand may be misleading. There was an eight-month period where the company was not accepting new rewards card signups, so there is some pent up demand.
The CFO said that of the approximately 7.5 million American Express accounts that were transferred over to Citi during the conversion, about 85% were considered active."That is, the card had been used for purchases over the previous 60 days," he added. Over 85% of the total amount of accounts have now been activated with Costco, according to Galanti.
The CFO continued:
Costco's big switch caused some confusion, but it proved to be worth it. Image source: The Motley Fool.
This was a big win
It must have been tempting for Costco to not risk a good thing -- or risk upsetting its customers -- and stick with American Express. Instead, it accepted a better deal for itself, its cardholders, and ultimately, its shareholders.
This was a bumpy road well navigated. The warehouse club now has a more profitable program that also offers better rewards. This change may not have been easy, but it's going to pay off for years to come.
10 stocks we like better than Costco Wholesale When investing geniuses David and Tom Gardner have a stock tip, it can pay to listen. After all, the newsletter they have run for over a decade, Motley Fool Stock Advisor, has tripled the market.*
David and Tom just revealed what they believe are the 10 best stocks for investors to buy right now...and Costco Wholesale wasn't one of them! That's right -- they think these 10 stocks are even better buys.
Click here to learn about these picks!
*Stock Advisor returns as of Nov. 7, 2016.
Daniel Kline has no position in any stocks mentioned. The Motley Fool owns shares of and recommends Costco Wholesale. The Motley Fool recommends American Express. Try any of our Foolish newsletter services free for 30 days. We Fools may not all hold the same opinions, but we all believe that considering a diverse range of insights makes us better investors. The Motley Fool has a disclosure policy.