Costco Earnings: What to Watch For Next Week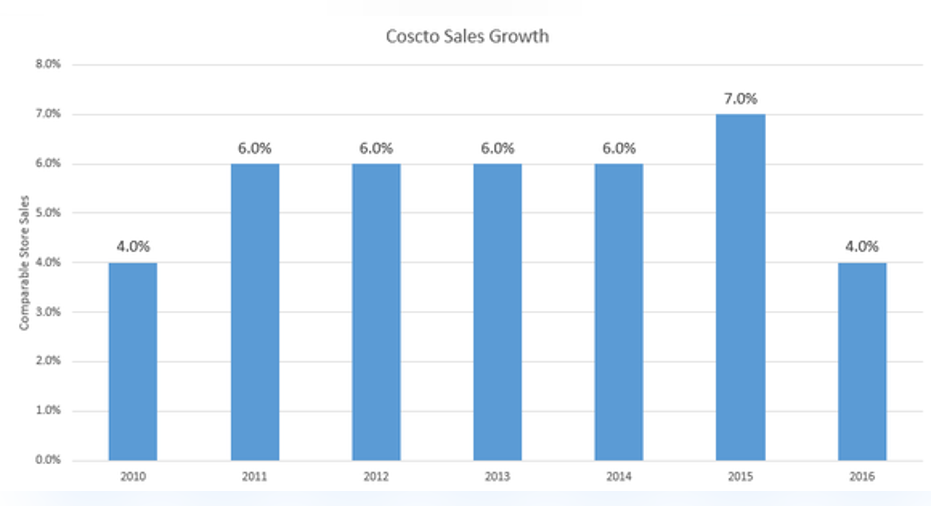 Image source: Getty Images.
Costco (NASDAQ: COST), the country's leading membership-based retailer, is set to post quarterly earnings results after the market closes on Wednesday, Dec. 7. While Costco stock has been a market beater over the longer term, it has underperformed this year as sales growth slowed and the company endured subscription hiccups around a massive credit card switchover.
Its last quarterly check-in showed signs of improvements, though, especially on profits. So here are a few trends for investors to watch when combing for evidence of healthy long-run growth.
Customer traffic
Customer traffic growth has been the biggest tailwind to Costco's revenue trends lately. The company last posted a 2.5% uptick in shopper visits for a deceleration from the prior quarter's 3%. In fact, fiscal 2016 ended the retailer's streak of seven straight years of customer traffic gains of 4% or better. As a result, comparable-store sales growth fell to 4% in the fiscal year that just closed, marking the weakest result since 2010.
Comp sales excluding currency changes and gasoline price swings. Data source: Costco financial filings.
Costco is still handily beating the competition, though. Wal-Mart's (NYSE: WMT) comps, for example, have been stuck around 1% and its Sam's Club division has posted three straight traffic declines this year. Target'straffic pace is running at a 1% decline over the last nine months, too, and its comps are trending slightly negative.
Investors expect Costco to consistently outpace these rivals, which helps explain why its stock is valued at such a premium (you'll have to pay 25 times next year's earnings for Costco, compared to about 15 times for Target and Wal-Mart).But the size of the sales growth gap between them -- and whether it is widening or narrowing -- will be key to watch.
Membership fees and renewals
Costco gets most of its profits from membership fees rather than product sales, making subscriber statistics critical to the business. Those fees were up solidly last quarter, improving by 6% to $832 million. Investors will want to see continued subscriber growth this time around, and they'd likely celebrate any hint that Costco is preparing for its first annual fee boost in over five years.
As for renewal rates, Costco posted a rare decline last quarter that management attributed to logistical challenges around its co-branded credit card switch. When the company went through a similar situation in Canada, renewal rates quickly returned to their steady positive climb in just a matter of months. "The same thing [impacted] a little bit in the U.S.," Chief Financial Officer Richard Galanti told investors in September. "We'll see where that goes from here."
Renewal rates in the U.S. just dropped to 90.3% from 90.4% in the prior quarter and 90.5% for the first half of the fiscal year. An uptick would be nice to see, as it would confirm that the slowdown was self-inflicted and not driven by competitive pressures.
Expansion plans
Costco opened 29 new warehouses in fiscal 2016, which was just shy of its most aggressive expansion pace on record, the 31 stores it launched in fiscal 2007. New locations bring in extra revenue and a surge of fresh member signups. And if the company chose the right spot, then the store will bring in an ever-increasing revenue haul as it matures. New locations opened last year, for example, collected an average of $83 million while Costco's most established warehouses averaged more than twice that figure.
Average warehouse sales by launch year. Image source: Costco annual report.
The retailer's current growth plans call for spending nearly $3 billion in fiscal 2017. Most of that cash will go toward a projected 31 stores launches, which implies management sees plenty of potential for adding square footage both in the U.S. and in brand-new international markets like France.
10 stocks we like better than Costco Wholesale When investing geniuses David and Tom Gardner have a stock tip, it can pay to listen. After all, the newsletter they have run for over a decade, Motley Fool Stock Advisor, has tripled the market.*
David and Tom just revealed what they believe are the 10 best stocks for investors to buy right now... and Costco Wholesale wasn't one of them! That's right -- they think these 10 stocks are even better buys.
Click here to learn about these picks!
*Stock Advisor returns as of November 7, 2016
Demitrios Kalogeropoulos owns shares of Costco Wholesale. The Motley Fool owns shares of and recommends Costco Wholesale. Try any of our Foolish newsletter services free for 30 days. We Fools may not all hold the same opinions, but we all believe that considering a diverse range of insights makes us better investors. The Motley Fool has a disclosure policy.