Cost Inflation Hits Ultralow-Cost Carriers: Can They Respond?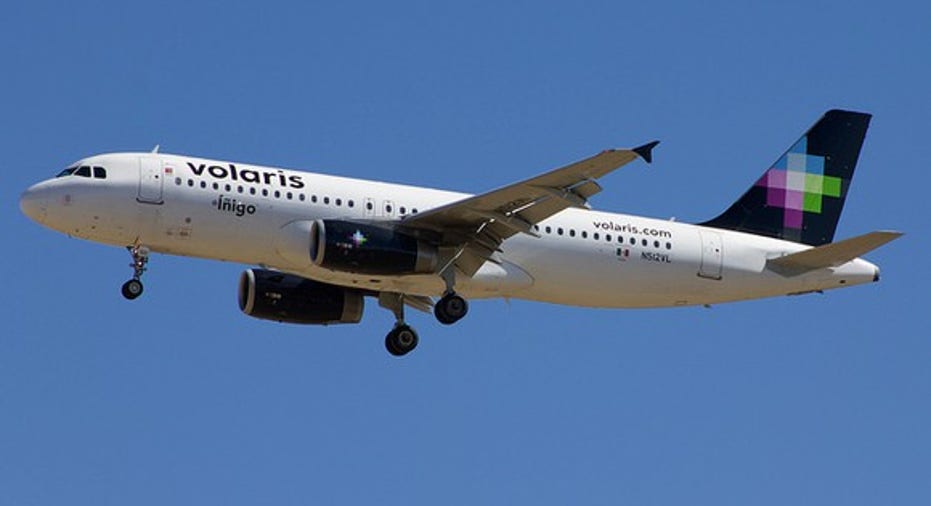 Ultralow-cost carriers (ULCCs) like Spirit Airlines (NASDAQ: SAVE), Allegiant Travel (NASDAQ: ALGT), and Volaris (NYSE: VLRS) owe their success to their extremely low cost structures. For many years, they have found ways to drive their costs even lower, widening their advantage over competitors.
However, all three ULCCs are facing significant cost pressure right now, driving sharp unit cost increases in the second half of 2016 and into 2017. Let's take a look at what Spirit, Allegiant, and Volaris are doing to shore up their traditional cost leadership.
Pilot costs soar at Allegiant
Rising pilot pay is the main reason why Allegiant Travel's costs are set to spike. Year to date, non-fuel cost per available seat mile (CASM) has actually declined slightly at Allegiant, relative to 2015. However, Allegiant and its pilot union recently reached their first permanent contract, which included pay raises of up to 31% and benefit increases such as higher 401(k) matching contributions.
Allegiant Air pilots got huge raises a few months ago. Image source: Aldo Bidini viaWikimedia Commons.
Additionally, the company has started to incur accelerated depreciation on its fleet of aging MD-80s, now that it has finalized plans to retire these planes in the next few years. Allegiant's shift toward newer A320-family aircraft and more flying in midsize markets is also putting pressure on non-fuel CASM.
The net result is that Allegiant projects that non-fuel CASM will spike 10% to 12% in the fourth quarter. Cost inflation will remain elevated through most of 2017, as the pilot contract wasn't implemented until Aug. 1 and many of the other cost inflation drivers remain intact.
However, pilot costs will rise at a modest rate after next August. Meanwhile, Allegiant's other upcoming cost headwinds are really investments that will pay off in a few years.
Once Allegiant finishes depreciating the MD-80 fleet and incurs the one-time costs of training pilots to fly A320-family planes instead, it will have a much younger fleet. Fuel efficiency could improve by nearly 20% between now and 2020, while maintenance costs should decline. This will help Allegiant get its cost structure moving in the right direction again.
Spirit Airlines could face similar pilot cost increases
Like Allegiant, Spirit Airlines has reduced its non-fuel unit costs year to date but expects significant cost inflation in Q4. Spirit's forecast calls for an 8% rise in non-fuel CASM this quarter, due to higher maintenance costs on a year-over-year basis.
For 2017, Spirit expects to see continued maintenance-cost pressure. Supplemental rent related to returning several leased aircraft (essentially the cost of returning the planes to "like new" condition) will also threaten to push costs higher.
Spirit Airlines' maintenance costs are creeping up as its fleet ages. Image source: Spirit Airlines.
Despite those cost headwinds, Spirit Airlines has forecast that non-fuel CASM will be roughly flat year over year in 2017. Yet there is one big caveat: This guidance doesn't include the impact of a new pilot contract. Spirit's pilots have been aggressively negotiating for a new contract, and whenever a deal gets signed, it is sure to incorporate big raises.
To offset these cost headwinds, Spirit will continue to buy most of its airplanes rather than lease them. By doing so, it can save about $1 million annually per plane. Spirit also plans to double its fleet of larger -- and more cost-efficient -- A321s over the next two years. This will help it spread its pilot costs across more passengers.
Volaris' fleet transition sends costs skyward
Mexican ULCC Volaris isn't facing the sharp pilot-wage increases seen in the U.S. However, it is suffering from even worse cost inflation than its U.S. peers.
Last quarter, Volaris' non-fuel CASM soared a stunning 29.7% year over year when measured in pesos. Much of this increase was caused by the falling peso, which drove up dollar-denominated costs such as aircraft rent and maintenance expense. However, even in dollar terms, Volaris recorded a 13.1% jump in non-fuel CASM.
The biggest driver of these cost increases was supplemental rent for leased aircraft that Volaris is returning to lessors in the near future. Maintenance costs also rose significantly year over year.
Volaris is returning most of its Airbus A319s to lessors. Image source: The Motley Fool.
Lease-return costs will likely remain elevated for the next couple of years as Volaris transitions its fleet away from the smaller A319 toward larger and more fuel-efficient Airbus planes. The carrier's current fleet plan calls for returning three A319s to lessors in 2017 and another seven in 2018.
The benefit of these lease returns will be felt in a few years, when more than 40% of Volaris' fleet will consist of the extremely fuel-efficient A321, A320neo, and A321neo models. That lineup will reduce Volaris' fuel costs. Volaris is also considering buying some of its A320neo aircraft rather than leasing them, in order to reduce its future costs.
Cost inflation will fade
Due to a variety of factors, Allegiant Travel, Spirit Airlines, and Volaris are all facing unusually big cost increases right now. However, many of these cost headwinds are temporary (e.g., the accelerated depreciation and supplemental rent costs related to fleet transitions at Allegiant and Volaris) or one-time in nature (e.g., pilot pay increases at Allegiant and Spirit).
All three ultralow-cost carriers are working hard to find savings in future years. This should allow them to maintain or even grow their cost advantage over legacy carriers going forward.
A secret billion-dollar stock opportunity The world's biggest tech company forgot to show you something, but a few Wall Street analysts and the Fool didn't miss a beat: There's a small company that's powering their brand-new gadgets and the coming revolution in technology. And we think its stock price has nearly unlimited room to run for early in-the-know investors! To be one of them, just click here.
Adam Levine-Weinberg owns shares of Volaris and Spirit Airlines and is long December 2016 $30 calls on Spirit Airlines. The Motley Fool recommends Spirit Airlines. Try any of our Foolish newsletter services free for 30 days. We Fools may not all hold the same opinions, but we all believe that considering a diverse range of insights makes us better investors. The Motley Fool has a disclosure policy.