Correction: Congress-Banking-Mortgage Data story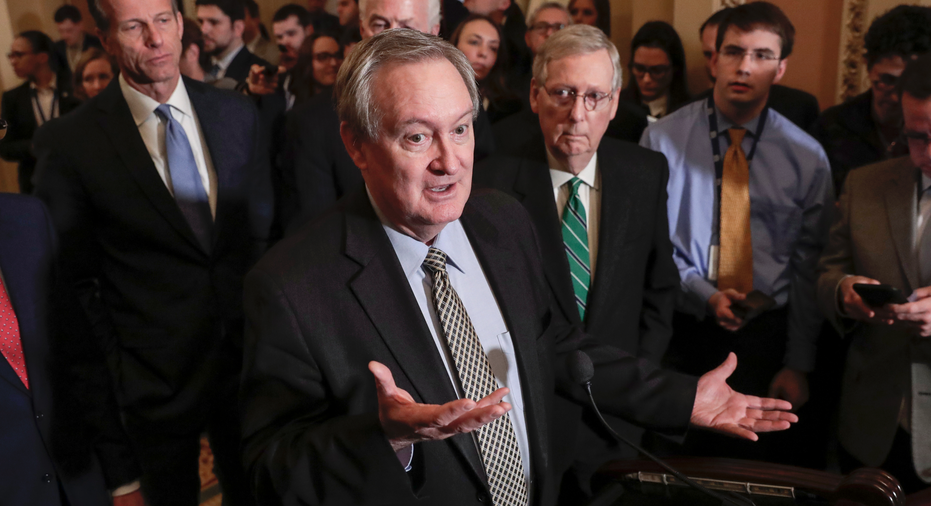 In a story March 12 about a provision in a Senate bill that would exempt many U.S. banks from reporting requirements for mortage data, The Associated Press reported erroneously that the data that would be exempt included the loan applicant's race and sex. Under the proposal, that information would continue to be reported, but other data such as the borrower's age and credit score would not.
A corrected version of the story is below:
Senate bill would diminish mortgage disclosures by banks
Buried within new Senate legislation to roll back restraints on banks is a provision that would exempt an estimated 85 percent of all U.S. banks and credit unions from new public reporting requirements
By MARCY GORDON
AP Business Writer
WASHINGTON (AP) — Buried within new Senate legislation to roll back restraints on banks is a provision that would exempt an estimated 85 percent of all U.S. banks and credit unions from some public reporting requirements, raising fears that discriminatory practices by lenders could go undetected.
The data that would be exempt from reporting includes the age of a loan applicant or borrower, credit score, total loan costs and interest rate. It's new information added under 2010 legislation to data on borrowers' financial information, race and sex, which would still be required for all banks.
Some Democratic lawmakers, community activists and low-income-housing advocates have raised the alarm over the prospect of diminished mortgage disclosures by banks. Removing the spotlight, they say, could allow lenders to unfairly deny loans or charge excessive interest and escape notice.
The legislation "would once again place low-income and borrowers of color at risk of falling prey to the same unscrupulous lending practices that helped cause the Great Recession," Marc Morial, president of the National Urban League, wrote in an open letter to the Senate. "We must preserve and strengthen these important protections and continue collecting the data that exposes disparities in the industry."
The overall bill would alter key elements of the Dodd-Frank law enacted to prevent a repeat of the financial crisis 10 years ago that brought the U.S. economy to the brink of collapse. Buttressed by support from a number of Democrats, it has a strong chance of passage in the Republican-led Senate. A final vote is expected this week. Prospects in the GOP-dominated House are unclear.
The legislation edged forward Monday with a 66-30 procedural vote that put the split among Democrats on display. Sixteen Democrats and one independent voted with the Republicans to move ahead, breaking with Minority Leader Chuck Schumer, D-N.Y., and Sen. Elizabeth Warren, D-Mass.
Majority Leader Mitch McConnell, speaking on the Senate floor, called the bill a "modest set of reforms" that would enable community banks to lend to local businesses "without having to navigate a maze of regulation that was designed for far bigger organizations."
At the Senate bill's core is a fivefold increase, to $250 billion, in the level of assets at which banks are deemed so big and plugged into the financial system that their failure could bring severe disruption. The change would ease rules and oversight on more than two dozen large financial companies, including BB&T Corp., Fifth Third Bankcorp, SunTrust Banks and American Express. They're not as big as the Wall Street mega-banks, but they also got taxpayer bailouts during the 2008-09 financial meltdown fueled by the housing foreclosure crisis.
Less central to the bill is the data provision. It would exempt banks and credit unions from the additional reporting requirements if they issue fewer than 500 home mortgage loans a year. That's an estimated 85 percent of U.S. banks, according to data from the federal Consumer Financial Protection Bureau.
The original reporting rules come from the Home Mortgage and Disclosure Act, or HMDA (pronounced HUM'-duh). Established in 1975, the law has become a key tool for government regulators to monitor mortgage lending practices, and for community activists and low-income housing advocates.
"Mortgage discrimination is real in America," Warren said Monday in remarks on the Senate floor.
Low-income and minority consumers and people in distressed communities are key among the groups that Democrats are looking to champion as they challenge President Donald Trump's policies and the Republicans in elections this year. Hefty support among Senate Democrats — including several from states won by Trump in 2016 — helped lift the banking bill toward passage in a rare show of bipartisanship in Congress.
In fact, all five Democrats up for re-election from those red states — Sens. Joe Donnelly of Indiana, Heidi Heitkamp of North Dakota, Joe Manchin of West Virginia, Claire McCaskill of Missouri and Jon Tester of Montana — are among the co-sponsors of the banking bill, whose primary author is Republican Sen. Mike Crapo of Idaho, chairman of the Senate Banking Committee.
What do those Democrats stress? They say Dodd-Frank requirements need to be eased for beleaguered community banks, credit unions and rural banks that had no part in the reckless Wall Street practices that ignited the crisis — but are being punished with the same stick and hampered from lending freely to local businesses.
When it comes to balancing those interests against traditional Democratic constituencies, including minorities, some Democrats may bend toward the local bankers.
Going into their home districts as candidates, "you're listening to the local community leaders who are on those (bank) boards," said James Thurber, professor and founder of the Center for Congressional and Presidential Studies at American University. "They're people you want to have on your side ... and many times they give campaign donations."
Proponents of narrowing the scope of HMDA requirements say they unfairly affect smaller, rural banks that are trying to remain active in mortgage lending. There are a lot of banks that make a relatively small number of mortgage loans, said Michael Fratantoni, chief economist at the Mortgage Bankers Association.
"Many of the folks in our industry have found this to be a very burdensome, very expensive exercise," he said.
Another group, the Independent Community Bankers of America, said that under the Senate bill, community banks that have been required to collect and report HMDA data on mortgages will continue to do so. They did that for decades "until the Consumer Financial Protection Bureau dramatically expanded reporting mandates in 2015," Camden Fine, president of the community bankers group, said in a statement.