Corning Stock Soared in 2016. Too Late to Buy for 2017?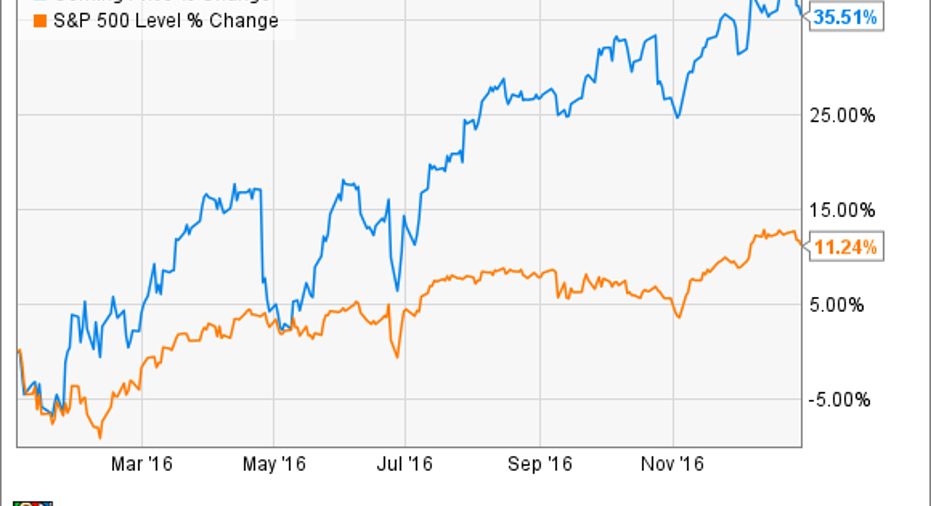 2016 was a good year to be a Corning(NYSE: GLW) investor. The company's stock rose 35.5% over the course of the year, handily outpacing the broader market.
Even so, the glassmaker has faced headwinds, particularly in the form of declining prices for LCD screens. Corning is notorious for not offering revenue or earnings guidance to shareholders,but let's look at the company's 2016 performance and see what clues it can give us about 2017.
Corning's bendable shatter-resistant Gorilla Glass is featured in many touchscreens. Image source: Getty Images.
A not-so-smooth ride
Corning's stock price growth was lumpy, but it basically followed a steady upward trajectory throughout the year:
The biggest jumps -- and dips -- came after the company's earnings reports. In late January of last year, Corning's fourth-quarter 2015 earnings beat estimates, propelling the stock upward. Despite the earnings beat, sales of LCD screens -- the company's bread and butter -- fell, knocking core sales in Corning's display technologies segment down by 14.4% to $903 million. That, coupled with declines in LCD pricing, hit core earnings in the segment, which dropped 34.3% to $234 million. However, the price declines continued to moderate and were "the smallest they've been in five years," according to CEO Wendell Weeks on the conference call. That was enough to send shares climbing upward for several months.
However, late April's Q1 earnings report had the opposite effect. Lower-than-expected sales and net income from the company's optical communications segment due to a software implementation issue were to blame, but that didn't stop the market from selling off shares, erasing the gains from the prior two months. Glass price declines continued to moderate, though, which was good for Corning.
Interestingly, most of the big dip you see in late October actually came before the company's third-quarter earnings release, possibly in anticipation of underperformance that didn't actually materialize. The company grew year-over-year quarterly earnings and revenue, and the stock quickly recovered, continuing its lumpy climb through President Donald Trump's election and the end of the year.
A big opportunity
The continuing declines in LCD screen pricing -- which have persisted for years -- are a huge drag on the company. Corning's display technologies segment was responsible for one-third of its revenue and 72% of its profits in 2015.As long as that's the status quo, the company's success (or failure) is going to be determined by the market for LCD screens.
Fortunately, the company may have a remedy in the form of automotive glass. Although this is still an emerging market for the company, it's a potentially lucrative one: While theconsumer electronics glass market is roughly 1 billion square feet per year, the total automotive glass market is 5.5 billion square feet per year.
Corning has already begun to tap into the automotive market. In 2016, its Gorilla Glass could be found in the windows ofBMW's i8 sportscar and in "multiple glazing applications" on the Ford GT. Corning's management thinks there's more value to be found here, too. AsChief Strategy Officer Jeff Evenson said on the company's Q4 2015 earnings call:
Corning's plans to ramp up automotive applications don't seem to have changed. In a press release in January, CEO Wendell Weeks said that he expects to make advancements in Gorilla Glass for Automotive in 2017.
New year, new opportunity
In late January, Corning reported on its fourth-quarter 2016 earnings, which represented -- in the words of Weeks -- a "very strong finish to the year."Weeks even hinted at better things to come, stating that the company is "encouraged by this strength and expect[s] growth" in key year-over-year metrics in Q1 2017, including core sales growth and core earnings growth.
As a part of the company'sStrategy and Capital Allocation Framework, which outlines its priorities for the years 2016-2019, Corning had announced plans to deliver more than $12.5 billion to shareholders. Nearly half of that amount -- $6 billion -- has already been doled out, as the company increased its dividend by12.5% and repurchased 22% of its outstanding shares.And Corning's plans don't seem to have changed in the interim: Weeks reiterated his commitment to the Framework in the company's fourth-quarter earnings release in January.
That all sounds good for shareholders, particularly if the economy cooperates.
Investor takeaway
Corning's stock price grew by leaps and bounds in 2016, and while the company's performance was good, one has to wonder if the stock price run-up has made shares too expensive. Certainly, the company's fortunes seem to be improving, and the shareholder-friendly dividend increases and share repurchases -- which management plans to continue -- may warrant a slightly higher price.
It might surprise you to learn that even with the stock's recent moves, Corning is still only sporting a P/E ratio of about 8.1. That's much lower than that of any of its industry peers.Now, its return on capital is only middling, but if it can successfully execute its strategies -- and if the LCD market continues to cooperate -- Corning has a very good shot at being a winner for investors.
10 stocks we like better than CorningWhen investing geniuses David and Tom Gardner have a stock tip, it can pay to listen. After all, the newsletter they have run for over a decade, Motley Fool Stock Advisor, has tripled the market.*
David and Tom just revealed what they believe are the 10 best stocks for investors to buy right now...and Corning wasn't one of them! That's right -- they think these 10 stocks are even better buys.
Click here to learn about these picks!
*Stock Advisor returns as of February 6, 2017.
John Bromels owns shares of BMW, Corning, and Ford. The Motley Fool owns shares of and recommends Ford. The Motley Fool recommends BMW and Corning. The Motley Fool has a disclosure policy.