Corning Soars to New Heights After Another Strong Quarter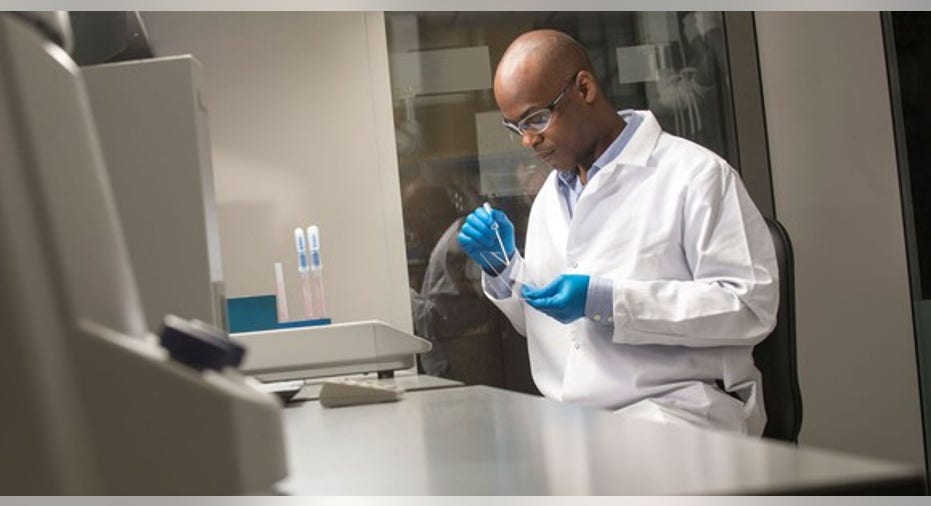 Corning(NYSE: GLW)released first-quarter 2017 results Tuesday, showing broad-based strength across all segments. With shares up more than 4% on the day and briefly touching a fresh 10-year high, it's clear the glass technology company was able to sustain the accelerated momentumthe market celebrated last quarter.
Let's take a closer look at what drove Corning's results, then, as well as what investors can expect going forward.
Image source: Corning.
Corning's headline numbers
To start, Corning management fulfilled its promise for year-over-year growth in sales, net income, and earnings per share. Quarterly core sales climbed 14.5%, to $2.485 billion, core earnings increased 19.7%, to $407 million, and core earnings per share grew 39.3%, to $0.39. Both the top and bottom lines were well ahead of investors' expectations for revenue of $2.37 billion and earnings of $0.35 per share.
Corning also returned $552 million to shareholders during the quarter through a combination of dividends and repurchases. That brings total capital returns to more than $6.5 billion since Corning outlined its strategic capital-allocation framework in late 2015 and leaves it on track to meet its goal of reaching $12.5 billion by 2019. In addition, Corning remains on track to invest $10 billion in its business by 2019 through research, development, and engineering in an effort to capture additional growth opportunities and solidify its industry leadership.
Corning chairman and CEO Wendell Weeks stated:
Zooming in
Digging deeper into Corning's segment results, core sales from display technologies climbed 2% year over year, to $846 million, and the segment's core earnings increased 15% to $256 million. Both LCD glass market and shipment volume increased in the mid-teens-percentage range, as expected. And glass price declines continued to moderate from last quarter, marking Corning's best first-quarter declines since 2011.
Revenue at optical communications climbed 34% year over year, to $818 million, and optical core earnings grew 258%, to $93 million. Corning primarily credited strong fiber-to-the-home sales in North America for that growth. In addition, Corning highlighted Verizon's recent commitment to purchase at least $1.05 billion of optical fiber and associated products from Corning as Verizon invests in its next-gen network.
Meanwhile, environmental-technologies sales rose 4% to $275 million -- better than expectations for flat to slightly negative growth -- as weakness in the heavy-duty diesel market was offset by continued growth in light-duty substrates, given strong auto demand worldwide. Similarly, life-sciences revenue increased 3%, to $210 million -- slightly ahead of expectations -- while life-sciences core earnings grew 11%, to $20 million.
Finally, specialty-materials revenue jumped 32% year over year, to $300 million, significantly above guidance for growth in the high teens. This was driven again by strong Gorilla Glass volume thanks to its adoption in new devices including Samsung's Galaxy S8, LG's G6, andGoogle Pixel smartphones. Specialty-materials net income rose 50%, to $48 million.
Looking forward
Corning once again declined to offer specific consolidated revenue and earnings guidance going forward. But management did shed light on individual segment expectations for the current quarter, as per usual.
In the display segment, for example, Corning anticipates the LCD glass market and volume to be up by low single digits on a sequential basis from last quarter, with continued moderation in LCD glass price declines. According to Corning CFO Tony Tripeny, the end goal in display technologies is for the company to stabilize returns for this core segment.
Optical-communications revenue is expected climb roughly 10% from last year's second quarter, though Corning reiterated its expectation for optical to deliver sales growth in the low-teens-percentage range for the full year of 2017. Corning is also planning to invest in additional capacity to meet growing demand for its optical solutions going forward.
Corning also expects specialty materials sales to climb in the high-teens-percentage range in the second quarter, depending in part on the timing of new devices deploying Gorilla Glass 5. That said, Tripeny reiterated his caution that specialty-materials growth may not neatly align with Corning's own earnings calendar, given the chunky nature of revenue stemming from these launches.
Second-quarter environmental revenue should be roughly flat with the same year-ago period, as healthy automotive-market demand should be offset by continued weakness in heavy-duty substrates. And finally, for life sciences, Corning reiterated its previous guidance for low-single-digit sales growth for both the second quarter and full year of 2017.
All things considered -- apart from the outsize revenue and earnings growth from specialty materials -- there were no big surprises in Corning's report. Combined with the in-line or slightly better-than-expected results from the rest of Corning's businesses, it's equally unsurprising to see the market bidding up Corning stock in response.
10 stocks we like better than CorningWhen investing geniuses David and Tom Gardner have a stock tip, it can pay to listen. After all, the newsletter they have run for over a decade, Motley Fool Stock Advisor, has tripled the market.*
David and Tom just revealed what they believe are the 10 best stocks for investors to buy right now... and Corning wasn't one of them! That's right -- they think these 10 stocks are even better buys.
Click here to learn about these picks!
*Stock Advisor returns as of April 3, 2017
Suzanne Frey, an executive at Alphabet, is a member of The Motley Fool's board of directors. Steve Symington has no position in any stocks mentioned. The Motley Fool owns shares of and recommends Alphabet (A shares), Alphabet (C shares), and Verizon Communications. The Motley Fool recommends Corning. The Motley Fool has a disclosure policy.