Corning: Just How Unbreakable Is This Glass Company?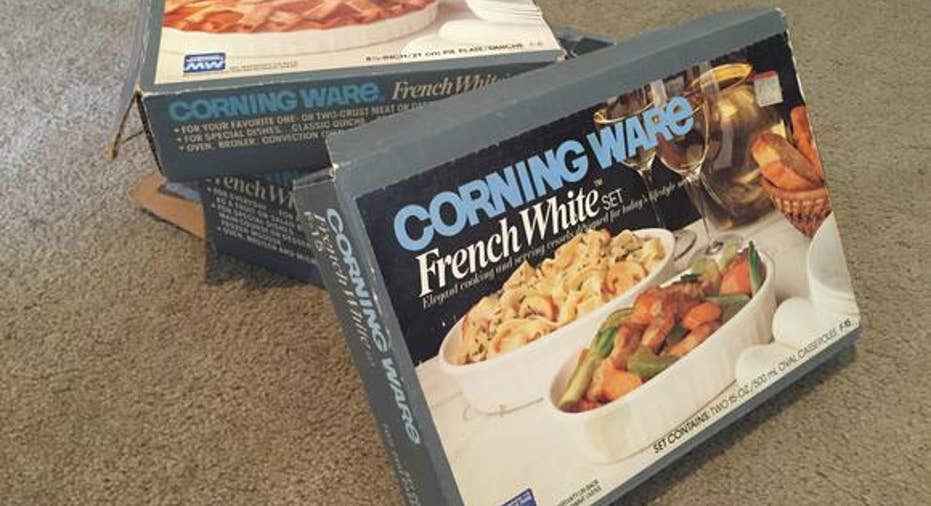 Photo by author.
That's a picture of my great-aunt's Corning baking dishes. My mother and my grandmother also swore by the company's china and cookware. But if you still think of Grandma's kitchen when you think of Corning, think again. This isn't your grandma's glassware company.
Today's Corning is a pioneer of glass technology. Basically, if you can think of something high-tech that's made from glass, Corning probably manufactures it. It does glass coatings for Ford's car windows, it makes the fiber-optic cables to connect your computer that's runningMicrosoftWindows -- the list goes on and on.
But it's screens, for devices big and small, that are Corning's bread and butter. In 2015, the company derived more than a third of its revenue and more than 72% of its profit from its Display Technologies unit.
On the big screenAt first glance, Corning's reliance on the display screen market (mostly TV screens) might seem like a liability rather than an asset. Demand for TVs dropped worldwide throughout 2015. Compounding the problem, a strong U.S. dollar further negatively affected European and Latin American sales.On the company's Q4 earnings call, CEO Wendell Weeks called this "the worst display environment in five years."
However, there's another TV trend that benefits Corning: size. The average TV screen size grew more than an inch in 2015. Because Corning sells its display glass by the square inch, this offset the decline in numbers of TVs sold for the company. Screen size is likely to continue to increase as prices drop for larger TVs. Today, a 50-inch screen will cost you the same amount as a 42-inch screen did in 2013. Fortunately for Corning, the cost savings come primarily from manufacturing efficiencies and technological advances, not from lower display glass margins.
Corning CFO Tony Tripeny not only expects TV size to grow again in 2016, but he anticipates that sales will recover as well. "History tells us that when you have a year with compressed TV consumption, you typically get a rebound the following year," he said in the company's Q4 earnings call. "Lower panel prices will have a positive effect on TV retail prices and will therefore increase demand."
The glass is half full ... of moneyEven with the rough TV market in 2015, Corning still managed to generate a lot of cash.
The company generated $1.5 billion in free cash flow in 2015. It used its cash to repurchase 151 million of its shares at a total cost of $3.2 billion. The company also pays a generous dividend, currently yielding about 2.6%. But you shouldn't worry that the company is spending too much: It ended the year with $4.6 billion in cash on hand.
And the shareholder rewards aren't expected to end there. The company expects to return $10 billion to shareholders by 2019.That doesn't count stock price appreciation, although the company has a disappointing track record in that regard:
A long track recordBesides returning it to shareholders, Corning puts its cash to work in research and development. But that's nothing new. The company has more than a hundred-year history of innovation. Corning developed the glass casings for Thomas Edison's first electric light bulbs in 1879. Its scientists also helped to develop the TV cathode ray tube and invented optical fiber. More recently, in 2008, the company developed Gorilla Glass, its current flagship product.
Gorilla Glass is a bendable, scratch-resistant, shatter-resistant type of glass, most often found in touchscreen displays. But the company has opened up a new market for the product as a coating material. Fordwill be using Gorilla Glass for "multiple glazing applications" on its Ford GT.BMW is already using it in the windows of its i8 sportscar.
Corning plans to deploy Gorilla Glass into additional automotive applications. According to Chief Strategy Officer Jeff Evenson, "[A]s we move from the glazing market to the interior of the car, we see strong potential there for actually selling more than we do even in the consumer electronics space, because managing reflection and durability is so much more important in a car than it is even on your phone."
The implications are big for Corning. The consumer electronics market for Gorilla Glass is less than 1 billion square feet per year. By contrast, the total automotive glass market is 5.5 billion square feet per year. According to Forbes, capturing just 5% of that market could result in specialty materials segment revenue increases of 25%. .
A compelling propositionCorning is an attractive company with a long history of innovating and creating shareholder value. While the stock's past price performance hasn't been stellar, the company has been rewarding shareholders through dividends and buybacks and expects to continue. And if the company's bets on future TV sales and automotive applications of Gorilla Glass pay off, the stock price may (finally) see some significant increases. But for now, look at this as an opportunity to buy a company of tomorrow at yesterday's price.
The article Corning: Just How Unbreakable Is This Glass Company? originally appeared on Fool.com.
John Bromels owns shares of Corning, Ford, and Microsoft. The Motley Fool owns shares of and recommends Ford. The Motley Fool owns shares of Microsoft. The Motley Fool recommends Corning. Try any of our Foolish newsletter services free for 30 days. We Fools may not all hold the same opinions, but we all believe that considering a diverse range of insights makes us better investors. The Motley Fool has a disclosure policy.
Copyright 1995 - 2016 The Motley Fool, LLC. All rights reserved. The Motley Fool has a disclosure policy.