Corn, Soybean Prices Hit New Highs as Drought Sweeps U.S. Midwest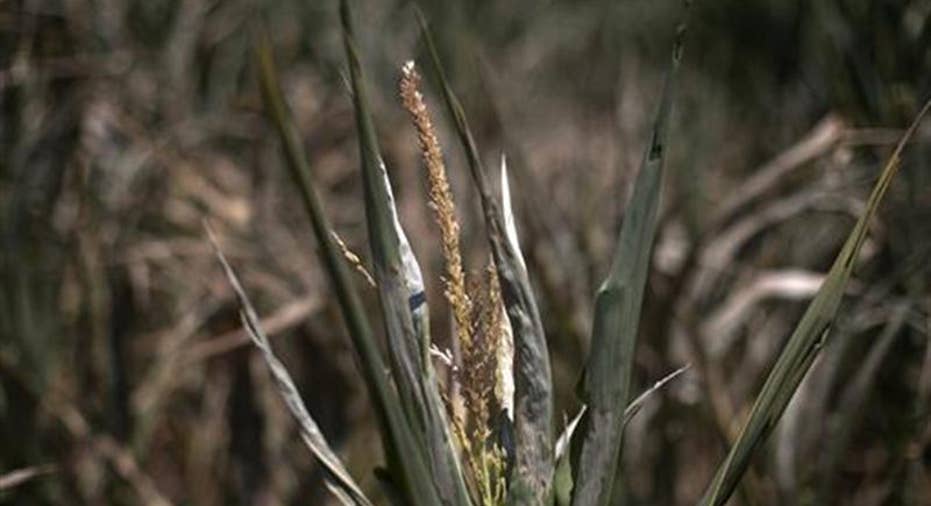 Corn and soybeans soared to record highs on Thursday as their meteoric month-long rally fueled by a worsening U.S. farm-belt drought stirred fears of a food crisis like in 2008 when riots broke out in some countries.
Updated weather forecasts called for light rains in Michigan, Indiana and Ohio on Thursday, but large swaths of the Midwest, which accounts for three-quarters of the corn and soybeans produced in the United States, will remain dry.
As prices for corn and soybeans continue to rise in the world's largest grain exporter, there are signs that importing nations are buying less grains from the United States.
U.S. government data on Thursday showed that sales of soybeans to buyers overseas fell to the lowest level in six months last week. For corn, the weekly sales were one-fifth of a year ago, with Taiwan choosing to cancel a large purchase.
"I hesitate to use those words (food crisis) but the circumstances are more severe now than they were in 2008," said Dennis Gartman, a commodity trader and editor/publisher of The Gartman Letter.
Key ingredients in the food crisis of 2008, which combined with other political factors to topple the government in Tunisia, were crude oil prices rallying to a record high above $147 per barrel and prices for rice surging in Asia -- two elements that are missing this time around.
Asia has an abundant supply of the rice staple this year, while U.S. crude oil is well below $100 per barrel.
Chicago Board of Trade spot September corn rose 2 percent to $8.11 per bushel after hitting a record high $8.12, surpassing the peak of $7.99-3/4 set last July. New-crop December was up 1.4 percent at $7.95, after hitting a contract high of $7.98.
August soybeans rose 3.7 percent $17.46, after posting a record high $17.46-1/2. New-crop November rose 3 percent to $16.65-1/2, hitting a contract high of $16.69-3/4.
Chicago September wheat rose 3 percent to $9.31, peaking at a session high $9.37-1/2, the highest in nearly 4 years. Wheat futures continue to remain in the shadow of the all-time high set in 2008 at above $13 per bushel.
The corn and soybean crops remained in the grip of the drought, with traders now turning their focus on soybeans, which typically sets yields in August but the crop was planted at least two weeks earlier due to a mild winter.
About 80 percent of the corn crop is pollinating, the crucial stage when yields are set.
"There is not a favorable weather forecast out there and now NOAA came out with the extended forecast that showed no relief for the next 30 to 60 days," said Shawn McCambridge, an analyst for Jefferies Bache.
"Corn is now pollinating in the north and that's where the drought is spreading so we're looking at more production losses," he said.
The diminishing corn crop comes at a time when a bumper crop was needed to replenish razor-thin stocks three years in a row.
"For the third consecutive year, weather has dashed hopes for a strong U.S. corn and soy crop. With drought continuing to broaden across the U.S. cornbelt, the market is growing to appreciate that yields should register well-below trend," Morgan Stanley said in a report on Thursday
"Reduced supply will necessitate higher prices, in our view, to bring about needed demand rationing, to preserve already record or near-record tight inventories."