Copper Puts a Shine on Newmont Mining Corp.'s Earnings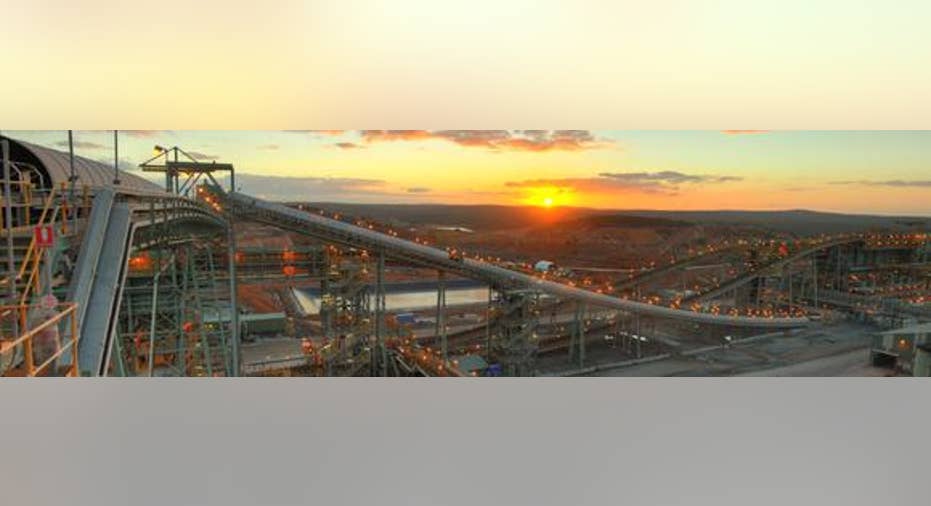 Newmont Mining's Boddington project isone of Australia's largest-producing gold mines. Image source: Newmont Mining.
Gold and copper miner Newmont Mining surprised the market Wednesday by reporting higher sales and profits than Wall Street anticipated, but as metal prices remain below where they were a year ago (despite their recent rally), they still dragged the miner's performance down.
Newmont reported average realized gold prices were $1,194 per ounce, down less than 1% from the $1,203 per-ounce price realized a year ago, while copper was down almost 14% to $2.02 per pound, compared with $2.34 a pound a year earlier.
Importantly, though, despite having forecast that its all-in sustaining costs for gold were going to creep higher in 2016, for the first quarter anyway, the company was still able to lower average AISC to $828 per ounce compared to $849 per ounce last year, despite significant cost increases at its mature Yanacocha project in Peru. Newmont still expects AISC to rise to as much as $940 per ounce this year and as much as $950 per ounce in 2017, but the bottom end of its forecast range could see costs improve to as low as $850 per ounce. It anticipates costs to remain below $1,000 per ounce in 2018.
The higher revenue Newmont Mining notched this quarter was due to a combination of factors, including greater sales of copper from its Indonesian operations at Batu Hijau, where it sold 142 million pounds of copper this quarter compared to 104 million a year ago. Similarly, gold sales were higher in the period, pushed up by higher sales out of its Asia-Pacific projects even though they fell elsewhere. Sales jumped from its Boddington mine in Australia and more than doubled out of Batu Hijau.
Production was also higher this quarter than last year's, and coupled with lower capital expenditures and better performance from projects in Australia and Asia, Newmont was able to beat expectations. Shares of the gold and copper miner were running 4.5% higher in midday trading.
The enhanced performance Newmont Mining saw in Indonesia comes as the miner considers how to proceed in the region. It and fellow miner Freeport-McMoRan have clashed over the past few years as the government imposed new export requirements and usurious taxes in violation of existing contracts of work the two had in place. Newmont had its export license suspended over the conflict, but was able to get it restored, which undoubtedly helped its efforts this quarter.
Yet it's mulled whether it should sell its assets there, and there's talk of a consortium of investors that may be interested in offering as much as $3 billion for its Indonesian operations. That may be a lowball bid, though, but better than potential confiscation by the Indonesian government.
Newmont, however, is buoyed by the current improved outlook for China's economy. Much of the crash in commodity prices that we've witnessed was a result of expectations there would be a much harder landing in China, but more recently that's been revised upwards, helping to bolster pricing. Copper, which is much more of an industrial metal than gold, and so is seen as an indicator of potential economic growth, has swayed with the fluctuating opinion.
There's still much debate whether the current rally being seen across all metals and minerals is sustainable, with many analysts expecting pricing to plunge once more in the back half of the year, but for the moment they're rising sharply. Copper itself is trading at almost $2.25 per pound, a three-week high, and up some 4% so far this year.
One potential risk factor is the new disclosure that the company is under investigation by the Securities and Exchange Commission and the Justice Dept. for violations of the U.S. Foreign Corrupt Practices Act, which often deals with instances of bribery involving foreign governments. No other details have been provided, so it will remain something investors need to watch.
The article Copper Puts a Shine on Newmont Mining Corp.'s Earnings originally appeared on Fool.com.
Rich Duprey has no position in any stocks mentioned. The Motley Fool owns shares of Freeport-McMoRan Copper & Gold. Try any of our Foolish newsletter services free for 30 days. We Fools may not all hold the same opinions, but we all believe that considering a diverse range of insights makes us better investors. The Motley Fool has a disclosure policy.
Copyright 1995 - 2016 The Motley Fool, LLC. All rights reserved. The Motley Fool has a disclosure policy.