CoolSculpting Stock Gets a Double Dose of Wall Street Love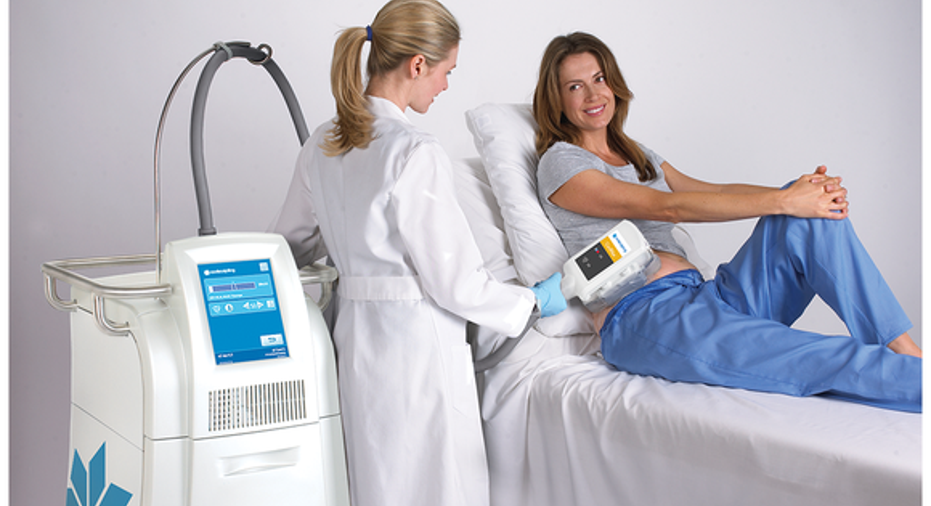 Image source: Zeltiq Aesthetics.
Shares of Zeltiq Aesthetics(NASDAQ: ZLTQ)are hitting new highs this week as Wall Street pros continue to warm up to the company behind CoolSculpting. Aegis initiated coverage of the stock on Wednesday with a buy rating and a $51 price target. This morning it was Leerink boosting its earlier price goal on the stock from $47 to $55.
Aegis analystDifei Yang is encouraged by Zeltiq's dominant market position in the non-invasive body contouring space. CoolSculpting machines that use extreme cold to freeze away fat cells from stubborn body areas continue to grow in popularity, and Yang sees that continuing in the coming years.
Zeltiq isn't the only player in this space, but it has excelled at getting its CoolSculpting brand into physician offices specializing in cosmetic procedures. More than 3.5 million CoolSculpting cycles have been performed across 70 different countries, an advantage that helps it stand out as safe and effective in the eyes of consumers looking to smoothen out their love handles, double chins, and other approved treatment areas.
Yang sees growth in the form of global expansion as well as acceleration in its higher-margin consumables business; Zeltiq collects money on the initial sale of the system but also recurring "revenue cycle" royalties whenever the system is used. The platform's flexibility and wide consumer acceptance should keep serving Zeltiq shareholders well.
Freezing fat cells is so hot right now
Leerink Swann is no stranger to the Zeltiq story, initiating coverage of the CoolSculpting company in early 2014 with a price target of $26. The price goals keep inching higher as Zeltiq's fundamentals warrant rosier outlooks. It doesn't hurt that Zeltiq has raised its own guidance nearly every quarter over the past couple of years. Leerink analyst Richard Newitter is now going from $47 to $55 on his price target, just as the stock is about to bump up against his earlier price goal.
There wasn't any company-specific news triggering the move, but it could be trend-savvy analysts simply trying to get in ahead of the inevitable holiday shopping and New Year's resolution seasons. A month earlier, it wasCanaccord analyst Kyle Rose jacking up his price target on the stock from $41 to $45, but that move was tied to the company's blowout third-quarter report earlier that week.
Zeltiq's rolling these days. Revenue climbed 55% in its latest quarter, accelerating from levels set earlier in the year. Earnings more than doubled given the scalable nature of its business model. Zeltiq has grown its installed base of CoolSculpting systems to 5,657 machines, and usage-per-device is on the rise. Analysts may be warming up to the stock now, but it's been a slow burn for investors who have seen this coming with one blowout quarter after another.
10 stocks we like better than Zeltiq Aesthetics When investing geniuses David and Tom Gardner have a stock tip, it can pay to listen. After all, the newsletter they have run for over a decade, Motley Fool Stock Advisor, has tripled the market.*
David and Tom just revealed what they believe are the 10 best stocks for investors to buy right now...and Zeltiq Aesthetics wasn't one of them! That's right -- they think these 10 stocks are even better buys.
Click here to learn about these picks!
*Stock Advisor returns as of Nov. 7, 2016.
Rick Munarriz owns shares of Zeltiq Aesthetics. The Motley Fool recommends Zeltiq Aesthetics. Try any of our Foolish newsletter services free for 30 days. We Fools may not all hold the same opinions, but we all believe that considering a diverse range of insights makes us better investors. The Motley Fool has a disclosure policy.