CONSOL Energy's Hedge Fund Endorsements Gave The Stock an 18% Boost in November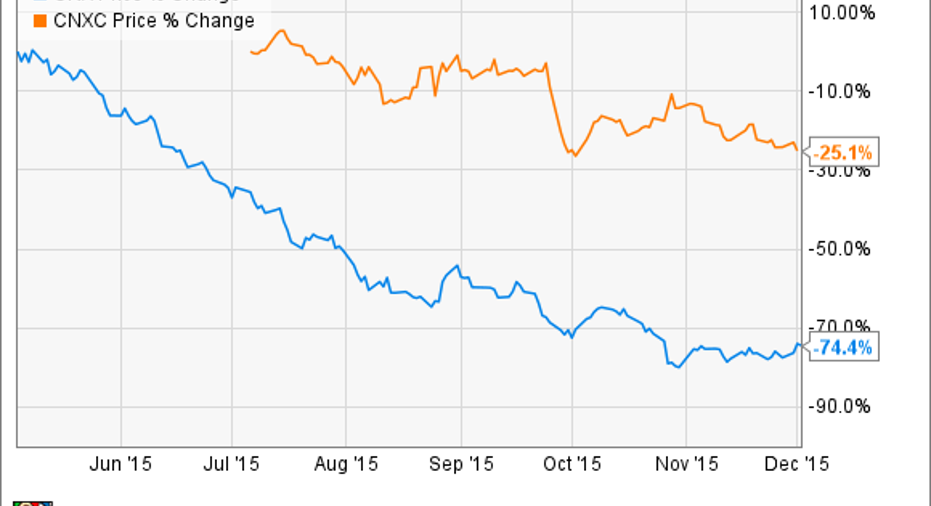 Image Source: CONSOL Energy corporate website
What: Shares of CONSOL Energy shot up more than 18% in the month of November as several hedge funds added CONSOL to their portfolios.
So What: To be clear here, an 18% boost in the month of November is a small consolation prize compared to how much Wall Street has beat down shares of CONSOL. So far this year, even after spinning off some of its coal assets into the a master limited partnership CNX Coal Resources , shares of CONSOL are down almost 75%. Based on that, no investor should get too excited about last months price movement.
Perhaps the very reason that hedge funds are buying shares of CONSOL today: shares are cheap. David Einhorn and his hedge fund Greenlight Capital have been been holding onto shares of CONSOL for a while now, and recently added CNX Coal Resources to its portfolio last month. He has stated on many occasions that the market is undervaluing CONSOL's natural gas business and focusing too much on coal.
With shares trading at 40 cents on the dollar of tangible book value and CONSOL's balance sheet holding up better than most other coal companies, it's not too hard to see why hedge funds are willing to take a nibble on CONSOL's shares.
Now What: Investors should be very cautious when following hedge funds into stock positions. Typically, positions like that in CONSOL are small percentages of their overall portfolio. If you tend to agree with these hedge funds that this stock is undervalued and has a chance to rebound when the gluts of coal and natural gas clear, then it's probably best to allocate your portfolio like a hedge fund and keep it to a very small percentage of your total holdings.
The article CONSOL Energy's Hedge Fund Endorsements Gave The Stock an 18% Boost in November originally appeared on Fool.com.
Tyler Crowe has no position in any stocks mentioned.You can follow him at Fool.comor on Twitter@TylerCroweFool. The Motley Fool has no position in any of the stocks mentioned. Try any of our Foolish newsletter services free for 30 days. We Fools may not all hold the same opinions, but we all believe that considering a diverse range of insights makes us better investors. The Motley Fool has a disclosure policy.
Copyright 1995 - 2015 The Motley Fool, LLC. All rights reserved. The Motley Fool has a disclosure policy.