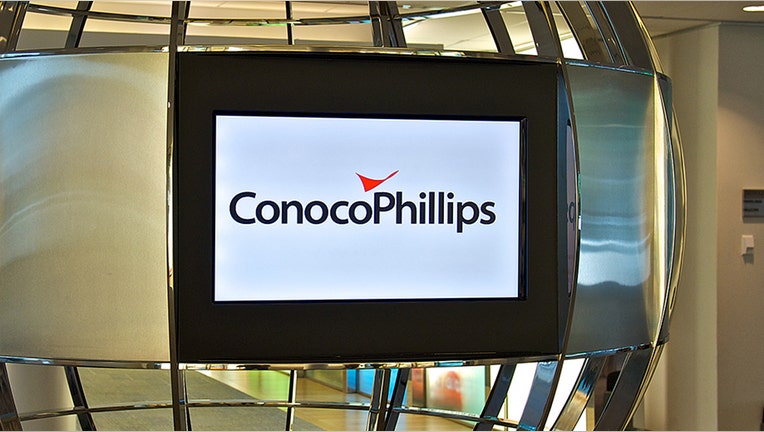 ConocoPhillips (NYSE:COP) slashed its dividend and took another axe to its spending plans for 2016, becoming the latest company to brace for more pain in the oil industry.
In December, ConocoPhillips provided guidance that included a 2016 capital budget of $7.7 billion, a 55% reduction compared to 2014. Now ConocoPhillips plans to spend $6.4 billion this year in response to reduced activity in the lower 48 states. According to oilfield services firm Baker Hughes (NYSE:BHI), the U.S. rig count is down 924 versus a year ago.
ConocoPhillips also moved its dividend to 25 cents, a 66% cut from the previous 74 cents.
The moves should improve net cash flow by $4.4 billion in 2016, according to CEO Ryan Lance.
"While we don't know how far commodity prices will fall, or the duration of the downturn, we believe it's prudent to plan for lower prices for a longer period of time," Lance said in a statement. "The decision to reduce the dividend was a difficult one. The dividend has been, and will continue to be, a top priority."
Lance added that ConocoPhillips still intends to provide a competitive dividend while significantly lowering the breakeven oil price for the company.
ConocoPhillips reported a fourth-quarter loss of $3.45 billion on Thursday, a steeper loss compared to $39 million a year earlier. The latest period included $2.7 billion in charges tied to altered exploration plans and volatility in commodities. On an adjusted basis, ConocoPhillips lost 90 cents a share. Quarterly revenue dropped 43% to $6.77 billion. Wall Street expected a smaller loss of 65 cents a share and stronger revenue of $9.06 billion.
ConocoPhillips isn't the first producer to alter its dividend amid weakness in the oil market. Last month, Chesapeake Energy (NYSE:CHK) halted its preferred dividends. Kinder Morgan (NYSE:KMI) and Marathon Oil (NYSE:MRO) also lowered their dividends recently.
Tumbling oil prices have put immense pressure on energy firms, costing at least 258,000 jobs worldwide in 2015, according to Houston-based consulting firm Graves & Co. U.S. crude has plummeted 70% from its 2014 high of around $108 a barrel. In the fourth quarter, ConocoPhillips booked a 46% decline in average selling prices year-over-year.
Standard & Poor's placed ConocoPhillips and Exxon Mobil (NYSE:XOM) on credit watch negative earlier this week. Chevron (NYSE:CVX), Hess (NYSE:HES) and eight other companies saw their credit ratings downgraded by S&P.