Conn's Stock Has a Lot to Prove on Tuesday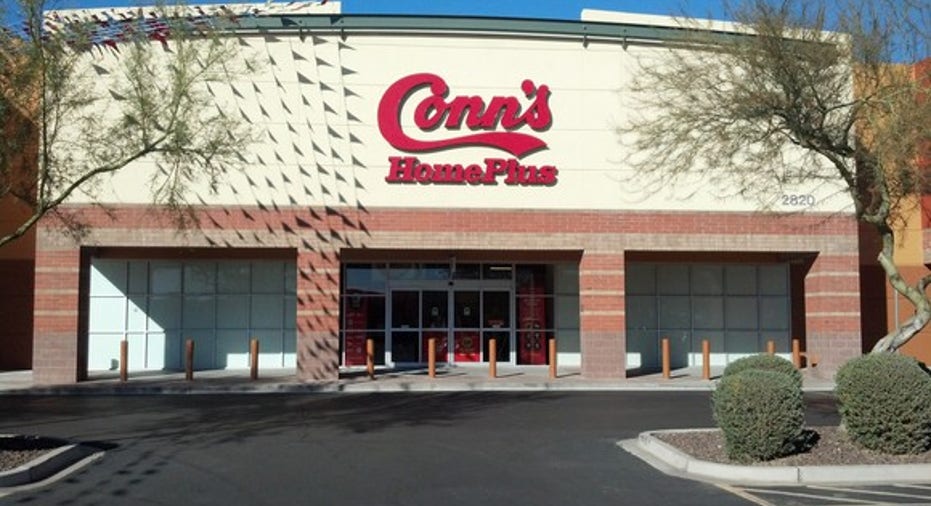 It's time to see how Conn's (NASDAQ: CONN)fared during the holiday quarter. The chain of big-box stores selling furniture, mattresses, and consumer electronics will post fresh financials on Tuesday morning.
Analysts aren't holding out for much from the 110-store chain. They see revenue for the fiscal quarter that ended in January sliding 6% to $430.2 million. It may not seem like much of a slip, but it will only be the second time that Conn's top line has posted a year-over-year decline in the past five fiscal years. You have to go all the way back to the summer of 2011 to find a larger retreat in revenue. Revenue growth has decelerated sharply at Conn's in each of the past three fiscal years, but now sales are going the wrong way.
The news is supposed to only get worse on the bottom line where those same analysts are targeting a net loss of $0.09 a share. Conn's earned $0.11 a share during the prior year's fiscal fourth quarter. Fiscal 2010 is the last time that Conn's posted a loss during the holiday quarter, but it's been a struggle lately. Conn's has checked in with a deficit in four of the past five quarters.
Image source: Conn's.
Truth or Conn's sequences
We know that this wasn't a banner quarter for consumer electronics. Best Buy (NYSE: BBY) shares took a hit several weeks ago after falling short of Wall Street's revenue targets. Best Buy's guidance for the current quarter was also disappointing. Conn's is about more than just consumer electronics. Its biggest categories are furniture, mattresses, and appliances, but we also saw appliance-centric hhgregg announce last month that it was shuttering dozens of stores and a couple of distribution centers. Whether you pair Conn's up with Best Buy or hhgregg, the prognosis hasn't been pretty.
Thankfully, Conn's shareholders know that their investment won't merely be valued by which way store-level sales go in Tuesday morning's report. The stock soared 34% the week it posted fiscal third-quarter financials, and this was despite a woeful 10.1% slide in comparable-stores sales and the company's first year-over-year revenue dip in years. The market overlooked the unflattering metrics because the sales slump was mostly the handiwork of Conn's refusing to provide credit to potentially deadbeat borrowers. Taking fewer chances with shoppers having weak credit has helped improve its loan-loss provisions at the expense of busier cash registers.
Improvement on the debt front has been the biggest driver in dictating which way the stock moves on earnings. The stock skyrocketed 24% the week of its roughsecond-quarter resultson encouraging credit portfolio news. Conn's may seem to be in a slump, but it has moved 24% and 34% higher following its last two quarterly reports. The long-term prospects for Conn's remain murky, but it's been able to excel when it's time to step up with quarterly updates lately.
10 stocks we like better than Conn'sWhen investing geniuses David and Tom Gardner have a stock tip, it can pay to listen. After all, the newsletter they have run for over a decade, Motley Fool Stock Advisor, has tripled the market.*
David and Tom just revealed what they believe are the 10 best stocks for investors to buy right now... and Conn's wasn't one of them! That's right -- they think these 10 stocks are even better buys.
Click here to learn about these picks!
*Stock Advisor returns as of February 6, 2017
Rick Munarriz has no position in any stocks mentioned. The Motley Fool has no position in any of the stocks mentioned. The Motley Fool has a disclosure policy.