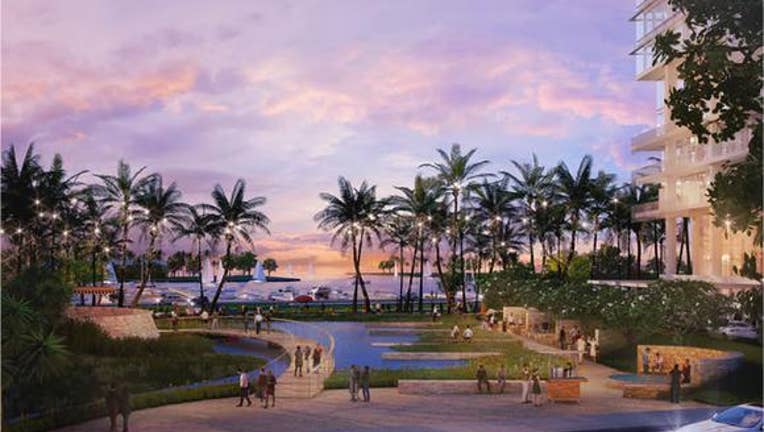 Image Source: Howard Hughes Corp.
Real estate developer Howard Hughes is known for having lumpy results, which is largely due to the fact that real estate sales aren't very predictable. That's something the company is working to address through its growing portfolio of cash generating operating assets. That being said, this past quarter the company had both areas working for it, with strong condo sales in Hawaii as well as increasing income from operating assets helping overcome weaker sales in its master planned communities.
Howard Hughes results: The raw numbers
| | Q4 2015 Actuals | Q4 2014 Actuals | Growth (YOY) |
| --- | --- | --- | --- |
| Adjusted Net Income | $42.8 million | $35.5 million | 20.6% |
| NOI from Operating Assets | $30.1 million | $19.8 million | 52% |
| Adjusted EPS | $1.00 | $0.82 | 22% |
Data source: Howard Hughes Corp.
What happened with Howard Hughes Corp this quarter?Condo sales boosted Howard Hughes last quarter:
Adjusted net income jumped 20.6% year over year due to income recognized from its Waiea and Anaha condominium towers in Hawaii as well as increased income from recently completed commercial properties.
The net operating income from the company's income-producing operating assets jumped 52% year over year due to retail and office properties completed during the year as well as the acquisition of the 10-60 Colombia Corporate Center office properties.
This helped offset very weak sales in the company's master planned communities, which decreased 55.5% to $42.9 million. Driving this weakness was a $29.1 million sales decrease in its Summerlin community in Las Vegas due to the timing of land development and closings, coupled with a $24.3 million sales decrease at its Houston master planned communities due to the impact that lower oil prices are having on that energy-focused real estate market.
What management had to sayCEO David Weinreb,commenting on the company's results, said:
Condos at company's first two condominium towers in Hawaii are selling at a brisk pace. The company already has90.8% of the units atWaiea tower, which is expected to be complete in the fourth-quarter of this year, under contract. Meanwhile, 87.7% of units at the Anaha tower, which won't be complete until the second quarter of next year, are already under contract. Finally, the company started pre-sales at the Ae'o tower, which is expected to start construction early this year.
In addition to those strong sales, the company is leasing up recently completed retail and office space at Downtown Summerlin. To date 90.6% of the retail space and 69.3% of the office space has been leased.
Looking forwardHoward Hughes continues to move forward with a number of exciting development projects. Topping that list is the Seaport District in New York City. The company is in the midst of renovating the Historic District, which it expects to complete by the end of this year. In addition to that the new Pier 17 building is under construction and expected to be complete by the middle of next year. Finally, it's renovating the Tin Building next to Pier 17 for a food market.
Outside of the Seaport District the company is also moving forward on projects within its master planned communities in Hawaii, Las Vegas, Houston, and Colombia, Maryland. These projects include the aforementioned condominium towers, retail and office space, as well as other amenities such as a golf course, spa, and self-storage units. Suffice it to say, Howard Hughes is keeping very busy these days, which bodes well for earnings in future quarters.
The article Condo Sales Drive Howard Hughes Corp Earnings Higher originally appeared on Fool.com.
Matt DiLallo has no position in any stocks mentioned. The Motley Fool recommends Howard Hughes. Try any of our Foolish newsletter services free for 30 days. We Fools may not all hold the same opinions, but we all believe that considering a diverse range of insights makes us better investors. The Motley Fool has a disclosure policy.
Copyright 1995 - 2016 The Motley Fool, LLC. All rights reserved. The Motley Fool has a disclosure policy.