Company finds gaps in underwater oil pipeline's coating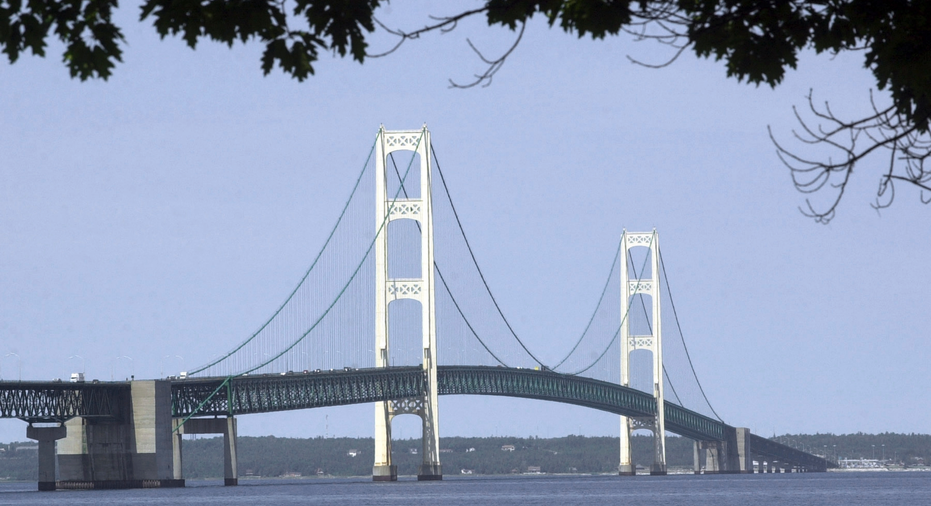 The company that operates twin oil pipelines in the waterway linking Lake Huron and Lake Michigan said Wednesday it has found a number of gaps in a protective layer of enamel coating on the pipes.
Enbridge Inc.'s disclosure prompted criticism from Michigan's governor and other officials about the condition of the pipelines, which traverse the bottomlands of the Straits of Mackinac, a nearly 5-mile (8-kilometer) wide area between the state's lower and upper peninsulas.
They are part of Enbridge's Line 5, which carries about 23 million gallons (87 million liters) of crude oil and liquid natural gas daily. It crosses parts of northern Wisconsin and Michigan on its way to refineries in Sarnia, Ontario.
Enbridge has been conducting studies, maintenance projects and inspections in response to questions from state agencies about Line 5. During a recent examination, divers spotted a gap in the coating a few inches (centimeters) long on one pipeline and four smaller gaps close together on the other, company spokesman Ryan Duffy said.
A third spot also may have bare metal and is being evaluated, he said, adding that the damage probably happened as steel anchors were installed to provide additional support for the lines.
"There's no safety or integrity issue with the steel pipe itself, no corrosion," Duffy said. "Our safety management program worked as intended."
But environmental groups said the discovery underscores the need to decommission the 64-year-old pipeline, which they contend presents a growing risk of rupturing and doing catastrophic damage to the straits area's environment, wildlife and tourism industry.
Even Republican Gov. Rick Snyder, who has stopped short of endorsing a shutdown, said he was "greatly concerned."
"I have directed our departments to accelerate an aggressive review of Enbridge operations and maintenance procedures throughout the state," Snyder said.
State Attorney General Bill Schuette, who is expected to seek the GOP nomination for governor next year, reiterated his earlier call to close the pipeline. Valerie Brader, executive director of the Michigan Agency for Energy, said it was worrisome that the coating gaps apparently resulted from human error.
"Human error was a major factor in Enbridge's spill into the Kalamazoo River," Brader said, referring to a 2010 release of more than 840,000 gallons (3.1 million liters) of oil from another of the company's pipelines.
The state Department of Environmental Quality demanded more information from the inspections and an immediate check of areas around all Line 5 anchors.
Enbridge insists Line 5 is in good shape and is inspected regularly with underwater cameras and interior tools. An electric current runs continuously through the lines to prevent corrosion, Duffy said.
A consulting firm retained by the state issued a report in June that said the pipelines could operate indefinitely but listed several alternatives, including shutting it down and installing a new straits pipeline that would run through a trench or tunnel.
The inspection that turned up the coating gaps was part of an Enbridge study to determine whether clumps of mussels or other organisms attached to the lines have done damage.
The company will fix the coating when the inspections are finished and any necessary permits obtained, Duffy said.
Critics said that wasn't enough.
"Today's news only strengthens the case for the Snyder administration to do what needs to be done by shutting down this outdated, poorly maintained and dangerous pipeline," said Lisa Wozniak of the Michigan League of Conservation Voters.
___
Follow John Flesher on Twitter at http://www.twitter.com/johnflesher