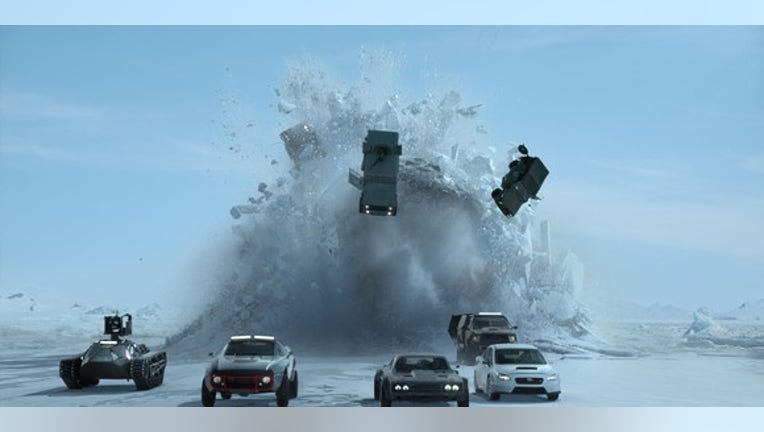 Comcast's (NASDAQ: CMCSA)Fate of the Furiousis already a record-breaker and is on its way to becoming one of the fastest movies to pass $1 billion in global ticket sales. The picture delivered the best-ever global opening, bringing in $532 million in its first weekend and unseating Disney's Star Wars Episode VII: The Force Awakens to claim the biggest debut ever.
Fate'ssuccess proves that the franchise still has momentum and solidifies the property as one of the world's most valuable in entertainment. It's another big win for Comcast's Universal Pictures, which has been building momentum with a slate of rising franchises and strengthening its position in content.
Image source: Comcast.
Fate's path to record-setting performance
2015's Furious 7was a huge hit and went on to gross more than $1.5 billion in global ticket sales, so a massive performance for its sequel isn't exactly shocking, but the franchise's overall trajectory is one of the biggest comeback stories in Hollywood. After disappointing results for the series' third entry,Fast and the Furious: Tokyo Drift, it looked as if the franchise could have been placed on hold, but the property was given a soft reboot with its fourth entry in 2009, and it's been picking up speed ever since.Fate of the Furiousis a lock to pass the billion-dollar sales mark and seems to be in good shape to top Furious 7's hugely successful run.
The franchise's most recent installmentmanaged to deliver a record opening weekend performance despite a substantial drop-off in domestic ticket sales. Furious 7 posted a $147 million opening, while sales for the recently launchedFatecame in at $98 million -- representing a roughly 33% decline between releases. That kind of development would normally be a worrying sign for a franchise, but Comcast and Universal probably aren't sweating the decline too much.
Fate of the Furiousopened to a record $192 million opening weekend in China, and it also set new opening-weekend records in 18 other countries and delivered Universal's best-ever opening in a total of 27 territories. The record-setting international performance offsetting domestic sales decline points to the increasing importance of the overseas market. While domestic ticket sales have posted only modest growth over the past decade, the international box office is growing at a rapid clip -- leading studios to reshape their strategies to better serve a global audience. The Chinese market in particular is exploding and is expected to overtake America as the world's biggest film market within the next two years, and Comcast can probably count on huge sales in the region for theFurioussequels it has planned for release in 2019 and 2021.
Image source: Comcast.
Comcast's film wing is picking up speed
Comcast has also been racking up movie wins outside theFuriousfranchise, and its expanding stable of viable entertainment properties points to strong box office performance down the line. 2015 saw the company set a record for annual worldwide ticket sales thanks to the strength of products includingFurious 7,Jurassic World, andMinions, and while last year's filmed entertainment sales dipped nearly 13% year over year, and operating cash flow for the segment fell roughly 44%, the decline was more indicative of unfavorable release slate comparison than a sign that its movie business is weakening.
A declining contribution from its filmed-entertainment segment weighed on Comcast's sales and earnings growth last year, but the company's 2016 movie happenings laid the foundations for big things to come. Universal releasedThe Secret Life of Pets, a franchise launcher that went on to gross more than $875 million in ticket sales on a $75 million production budget -- making it one of the most profitable films ever and setting a sequel in motion for a 2019 release. The company also scored a hit withSing, which did more than $625 million at the box office and has a sequel set to bow in 2020. Add in the acquisition of DreamWorks Animation and associated properties includingShrekandHow to Train Your Dragon,and 2016was a great year for Comcast's movie business.
WithFate of the Furious burning rubber atcinemas around the globe,Despicable Me 3likely to pass the billion-dollar ticket sales mark after it releases this June, and other potential winners inThe MummyandPitch Perfect 3, Comcast's film wing will probably deliver an improved material contribution in 2017. The company is now on its way to a third consecutive year of big success at the movies, and its potent lineup of franchises combined with an expanding international audience and growth in digital distribution pave the way for continued film-segment momentum.
10 stocks we like better than ComcastWhen investing geniuses David and Tom Gardner have a stock tip, it can pay to listen. After all, the newsletter they have run for over a decade, Motley Fool Stock Advisor, has tripled the market.*
David and Tom just revealed what they believe are the 10 best stocks for investors to buy right now... and Comcast wasn't one of them! That's right -- they think these 10 stocks are even better buys.
Click here to learn about these picks!
*Stock Advisor returns as of April 3, 2017
Keith Noonan has no position in any stocks mentioned. The Motley Fool owns shares of and recommends Walt Disney. The Motley Fool has a disclosure policy.