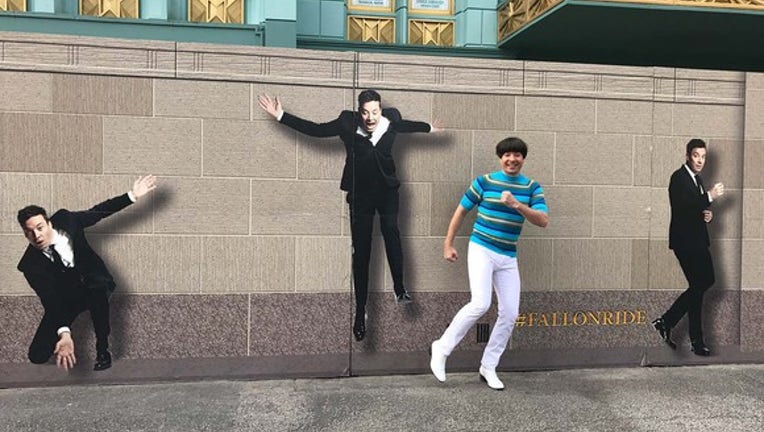 A new ride officially opens tomorrow atComcast's(NASDAQ: CMCSA)Universal Studios Florida, and Comcast is making sure that everyone knows about thetheTonight Show-themed attraction. Race Through New York Starring Jimmy Fallon is being heavily promoted through Comcast's NBC, and understandably so since it's the network behind the iconic Tonight Show.
Fallon has been filming his show from Orlando all week, playing up the new ride that simulates a race through New York City and beyond. The ride has been open to guests on a limited basis for more than a month through technical rehearsals, but Thursday will be the attraction's official debut with Fallon on hand to kick off the festivities.
Image source: Universal Orlando.
It's time to race
Comcast's Universal Orlando resort has been closing the attendance gap withDisney's (NYSE: DIS) much larger resort in Florida in recent years. Universal Orlando's least visited theme park attracted 2.04 million fewer guests than Disney World's least visited park in 2015, according to industry tracker Themed Entertainment Association. Six years earlier, the deficit was a whopping 4.76 million. The 2009 arrival of The Wizarding World of Harry Potter, an ambitious 2014 expansion of the Potter universe so it spans both parks connected by the iconic Hogwarts Express train, and a massive push to build out on-site hotels have helped Comcast catch up to Mickey Mouse.
Race Through New York Starring Jimmy Fallon won't be the biggest new thing coming to Orlando this year. Disney's Pandora -- The World of Avatar and Comcast's own Volcano Bay waterpark open next month, and both of those projects are larger and costlier than this week's debutante. However, Comcast has a leg up on Disney when it comes to promoting the Tonight Show-themed ride in that it owns the property, a rare role reversal in this battle for tourism dollars.
Comcast isn't afraid to reach out of its portfolio for hit franchises that it can transform into theme park attractions, and Harry Potter is the best example. Disney, on the other hand, rarely delves outside of its owned properties, and the few times that it has gone this route -- Star Wars, The Muppets, Indiana Jones -- it has eventually acquired the intellectual property outright. Disney doesn't have the same luxury this time around. It's at the mercy of James Cameron and a rival movie studio to breathe new life into the franchise.
It was easy to question Comcast's decision when it announced a Fallon ride would be coming to the park, but this week we're seeing the advantages of a home-grown franchise and the ease to promote it seamlessly. Disney is going to generate plenty of buzz for Pandora next month, but it's going to be harder to promote it on ABC, Disney Channel, and other properties without coming off as a hard sales job. Well played, Comcast.
10 stocks we like better than ComcastWhen investing geniuses David and Tom Gardner have a stock tip, it can pay to listen. After all, the newsletter they have run for over a decade, Motley Fool Stock Advisor, has tripled the market.*
David and Tom just revealed what they believe are the 10 best stocks for investors to buy right now... and Comcast wasn't one of them! That's right -- they think these 10 stocks are even better buys.
Click here to learn about these picks!
*Stock Advisor returns as of April 3, 2017
Rick Munarriz owns shares of Walt Disney. The Motley Fool owns shares of and recommends Walt Disney. The Motley Fool has a disclosure policy.