Colombia ETFs Plunge on Rejected Peace Deal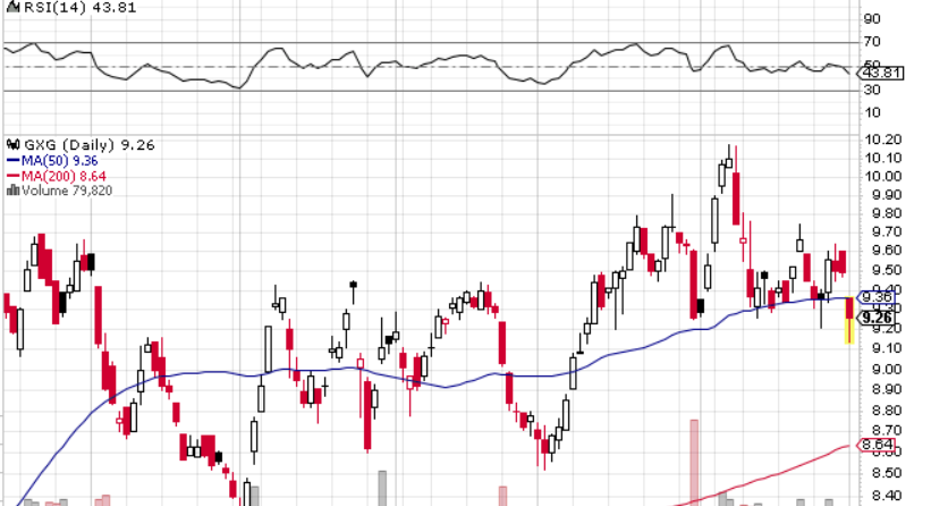 Colombian stocks and country-specific exchange traded funds fell Monday after voters rejected a peace deal with Marxist FARC rebels.
On Monday, the Global X FTSE Colombia 20 ETF (NYSEArca: GXG) declined 2.4% and the iShares MSCI Colombia Capped ETF (NYSEArca: ICOL) dropped 3.4%, with both ETFs dipping below their short-term, 50-day simple moving averages.
GXG and ICOl have gained over 25% year-to-date on speculation that Bogota and the Revolutionary Armed Forces of Colombia, or FARC, would end a five-decade war. Previous polls predicted a majority win for a passing vote.
"There's money that has been positioned in Colombia in expectation of a referendum win followed by a tax reform," Jan Dehn, the head of research at Ashmore Group Plc, told Bloomberg. "That money was clearly on the wrong side of the trade and may have to come out."
Colombians voted "no" on the peace accord, demanding assurances the rebels will hand in cash from drugs, spend time in jail and earn their political positions at the ballot rather than gaining unelected seats in Congress, Reuters reports.
The referendum would have given The Revolutionary Armed Forces of Colombia 10 seats in Congress from 2018 to 2026.
In absence of a passing vote, traders fear the government will find it harder to gather support for a tax reform, a major hurdle to maintain the country's debt rating, Reuters reports.
"It will be prudent to see how the dust settles, but the market will likely price-in the risk of a downgrade to Colombia's BBB rating," J.P.Morgan analysts wrote in a report.
President Juan Manuel Santos and Rodrigo Londono, the top FARC commander, though, will maintain a ceasefire and keep working together despite the setback.
"I will keep seeking peace until the last minute of my term," said Santos, who leaves office in mid-2018.
According to Colombia's Finance Ministry, Colombia's economy could expand 1 percentage point faster per year without the presence of the FARC scaring away investors and without the war diverting government spending from economic development.
For more information on the Colombian markets, visit our Colombia category.
Global X FTSE Colombia 20 ETF
This article was provided by our partners at ETFTrends.