College degrees can be a bargain abroad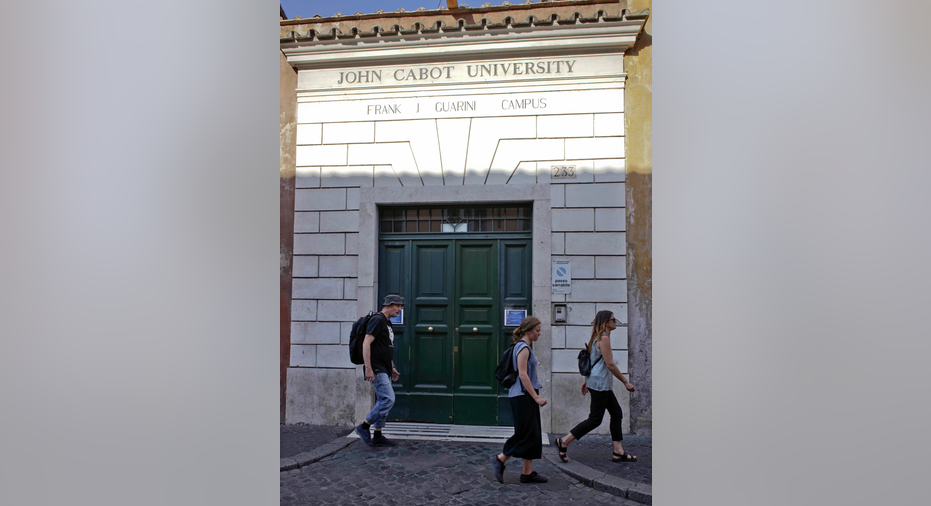 For 18-year-old Liza Miezejeski, choosing the right college meant balancing her desire for adventure and her fear of debt.
"I didn't want to stay at home, in my hometown, just to save money," says the Connecticut native, referring to community college. "I still wanted to get out there and do something."
But as she toured U.S. campuses, none excited her enough to justify pricey tuition. "I don't want to be in debt for my entire life," says Miezejeski, who describes her family as "very middle class."
So she set her sights overseas. Her mom, Laura, heard an NPR story about tuition-free schools in Germany, and together, they began researching European institutions. They landed on Anglo-American University in Prague, where Miezejeski is now a first-year student.
AAU's tuition isn't free, but at about $3,600 per semester, it's roughly half that of her state's flagship public school, the University of Connecticut — making it worth the roughly 4,000-mile trip. Plus, as is common in Europe, her program is three years, saving her at least one year's tuition.
With U.S. college tuitions at an all-time high, a slowly growing number of students like Miezejeski are pursuing full degrees abroad. In 2016, there were an estimated 48,000 students doing so, up from an estimated 42,000 in 2011, according to data collected by the Institute of International Education.
An education that requires a passport isn't right for everyone. Financial aid options might be limited and some international universities are expensive, too. Plus, students will likely need bigger budgets for travel and daily expenses. And while some U.S. employers value international education, certain professions may require a domestic degree.
Still, for students who choose inexpensive schools in less pricey locations, an education abroad can be affordable.
DETERMINING THE DESTINATION
There are more than 1,700 English-language bachelor's degree programs in 29 continental European countries, according to Beyond the States, the U.S.-based service Miezejeski used to explore her options. More than 50 have free tuition - even for American students - and more than 350 charge less than $4,000 per year, according to the company.
Most students pursuing degrees abroad go to anglophone countries such as Canada, the United Kingdom, Australia and New Zealand, or global powerhouses such as France, Germany and China, according to the IIE data. But students concerned about the cost of living might benefit from exploring less obvious options.
Schools in Estonia are solid choices for students pursuing computer science, says Jennifer Viemont, who founded Beyond the States in 2015 after spending months researching international college options for her son Sam. Viemont also recommends schools in the Czech Republic and Hungary because of their wide-ranging degree programs and English-friendly environments.
Having the right guidance is key to understanding foreign education systems. These resources can help:
— International College Options , a nonprofit, hosts college fairs in five U.S. cities.
— The National Association for College Admission Counseling's "Guide to International University Admission " includes tips for applying to schools in the most popular destinations.
— Beyond the States is a paid service that offers a database of English-taught programs in continental Europe, monthly group calls and individualized advice.
FUNDING A FOREIGN EDUCATION
An overseas education might be cheaper than one in the U.S., but students who qualify for Pell Grants and other free U.S. government money should consider staying stateside for school. Federal grants don't apply abroad.
Students should submit the Free Application for Federal Student Aid, or the FAFSA , before making any decisions to find out if they qualify for financial aid. While federal grants aren't valid overseas, federal student loans may be. More than 400 schools in 40 countries worldwide accept them.
Those same schools also accept funds from tax-advantaged 529 funds. Families can use 529 savings to pay for a non-eligible school too, but they'll have to pay income taxes and a penalty on the earnings portion of the amount they withdraw.
On top of tuition, fees and living costs, students should budget for travel, a visa and international health insurance.
____________________________________________________________________________
This article originally appeared on the personal finance website NerdWallet. Teddy Nykiel is a writer at NerdWallet. Email: teddy@nerdwallet.com. Twitter: @teddynykiel.
RELATED LINKS:
NerdWallet: How to get free money for college
https://nerd.me/fafsa-guide
International College Options
https://www.internationalcollegeoptions.org/
National Association for College Admission Counseling: Guide to international university admission
https://www.nacacnet.org/news--publications/publications/international-admission/