Cognex Corporation Soars After Strong Earnings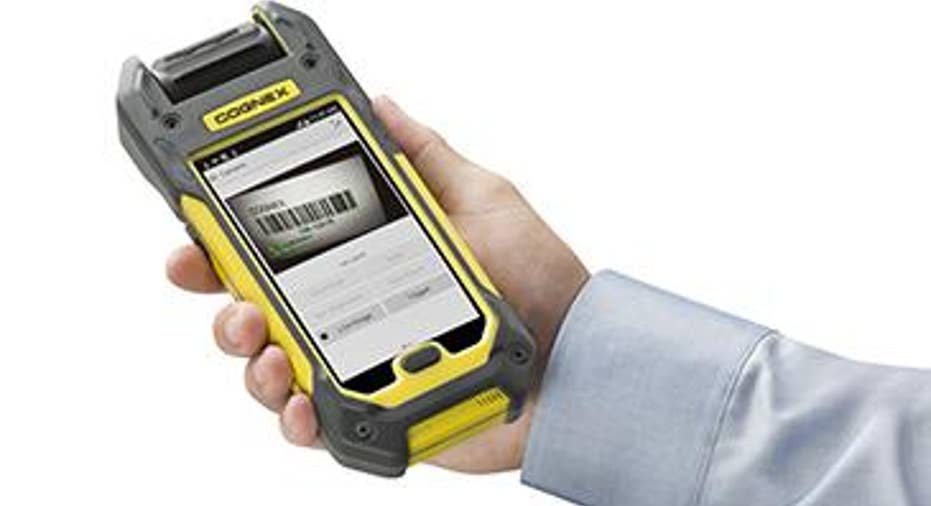 COGNEX HAS HIGH HOPES FOR ITS MOBILE TERMINAL. IMAGE SOURCE: COGNEX CORPORATION.
Machine vision company Cognex Corporation's first-quarter results easily beat management's guidance, and the forecast for the second quarter indicates a strong start to 2016. Despite management taking a cautionary tone on full-year prospects in Monday's earnings report, the market took the stock up as much as 20% in Tuesday's trading, and it was up 17% around 2:20 p.m. EDT. Let's take a look at the results from the quarter.
Cognex Corporation first quarter: The raw numbersThe headline figures:
Revenue of $96.2 million came in ahead of previous guidance for $91 million to $94 million.
Gross margin of 78% was above guidance for "mid-70%," due to a higher mix of product sales.
Operating expenses increased 3.5% from the same period last year compared to guidance for a 5% increase.
The headline numbers came in ahead of expectations, but net income from continuing operations still declined 23.5% on a year-over-year basis. The reason? In last year's first quarter, Cognex saw a 25% increase in revenue driven by servicing work for its largest customer,Apple. Indeed, the consumer electronics company loomed large on the earnings call as analysts asked as much as they could about future orders without actually mentioning the company's name -- all part of Apple's sensitivity around its suppliers disclosing relationship details.
Positives from the quarterAlongside the good numbers in the quarter, management disclosed a number of good points for investors to consider:
Second-quarter guidance for revenue in the range of $135 million to $140 million, representing a decline from last year's second-quarter figure of $143.8 million.
Management disclosed it had expanded the company's total addressable market (TAM) by $500 million by entering the rugged mobile terminal market (barcode-reading capabilities with smartphones).
TAM also expanded by $50 million in the market for reading barcodes for airport baggage
Expectations to recognize large consumer electronics orders in the second and third quarters
Significant improvement declared in the logistics market (particularly in the Americas), while the automotive sector was up double digits in the first quarter.
As noted earlier, in 2015 Cognex had significant orders to ship for Apple, so the guidance for second-quarter revenue should be seen as a positive. Meanwhile, expansion of the company's TAM is always a long-term positive. For reference, Cognex's previous estimate for its TAM in logistics was $250 million; adding in the cumulative $550 million discussed above results in a logistics figure of $800 million -- from which CEO Rob Willett expects a 20% market share in the long term.
Turning back to current trading, the logistics and consumer electronics markets are areas Cognex investors have been expecting orders from, and the company didn't disappoint.
Not all good newsWhile management disclosed plenty of good news, they also sought to temper full-year expectations. For example, on the earnings release Chairman Robert Shillman said "despite these favorable developments, I am not pleased to report that the slower business trends we saw in the second half of last year have continued." Similarly, Willett declared that "our outlook for 2016 is not any more bullish than it was a few months ago."
On the earnings call, Willett outlined how the full-year logistics market outlook had improved, but said he felt "a little less bullish" than he was at the start of the year regarding consumer electronics. Indeed, analysts asked a number of questions indirectly referencing Apple, and although management aren't at liberty to discuss details, Willett outlined that Cognex's overall consumer electronics business isn't expected to be up compared to last year.
Looking aheadThe announcements of a TAM expansion were an unexpected surprise, and the good news on logistics orders and ongoing strength in automotive were positives in the quarter. Cognex is performing well in a difficult industrial market, and its exposure to consumer-facing industries that are outperforming (automotive, food, etc.) stands the company in good stead.
It's true that management gave tempered guidance on end market conditions, but given the disappointments of 2015 -- when investors were expecting second-half orders that didn't transpire -- it's understandable if they seek to keep expectations in check. No matter: Whichever way you cut it, Cognex had a very good quarter.
The article Cognex Corporation Soars After Strong Earnings originally appeared on Fool.com.
Lee Samaha has no position in any stocks mentioned. The Motley Fool owns shares of and recommends Apple and Cognex. Try any of our Foolish newsletter services free for 30 days. We Fools may not all hold the same opinions, but we all believe that considering a diverse range of insights makes us better investors. The Motley Fool has a disclosure policy.
Copyright 1995 - 2016 The Motley Fool, LLC. All rights reserved. The Motley Fool has a disclosure policy.