Coffee At 2-Year High On Brazil Drought Fears, Cocoa Rises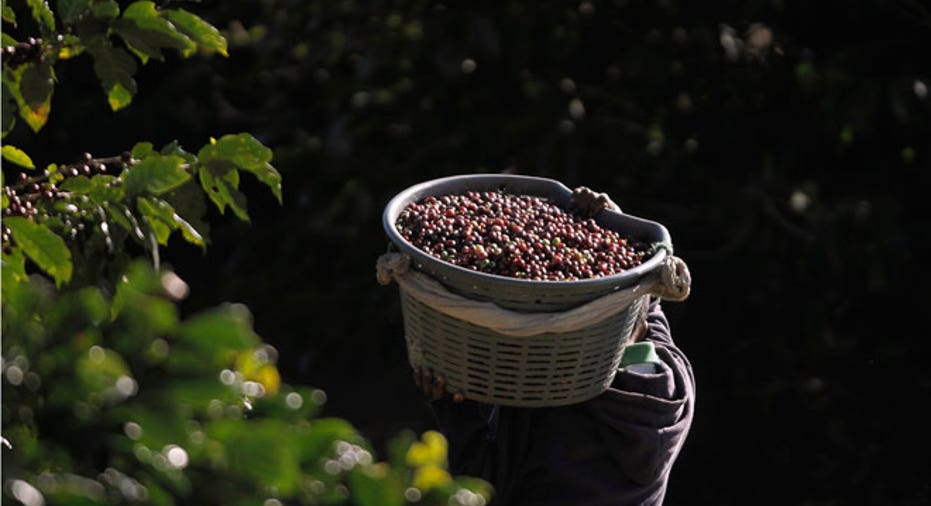 Arabica coffee futures rose by more than 2 percent on Tuesday to hit a two-year high as sugar hovered near a four-month peak on concerns over a drought in top grower Brazil.
Cocoa rose to a 2-1/2-year high on technically-driven buying, underpinned by expectations of a global deficit and strong demand.
May arabica coffee futures on ICE were 4.1 cents, or 2 percent, higher at $2.0750 per lb at 1430 GMT after peaking at a two-year high of $2.0890.
The cost of arabica beans has surged by about 85 percent since the start of the year, boosted by concerns that dry weather in Brazil would cut the size of the 2014/15 crop and could curtail production in 2015/16.
It is certain that some irreversible damage has been done, said Birgit Wippler, coffee analyst with F.O. Licht.
"Several analysts have reduced their production estimates for 2014/15 in Brazil. It seems the drought will also have an impact on the next 2015/16 crop," Wippler said, adding that arabica coffee was also pulling robusta higher.
Prices for robusta, which is mainly used for instant coffee, have failed to keep pace with arabicas during the recent rally but still climbed to a one-year high.
Brazil is the top producer of arabica coffee while Vietnam is the most important robusta grower.
May Liffe robusta coffee was up $38, or 1.8 percent, at $2,185 per tonne, having touched a one-year peak of $2,192.
SUGAR STEADY
Sugar prices were little changed, underpinned by concerns over dry weather in cane-growing areas, though brokers said supplies remain ample despite some reduction in the expected size of the crop in Brazil, the top producer of the sweetener.
May raw sugar futures on ICE were down 0.05 cents, or 0.3 percent, at 18.17 cents a lb, having touched a four-month high of 18.47 cents on March 6.
"We suspect there are some stops building up above 18.50 cents/lb, and this looks like the short-term target," said Thomas Kujawa, co-head of the softs department at broker Sucden Financial Sugar.
"It seems in the short term we are going to get a new high printed. We expect the market to continue sideways to higher."
May white sugar futures on Liffe eased a marginal 40 cents, or 0.1 percent, to $477.70 per tonne in thin volume of 1,727 lots.
Cocoa futures rose to multi-year peaks, supported by an expected global deficit in the 2013/14 season.
ICE May cocoa futures were up $33, or 1.1 percent, at $3,017 per tonne, having touched a 2-1/2-year high of $3,027.
May cocoa futures on Liffe rose 21 pounds, or 1.1 percent, to 1,881 pounds a tonne, having earlier touched a 2-1/2-year high of 1,888 pounds.
"Provided prices can build on this level and further gains break out above 1,870 pounds, targets towards 1,900 pounds will be in sight," Sucden Financial researh analyst Kash Kamal said.
"Momentum indicators are hinting at continued upside move."