Coeur Mining Inc. Had a Record Year in 2016, but Sees an Even Better 2017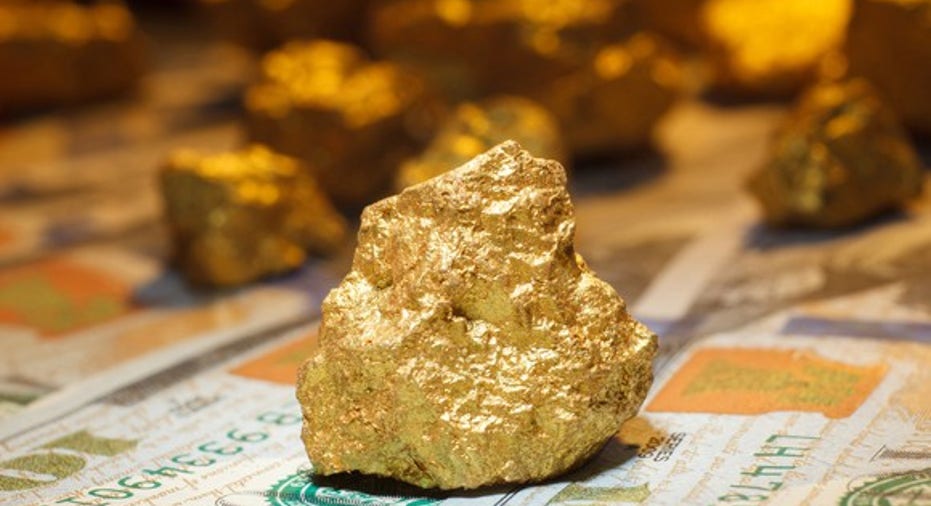 Image source: Getty Images.
Coeur Mining (NYSE: CDE) ended 2016 on a high note, reporting the highest quarterly silver equivalent production in company history. Because of that, the company ended the year delivering production toward the upper end of its guidance range, thanks to rising output across most of its portfolio. It expects more of the same in 2017, which should be another record year for the silver miner.
Digging into 2016's production numbers
During the fourth quarter, Coeur Mining produced 3.9 million ounces of silver and 105,000 ounces of gold for a combined 10 million silver ounces equivalent. That figure represented a new quarterly record for the company and its best result of the year. That record output pushed the company's full-year silver equivalent production to 36.3 million ounces. Not only was that toward the upper end of its guidance range of 34.4 million to 37 million ounces, but it was 2% ahead of last year's output.
Driving that high-end result was the company's gold production, which came in at 358,170 ounces and was above the high-end of the company's 333,000 to 355,000-ounce guidance range and up 9.2% year over year. Propelling that high-end result was gold production at Coeur's Wharf mine in South Dakota, which came in well above guidance due to improved grades and plant recovery rates. That helped Coeur Mining overcome the fact that its silver production slumped 6.9% year over year to 14.8 million ounces, which was still in line with its guidance of 14.4 million to 15.7 million ounces.
Coeur was one of several precious metal miners that offset lackluster silver output with surprisingly good gold production last year. Leading precious metal streaming company Silver Wheaton (NYSE: SLW), for example, enjoyed record gold production in 2016, which more than offset issues at some of its partners' silver mines. That was certainly the case last quarter when Silver Wheaton reported a 7% slump in silver sales volumes due to a 29% decrease in third-quarter silver production at Goldcorp's (NYSE: GG) Penasquito mine as a result of lower ore grades and throughout. Furthermore, production from Primero Mining's (NYSE: PPP) San Dimas mine was also weak last year, putting more downward pressure on Silver Wheaton's silver sales volumes.
Because of the issues at the Primero Mining and Goldcorp mines, Silver Wheaton had to reduce its 2016 guidance for silver production by 2 million ounces to 30 million ounces. However, Silver Wheaton was still able to maintain its silver equivalent production forecast of 55 million ounces thanks to stronger-than-expected gold production at two key gold mines.
Image source: Getty Images.
What to expect in 2017
While gold saved the day in 2016, Coeur Mining sees those roles reversing in 2017. Overall, the company projects that its silver equivalent production will rise to 38.1 million-41.2 million ounces, which is a 9% increase at the midpoint. Driving that growth is an expected 16.2% improvement in silver production to 16.4 million-18 million ounces followed by a more modest 4.6% rise in gold output to 362,000-387,000 ounces.
Couer expects robust production growth at the Palmarejo mining complex in Mexico to lead the charge this year. The company sees silver production at Palmarejo rising to between 6.5 million-7 million ounces, up from 4.2 million ounces in 2016, while gold output should increase to 110,000-120,000 ounces, up from 73,913 ounces last year. That growth will come from the expected ramp-up of higher-grade, higher-margin underground operations at the Guadalupe and Independencia mines.
That growth will help offset anticipated weaker production at the Wharf mine, where Coeur sees gold output slipping to 85,000-90,000 ounces next year due to the expected completion of mining at the higher-grade Golden Reward deposit by midyear. Meanwhile, production across its three other mines should be around where it was in 2016.
Investor takeaway
Coeur Mining delivered solid production in 2016 thanks to expectation-beating gold output at its Wharf mine. While that mine is not expected to repeat its success this year, it does not have to because Coeur expects robust results from Palmarejo, which will more than offset that weakness. This ability to offset weakness in one area with growth in another is a testament to the company's diversified operations and should keep Coeur on its record-setting pace.
10 stocks we like better than Coeur Mining When investing geniuses David and Tom Gardner have a stock tip, it can pay to listen. After all, the newsletter they have run for over a decade, Motley Fool Stock Advisor, has tripled the market.*
David and Tom just revealed what they believe are the 10 best stocks for investors to buy right now... and Coeur Mining wasn't one of them! That's right -- they think these 10 stocks are even better buys.
Click here to learn about these picks!
*Stock Advisor returns as of January 4, 2017
Matt DiLallo has no position in any stocks mentioned. The Motley Fool owns shares of Silver Wheaton. The Motley Fool has a disclosure policy.