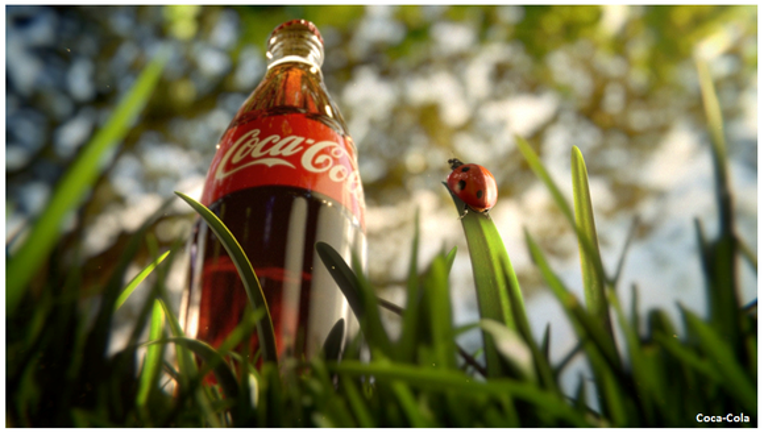 A ladybug eyes a bottle of Coca-Cola. Image source: Coca-Cola.
Coca-Cola may be up against a health-inspired anti-soda campaign, but it's still one of the most dependable stocks on the S&P 500. You can see this by examining the beverage giant's balance sheet, as I do in the slideshow below.
Investors will learn three things about Coca-Cola from the slideshow. First, thanks to its already considerable size, the Atlanta-based company isn't likely to grow as fast as, say, a recently listed growth stock. Second, Coca-Cola's current ratio suggests that the company has enough liquidity to see it through all but the most cataclysmic of economic downturns. And third, Coca-Cola's debt-to-equity ratio shows that its debt exceeds its equity. This is normally an inauspicious omen, but for a company with Coca-Cola's cash flow, it's far less of a concern.
To learn more about Coca-Cola's balance sheet, simply scroll through the brief slideshow below.
Slideshow data sourced from YCharts.com on Dec. 9, 2015. Image sources: Coca-Cola, iStock/Thinkstock.
The article Coca-Cola: 3 Important Insights From the Beverage Giant's Balance Sheet originally appeared on Fool.com.
John Maxfield has no position in any stocks mentioned. The Motley Fool has the following options: long January 2016 $37 calls on Coca-Cola, short January 2016 $43 calls on Coca-Cola, and short January 2016 $37 puts on Coca-Cola. The Motley Fool recommends Coca-Cola. Try any of our Foolish newsletter services free for 30 days. We Fools may not all hold the same opinions, but we all believe that considering a diverse range of insights makes us better investors. The Motley Fool has a disclosure policy.
Copyright 1995 - 2015 The Motley Fool, LLC. All rights reserved. The Motley Fool has a disclosure policy.