Cobalt International Energy, Inc. Continued to Plunge In January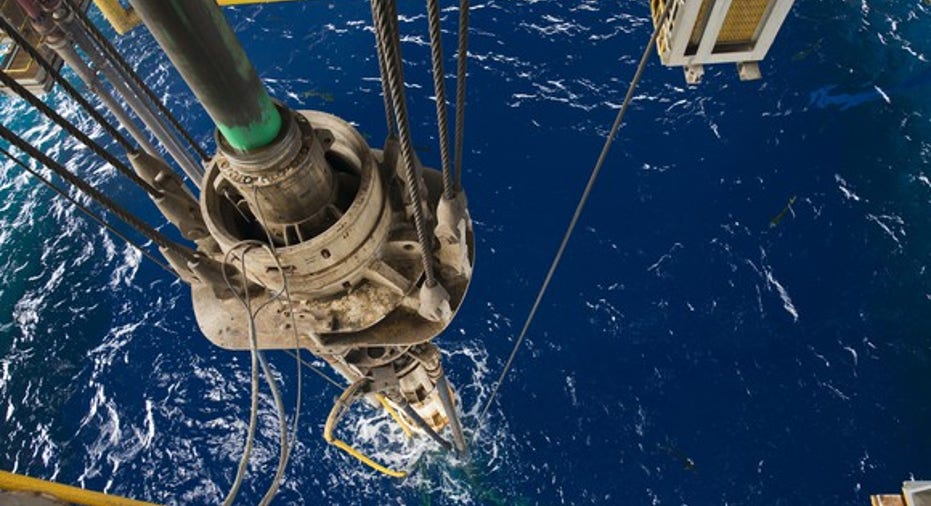 What happened
Cobalt International Energy (NYSE: CIE) has been on a seemingly never-ending slide. After plunging 77.3% in 2016, the offshore oil developer picked up right where it left off in 2017, falling another 22.8% last month. While the company released some good news last month, investors continue to focus on its precarious financial position.
So what
Cobalt International Energy actually started the year off on a positive note. The company and its partner French oil giant Total (NYSE: TOT) said that they completed drilling the North Platte No. 4 appraisal well, and that it encountered 650 feet of net oil pay, which is the amount of hydrocarbon-bearing rock. That was a very encouraging result, because it was greater than the 550 feet of net pay found at the North Platte No. 3 appraisal well. These wells confirm that the North Platte field has tremendous resource potential.
Image source: Cobalt International Energy.
That said, developing that resource potential will take more time and money, which is something Cobalt International Energy does not have enough of at the moment. Last year the company expected to spend upwards of $775 million in the Gulf of Mexico, and another $140 million in Angola, to continue exploring and appraising its acreage position. As a result, the company burned through cash last year, going from $1.2 billion at the start of the year to $683 million by the end of the third quarter. Meanwhile, not all those investments in the Gulf panned out. The company noted during the second quarter that its Goodfellow No. 1 well, which it also drilled in partnership with Total, came up dry. That forced Cobalt to write off its entire $149.9 million investment.
Cobalt simply doesn't have the financial resources to sustain its operations, let alone drill too many more dry holes. At the current cash burn rate, its liquidity could run dry within a year. But the company is working to find another buyer for its Angola assets, and it filed a registration statement to raise as much as $1 billion in debt and equity capital, which should give it some more breathing room. That said, the further the company's stock falls, the more future equity issuances will dilute existing investors, which will not help matters.
Now what
Cobalt International Energy is in a tight spot right now. It is burning through cash as it continues to appraise its acreage position, which means it will need to access outside funding sooner rather than later to continue operating. Investors fear that this could lead to significant dilution, which is an enormous weight on the stock right now.
10 stocks we like better than Cobalt International EnergyWhen investing geniuses David and Tom Gardner have a stock tip, it can pay to listen. After all, the newsletter they have run for over a decade, Motley Fool Stock Advisor, has tripled the market.*
David and Tom just revealed what they believe are the 10 best stocks for investors to buy right now... and Cobalt International Energy wasn't one of them! That's right -- they think these 10 stocks are even better buys.
Click here to learn about these picks!
*Stock Advisor returns as of February 6, 2017
Matt DiLallo has no position in any stocks mentioned. The Motley Fool recommends Total. The Motley Fool has a disclosure policy.