Coach Delivers a Strong Quarter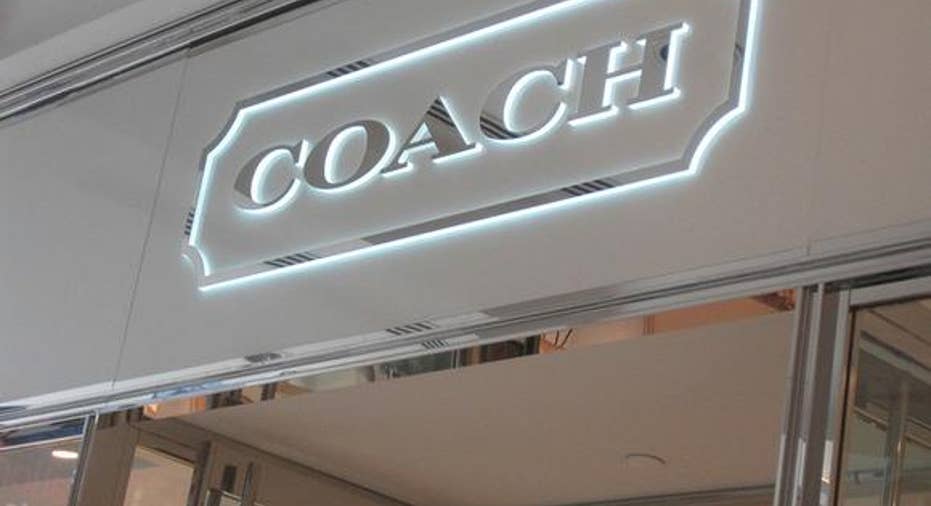 Coach is in the midst of a turnaround. Financial performance has been disappointing over the last couple of years, and management is trying to jump-start growth by renovating its stores, improving the company's brand image, and refreshing its designs to gain traction among younger and more fashion-oriented consumers.
The company reported earnings for the quarter ended in March, meaning the third quarter of fiscal 2016 for Coach, on Tuesday, April 26. Fortunately for investors, it looks like management is clearly making progress in its turnaround efforts.
Key numbersThe company reported $1.03 billion in total sales during the quarter, a healthy increase of 11% versus $929 million in the same quarter last year. On a currency-adjusted basis, the year-over-year increase in revenue was 13%. Net sales for the Coach brand amounted to $954 million, an increase of 3% in U.S. dollars and a 4% jump in constant currency terms. The Stuart Weitzman brand totaled $79 million in sales for the quarter.
The main positive in the report is that Coach sales in North America have finally stabilized. This speaks well about the success of the company's transformation, and improved performance in North America could be a major driver in terms of overall financial performance going forward. North America Coach brand sales increased 1% to $499 million, growing by 2% on a constant currency basis.
International Coach brand sales rose 5% to $448 million. On a constant currency basis, international sales rose 7%. Total China sales increased 2% in constant currency and declined 2% in U.S. dollars, which management attributed to double-digit growth and positive comparable-store sales in mainland China, which were partially offset by continued weakness in Hong Kong and Macau. Sales in Japan rose 7% in constant currency, while dollar sales increased 8% due to an appreciating yen.
Total company-level gross profit was $713 million versus $665 million a year ago, an increase of 7%. As a percentage of sales, gross profit margin was at 69% of revenue versus 71.6% in the same quarter last year. Operating income was $134 million compared to $124 million in the prior year, while operating margin was 13% of sales.
Net income amounted to $112 million during the quarter, while earnings per share came in at $0.40.This includes a contribution of $3 million, or $0.01 per share, from the Stuart Weitzman acquisition. The number shows a healthy improvement versus net income of $88 million, or $0.32 per share, in the same quarter last year.
What management had to sayCEO Victor Luis sounded quite satisfied with the company's ability to deliver sound performance in a challenging environment for the industry:
In addition, Luis said in the press release that Coach is moving in the right direction in terms of regaining prestige among customers, stating, "We are encouraged by the momentum of the business we are driving across all of our regions. Most importantly, we are proud of the evolving perception of the Coach brand and Coach, as we move from a specialty retailer to a house of modern luxury brands."
The futureThe company ended the quarter with $464 million in total inventory, which includes $27 million associated with Stuart Weitzman. This means that inventory rose 2% on a consolidated basis, but Coach brand inventory levels declined 4%. Lean inventories are a healthy sign in terms of evaluating overall demand trends and the merchandising decisions management is making.
Coach announced a series of initiatives targeted toward improving agility and profitability over the long term. The company will be reducing its corporate staffing levels globally, and it will also be updating its core technology platforms and international supply chain. Management calculates that these moves will have an estimated cost of $65 million to $80 million, which will be reflected beginning in the fourth quarter of fiscal 2016 and will be complete by the end of fiscal 2017. The company believes these initiatives will help Coach achieve its goal of a 20% operating margin for the Coach brand in fiscal 2017.
The company maintained its guidance for the full fiscal year 2016. Management expects Coach brand revenue to increase by low-single digits in constant currency, while foreign currency fluctuations are forecast to negatively impact revenue growth by 225 to 250 basis points. Revenue for the Stuart Weitzman brand is expected to be in the area of $340 million, and total revenue growth on a company level is expected to be in the high-single digits on a constant currency basis.
When looking at both financial performance last quarter and the company's prospects going forward, it seems like Coach's turnaround is solidly on track.
The article Coach Delivers a Strong Quarter originally appeared on Fool.com.
Andrs Cardenal has no position in any stocks mentioned. The Motley Fool owns shares of and recommends Coach. Try any of our Foolish newsletter services free for 30 days. We Fools may not all hold the same opinions, but we all believe that considering a diverse range of insights makes us better investors. The Motley Fool has a disclosure policy.
Copyright 1995 - 2016 The Motley Fool, LLC. All rights reserved. The Motley Fool has a disclosure policy.