Clorox Stock: What Investors Need to Know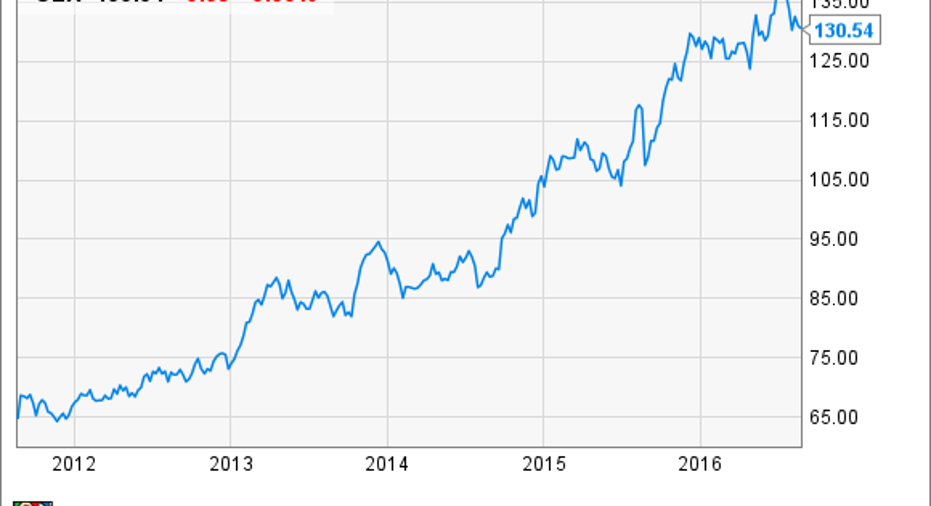 The many brands of The Clorox Company. Image source: The Clorox Company.
The Clorox Company (NYSE: CLX) is a lot more than just the home cleaning brand its name suggests. The company has been around for more than 100 years, and it's a conglomerate of many brands across the consumer goods segment, including popular brands like Glad, Burt's Bees, Brita, and many more.
The company also has a strong earnings and dividend growth history, making Clorox stock one investors should be watching as a potential long-term holding.
Clorox stock summary
The Clorox Company manufactures and markets many different products across various categories, primarily focused on cleaning, home care, and other lifestyle products like body care. Clorox has so many different segments because it continually invests in acquisitions, which is what the company believes will lead to continued growth for years to come. In the most recent quarter, Clorox acquired Renew Life, a digestive health brand management says is already performing well for the company.
In the fiscal year 2016 ended June 30, Clorox reported $5.8 billion in sales: 2% growth over 2015, and 5% excluding currency fluctuations on international sales, which make up about 15% of Clorox's total sales. Earnings grew at a faster rate, with earnings per share up 12% year over year to $4.92. Clorox has continued to grow sales and earnings impressively over the last five years.
Clorox Financial History
2012
2013
2014
2015
2016
Revenue ($billions)
5.47
5.62
5.59
5.66
5.76
Revenue Growth (% YOY)
2.8
2.8
(0.6)
1.14
1.8
Earnings ($millions)
543
574
579
606
648
Earnings Growth (% YOY)
(0.4)
5.7
0.8
4.6
6.9
EPS
4.09
4.3
4.23
4.37
4.92
Data source: Clorox's annual reports 2012-2016. YOY= year over year.
Clorox dividend history has also been impressive in the last decade, nearly tripling since 2006 to $3.20 per share annually for a dividend payout ratio now at a healthy 2.4%. Because of this impressive earnings growth and dividend history, the stock price has doubled over the last five years and is now trading around 26 times earnings.
Clorox's interesting product segments
According to the company's website, more than 80% of Clorox'ssales are generated from brands that hold first- or second-place market share in their respective categories. That's substantial because The Clorox Company owns so many various brands.
When The Clorox Company was founded in 1913 (then called the Electro-Alkaline Company), it sold one product: liquid chlorine. That still makes up a little more than 10% of its sales, but the company is also the umbrella company for many other things. Here's a chart of most of those segments, withexamplesof what products fall into each andhow much revenue each generated in the most recent quarter.
Segment
Product Examples

Q4 2016 Revenue (in millions)


% Growth
(YOY)
Household
Febreze, Glad Ware, Fresh Scoop cat liter, Brita water filters
609
7
Cleaning
Clorox disinfecting wipes, laundry soap
493
6
Lifestyle
Burt's Bees, Hidden Valley Ranch salad dressings
254
5
International
All products sold outside of the U.S.
244
(9)
Data source: Clorox's 2016 earnings call. YOY= year over year.
Each of the company's segments reported sizable sales gains in the most recent quarter, other than international, which accounts for less than 15% of total sales. The sales declines in international seems to be mostly due to foreign currency fluctuations as the stronger dollar makes international sales look weaker this year compared to last. Clorox notes that accounting for these fluctuations, international sales grew 5%.
Image: BurtsBees.com
There are a few notable segment moves. The addition ofthe Renew Life digestive health business on May 2 seemed to be a positive boost for the household segment, helping make it the best-performing segment by percentage sales growth.
Another interesting brand is Burt's Bees natural body care products. Clorox acquired Burt's Bees in 2007, and the brand has been very successful in growing Clorox's lifestyle segment. While the company doesn't break out specific brand sales, management did say during the recent earnings call that the Burt's Bees brand has haddouble-digit volume and sales gains in 2016 "driven primarily by innovation in lipsticks, tinted lip balm and BB Cream, supported by growth as well in the base business."
Is it time to invest in Clorox stock?
Clorox stock has been a great investment in the past, especially in the last five years as the stock has doubled. Going forward, Clorox still has plenty of growth opportunity thanks to new acquisitions likethe Renew Life digestive health business as well as continued growth in its other top brands.
For fiscal year 2017, Clorox projectssales growth to continue in the range of 2%-4% (4%-6% excluding foreign currency headwinds) and earnings per sharein the range of $5.38-$5.58, which would be a 9%-13% increase over 2016. That's substantial growth for a blue-chip stock like Clorox. Adding in the nice dividend bonus, Clorox continues to look like a great long-term holding.
A secret billion-dollar stock opportunity The world's biggest tech company forgot to show you something, but a few Wall Street analysts and the Fool didn't miss a beat: There's a small company that's powering their brand-new gadgets and the coming revolution in technology. And we think its stock price has nearly unlimited room to run for early, in-the-know investors! To be one of them, just click here.
Seth McNew has no position in any stocks mentioned. The Motley Fool has no position in any of the stocks mentioned. Try any of our Foolish newsletter services free for 30 days. We Fools may not all hold the same opinions, but we all believe that considering a diverse range of insights makes us better investors. The Motley Fool has a disclosure policy.