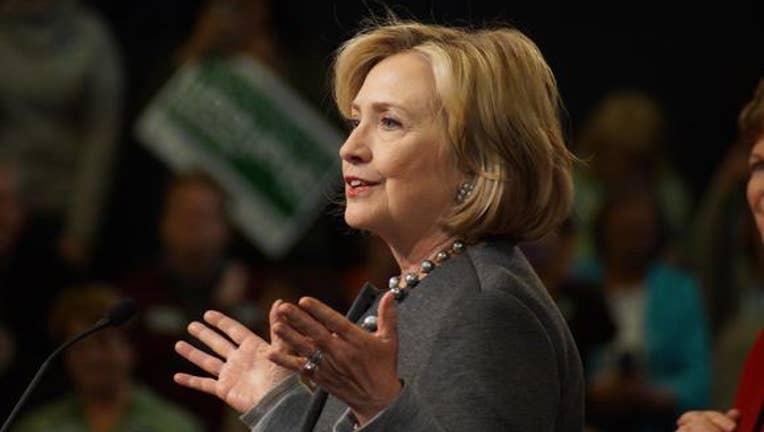 Hillary Clinton overwhelmed Bernie Sanders in Puerto Rico's Democratic presidential primary Sunday, putting her within striking distance of capturing her party's nomination.
After a blowout victory Saturday in the U.S. Virgin Islands and a decisive win in the U.S. territory, Clinton is less than 30 delegates short of the 2,383 needed to win the nomination, according to an Associated Press count.
"We just won Puerto Rico! !Gracias a la Isla del Encanto por esta victoria!" tweeted Clinton. As the race was called, Clinton was on stage on Sacramento, rallying voters in California.
The results were slow to arrive Sunday, as officials counted ballots by hand and focused first on releasing results tied to the island's local primary elections, said Kenneth McClintock, Puerto Rico's former Democratic National Committeeman.
As the results from Puerto Rico trickled in, Clinton maintained a steady 2-to-1 lead over Sanders.
While Puerto Rican residents cannot vote in the general election, the island's politics could reverberate into the fall campaign. Tens of thousands of Puerto Ricans have left the island to escape a dismal economy, with many resettling in the key electoral battleground of Florida.
Though Clinton did not spend much time campaigning in Puerto Rico, the victory is fraught with symbolism for her campaign. Eight years ago, with the presidential nomination slipping from her grasp, she rolled through the streets of San Juan on the back of a flat-bed truck, wooing voters to a soundtrack of blasting Latin music.
She beat then-Illinois Sen. Barack Obama with nearly 68 percent of the vote.
Both Clinton and Sanders spent Sunday in California, the biggest prize among the five states voting Tuesday.Clinton told an enthusiastic crowd at Greater St. Paul Baptist Church in Oakland the country is "getting indifferent to the great toll of gun violence," while Sanders made a series of stops in Los Angeles before an evening rally in San Diego.
While those watching the results in Puerto Rico focused on their impact on the race for the Democratic nomination, the focus of many voters on the island was its ongoing economic crisis.
Both Sanders and Clinton had pledged to help as the island's government tries to restructure $70 billion worth of public debt the governor has said is unpayable.
Clinton has 1,807 pledged delegates won in primaries and caucuses; Sanders has 1,516. When including superdelegates, her lead over Sanders is substantial: 2,355 to 1,562.