Cliffs Natural Resources Inc. Gained a Massive 432% in 2016. Is There Room to Run in 2017?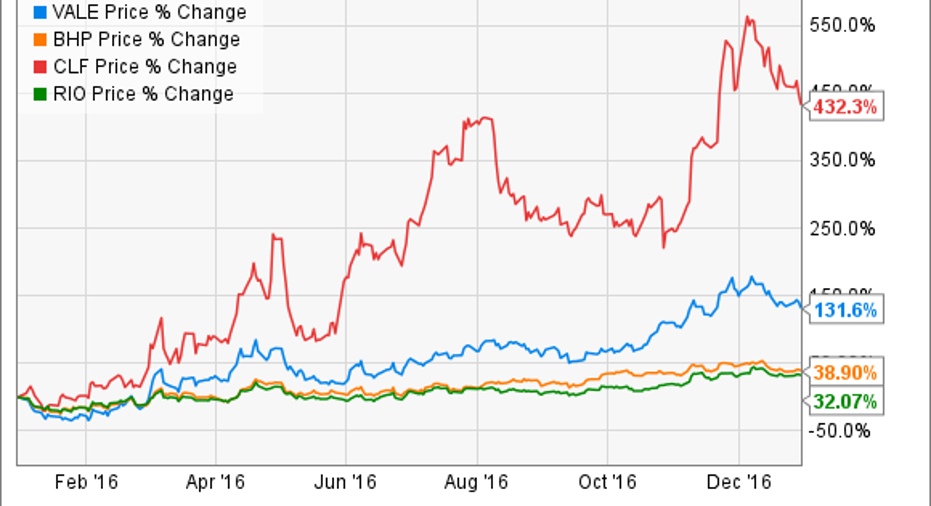 Cliffs Natural Resources Inc. (NYSE: CLF) blasted higher by 432% in 2016, making it a top performer among the major iron ore miners in what turned out to be a great year for investors. While that advance was grounded in material improvements at Cliffs, the outlook for the future isn't as bright. In other words, don't expect a repeat of those gains in 2017, even if there is still some upside left.
Image source: Getty Images
It's a commodity, but...
There's no way to discuss Cliffs' price advance without mentioning that iron ore prices essentially doubled in 2016. The mid-January iron ore turnaround was a massive move for a commodity that had been in decline since 2011, so it's little wonder investors reacted positively and pushed shares of Cliffs higher.
However, there was a different order of magnitude at Cliffs. Indeed, Cliffs' gain dwarfed the price moves of iron-ore industry giants like Rio Tinto plc (NYSE: RIO) and BHP Billiton Limited (NYSE: BHP), which were up "just" 32% and 38%, respectively. That suggests there was something else going on at Cliffs.
There was. Cliffs sold its remaining coal assets in late 2015, allowing it to start 2016 as a pure play iron ore miner. Removing that legacy issue cleared away a major headwind. It was also working hard, like every other miner, to reduce costs in the face of a difficult market environment. On that score, Cliffs trimmed its costs of goods sold and operating expenses by nearly 15% through the first nine months of 2016.
Cliffs also inked a new deal with customer ArcelorMittal (NYSE: MT), reopened some facilities it had shut during leaner times, and upped its sales guidance during the year. So, in addition to iron ore's price move, Cliffs benefited from a number of positive fundamental changes at its business.
The debt thing
These weren't the only big changes taking place, though. During the commodity downturn, Cliffs was saddled with a heavy debt load. At the start of 2016, for example, long-term debt stood at roughly $2.7 billion. Because of negative shareholder equity due to asset write downs, debt made up over 100% of the company's capital structure. By the end of the third quarter, the company had pared down that debt load to around $2.2 billion (shareholder equity remained negative).
CLF Total Interest Expense (Quarterly) data by YCharts.
Two big moves accounted for this impressive reduction, including a successful debt exchange offer in the first quarter and the full redemption of 2018 notes in the third quarter. The improvement was notable, with the company's interest expense falling by more than 20% year over year in the third quarter.
The psychological impact, though, was probably the biggest benefit. As 2016 began, there were real concerns among investors that Cliffs wouldn't survive this downturn because of its heavy debts. Add an improving balance sheet to an improving business, plus solidifying iron ore prices, and the company's peer-leading share price advance makes more sense.
That said, improvement from here will likely be harder to achieve. For example, with the fear of bankruptcy receding, lenders may not be as inclined to cut debt deals. And, with solvency no longer a major concern, the balance sheet is likely to be a secondary issue... Investors will now be paying more attention to top- and bottom-line improvements.
That means iron ore prices are likely to be a bigger factor for Cliffs' performance. And the news there isn't as robust as it was, either. Chinese demand has been driving prices higher, but a slowing Chinese economy, the country's steel mill closure plans, iron ore miners continuing to expand production, and the country's early year inventory buildup before a major national holiday all suggest that iron ore doubling again in 2017 is likely to be an aggressive price forecast.
A rocket running out of fuel
There were two driving forces pushing Cliffs' stock higher last year: rising iron ore prices and the company's improving fundamentals. Neither of those factors is likely to burn as bright in 2017. So, even if the positive news does keep coming, investors shouldn't expect the stock price trend to continue with as much momentum. In other words, there may be room for more gains, but it's hard to believe that another triple-digit advance is in the cards in for this year.
10 stocks we like better than Cliffs Natural Resources When investing geniuses David and Tom Gardner have a stock tip, it can pay to listen. After all, the newsletter they have run for over a decade, Motley Fool Stock Advisor, has tripled the market.*
David and Tom just revealed what they believe are the 10 best stocks for investors to buy right now...and Cliffs Natural Resources wasn't one of them! That's right -- they think these 10 stocks are even better buys.
Click here to learn about these picks!
*Stock Advisor returns as of January 4, 2017.
Reuben Brewer has no position in any stocks mentioned. The Motley Fool owns shares of Cliffs Natural Resources. The Motley Fool has a disclosure policy.