Clean Energy Fuels Produces a Surprise Q1 Profit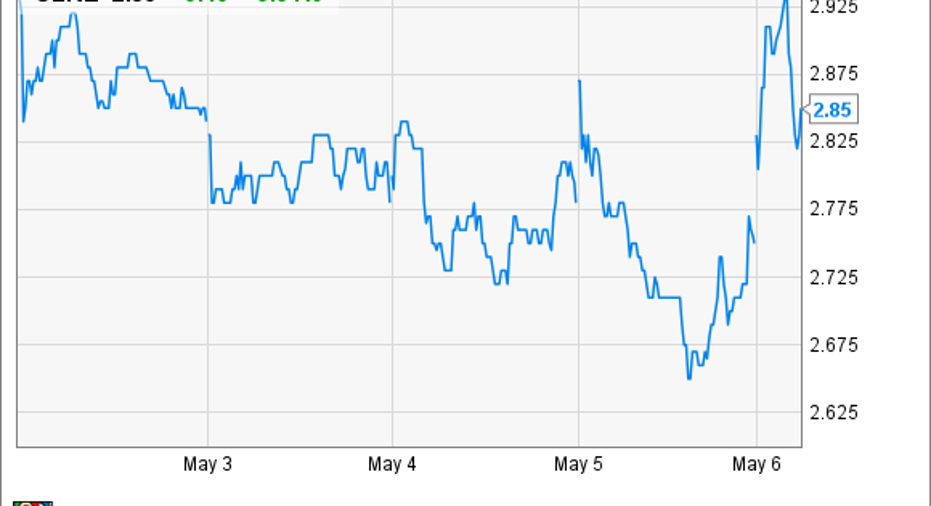 A surprise Q1 profit sent Clean Energy Fuels stock soaring last week.CLNE Price data by YCharts.
Clean Energy Fuels is building a business supplying compressed natural gas and liquefied natural gas fuel for vehicles. In a world where cars are rapidly turning electric, that may sound like yesterday's news -- but Clean Energy Fuels recently proved it's still got some fuel in the tank.
The company released fiscal Q1 earnings on Thursday, and on Friday, Clean Energy Fuels stock was up 5.5%. Why? Let's take a look under the hood.
The newsIn Q1, Clean Energy reported that it delivered 77.5 million gallons of natural gas fuel to its customers, up 3% from first quarter of 2015. The fact that delivery volumes rose in a period when both oil prices and natural gas prices fell suggeststhat low oil prices may no longer be as much of a drag on the attractiveness of using natural gas as a fuel for vehicles as they once were -- at least not when gas prices remain low as well.
Revenue rose 12% to $95.8 million. Clean Energy pointed out that this figure included $6.4 million worth of "excise tax credits for alternative fuels," (also known as volumetric excise tax credits, or "VETC"). In Q1 2015, the company had not received any of those at all, and these VETCs accounted for more than half the growth in revenue in Q1 2016. Absent the VETCs, revenue would have grown only 4% -- basically in line with volume growth.
Now here's the best news, and the most surprising: Clean Energy Fuels was not expected to earn a profit last quarter. But thanks in part to the VETC credits, and in part to an accounting "gain" from the company's repurchase of its own debt, Clean Energy Fuels did in fact earn a profit -- $0.03 per share, a big improvement from last year's $0.34 loss.
ValuationNow what does all this mean for investors? Honestly, and unfortunately, not much. Even with the surprise Q1 profit, Clean Energy Fuels remains deeply unprofitable, having racked up total net losses of $100 million over the past year. Free cash flow, at negative $50 million, is only half as bad as the GAAP figure makes things look -- but "negative" still isn't positive news for Clean Energy Fuels stock.
The short answer, therefore, is that the stock remains an exceedingly risky investment.
Indeed, the one bright light I see (in addition to the fact that volumes are still growing) is this: Cash from operations at the company was up strongly in Q1, and in fact 28% ahead of Q1 2015 numbers. Meanwhile, capital expenditures in the quarter were the lowest we've seen since Q4 of 2009 (based on historical data from S&P Global Market Intelligence).
Is this something Clean Energy can repeat in the future?
Well, CEO Andrew J. Littlefair says he's taking "significant steps in managing our capitalization." Q1 showed at least the first slight indication that these steps are making progress. Make no mistake -- there's still a long road ahead for Clean Energy Fuels. But if Littlefair can continue moving the company toward at least free cash flow breakeven, there may be hope for this stock yet.
The article Clean Energy Fuels Produces a Surprise Q1 Profit originally appeared on Fool.com.
Rich Smithdoes not own shares of, nor is he short, any company named above. You can find him onMotley Fool CAPS, publicly pontificating under the handleTMFDitty, where he's currently ranked No. 294 out of more than 75,000 rated members.The Motley Fool owns shares of and recommends Clean Energy Fuels. Try any of our Foolish newsletter services free for 30 days. We Fools may not all hold the same opinions, but we all believe that considering a diverse range of insights makes us better investors. The Motley Fool has a disclosure policy.
Copyright 1995 - 2016 The Motley Fool, LLC. All rights reserved. The Motley Fool has a disclosure policy.