Cisco Systems, Inc.'s Best Segment in 2015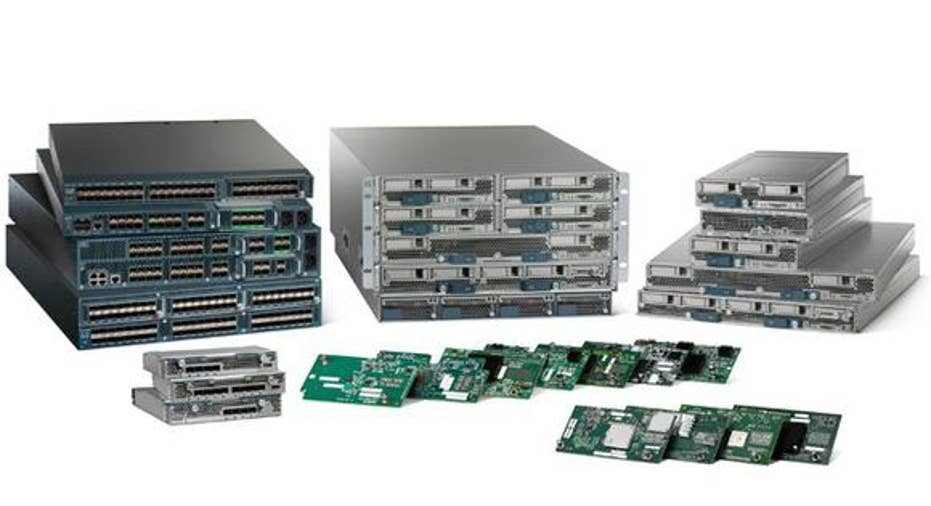 Cisco Systems is best known for being the leading provider of network switches and routers, and the company dominates those two markets. Together, nearly 60% of Cisco's product revenue came from switching and routing during fiscal 2015, which ended in July, and both segments posted growth compared to fiscal 2014, with revenues rising by 5.3% and 1.2%, respectively.
Neither of these segments are growing nearly as fast as Cisco's best-performing segment during 2015. The data center segment grew by 22% compared to 2014, recording $3.2 billion of revenue, about 8.5% of Cisco's total product revenue, up from 5.5% in fiscal 2013. During the first quarter of fiscal 2016, the data center segment continued to perform well, growing revenue by 24% year over year.
Here's what investors need to know about this fast growing part of Cisco's business.
Cisco UCS blade servers. Image source: Cisco.
An overview of the data center segmentThe performance of Cisco's data center segment is no aberration; data centers has been Cisco's fastest growing major product category for each of the past five years, including fiscal 2015. The data center segment's main product is the Cisco Unified Computing System, or UCS, a line of servers that combine computing, networking, storage, and virtualization.
Cisco's newest UCS servers are an example of composable infrastructure, where different types of infrastructure are pooled, and software allows each application to access exactly the resources it needs. This is often described as treating "infrastructure-as-code," allowing for the automatic provisioning of resources for each application, similar to how public clouds like Amazon's AWS work. Cisco is a first-mover in this area, but Hewlett-Packard Enterprise has also jumped on the composable infrastructure bandwagon with its Project Synergy.
Cisco's UCS servers have been a major success for the company. During the third quarter of 2015, Cisco was the fifth largest server vendor in the world, capturing 6.6% of the market. In the x86 blade server market, Cisco had become the top vendor in the U.S. by late 2014, and the second largest vendor in the world, behind HP. For a business that started from nothing in 2009, Cisco's progress in the server market is impressive.
In addition to servers, Cisco's data center segment includes the company's private and hybrid cloud efforts, namely the Cisco ONE Enterprise Cloud Suite and the Cisco Intercloud Fabric, as well as switches designed specifically for VMware vSphere.
Can strong growth continue in 2016?With Cisco's share of the global server market still in the single-digits, there may still be plenty of room for the company to further expand its UCS server business. Composable infrastructure is a new technology, and it's difficult to predict what impact it will have in the coming years. But Cisco is an innovator in this area, and the leading server vendors should certainly be worried about Cisco's increasing market share. Much of Cisco's market share gains in the blade server market has been at the expense of HP, which has seen its blade server market share slump over the past five years.
At the moment, Cisco's UCS business is growing far faster than the server market as a whole, and there's been no sign so far that Cisco's growth is slowing down. It's not hard to imagine Cisco rising to the No. 3 position in the server market in the long run, behind both HP and Dell, a move that would require the company to capture about 10% of the market. It's also possible that Cisco's market share tops out at some point, limited by the scope of its product offerings.
Regardless, Cisco's data center business has been an unmitigated success over the past few years, growing far faster than the company's larger, more mature segments. Data centers is still a small part of Cisco's total revenue, but along with other fast-growing segments like security and collaboration, Cisco is becoming less dependent on its core switching and routing businesses. Those businesses will remain the bedrock of the company, but the data center segment has the potential to drive growth for years to come.
The article Cisco Systems, Inc.'s Best Segment in 2015 originally appeared on Fool.com.
Timothy Green owns shares of Cisco Systems. The Motley Fool owns shares of and recommends Amazon.com. The Motley Fool recommends Cisco Systems and VMware. Try any of our Foolish newsletter services free for 30 days. We Fools may not all hold the same opinions, but we all believe that considering a diverse range of insights makes us better investors. The Motley Fool has a disclosure policy.
Copyright 1995 - 2015 The Motley Fool, LLC. All rights reserved. The Motley Fool has a disclosure policy.