Cirrus Logic and Skyworks Solutions Downgraded: 3 Things You Need to Know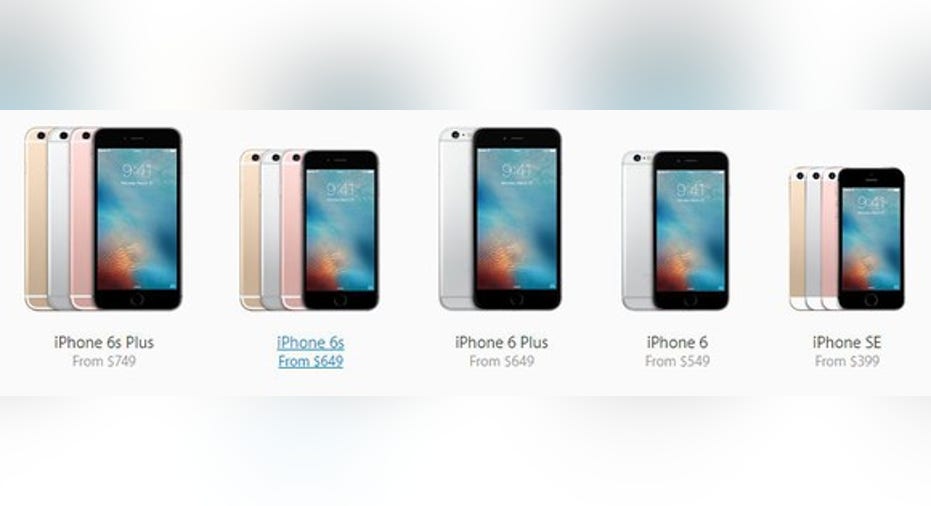 Sales of Apple's iPhone are in trouble -- and that could spell bigger trouble for Apple's suppliers.
That's the upshot of a new report out of tech analysts at Pacific Crest this morning, as they take a shotgun to the iPhone supply stream, downgrading stocks and slashing price targets across the board. As reported on StreetInsider.com Monday, Pacific Crest's "quarterly Asia supply chain findings left us incrementally more positive on" only a handful of smartphone component suppliers -- and very negative on the supply chain at large.
The analyst blames "concerns" over the upcoming iPhone 7 release for its worries, and laid out a who's-who list for the whole industry, alleging everyone from Analog Devices to Cirrus Logic , Skyworks Solutions , and Texas Instruments could be at risk.
Here are three things you should know.
iPhone prices are getting smaller. Sales could be getting smaller, too. Image source: Apple.
Thing No. 1: Downgrades...
Suffering the brunt of Pacific Crest's criticism this morning are Cirrus Logic and Skyworks Solutions. Cirrussupplies audio integrated circuits on the iPhone 6S. Skyworks supplies at least two power amplifiers for the device. Both stocks got their ratings cut from overweight to sector weight -- the equivalent of a cut from buy to hold.
Thing No. 2: ...and estimate cuts, too
Collateral damage hit iPhone suppliers Analog Devices and Texas Instruments. While not downgraded per se, both stocks got their earnings estimates cut by Pacific Crest due to their heavy reliance on Apple for revenue. Pacific Crest singled out Texas Instruments as particularly at risk for depending on Apple orders to contribute more than 10% of its annual revenues. The analyst went one step farther on Analog Devices, cutting its price target from $62 a share to $60.
Thing No. 3: Weak iPhone 7 sales on the horizon
So what is it, specifically, that has Pacific Crest so worried? StreetInsider says it's a problem with "weaker-than expected iPhone 7 demand forecasts in the supply chain." A related report this morning on TheFly.com goes on to explain that Pacific Crest has interpreted its findings from the supply chain, to guess that Apple is expecting to see "a 15%-20% decline in iPhone 7 shipments in the second half of 2016." Now the iPhone 7 hasn't actually been released yet -- that's not expected to happen until September. Obviously, Pacific Crest can't mean it's expecting a 15% to 20% decline in iPhone 7 shipments. More likely, it's talking about a decline in shipments of the iPhone 7 relative to past shipments of iPhones. So how bad of a decline could we be looking at?
Well, through the first three quarters of 2015, Apple was selling iPhones of all shapes and sizes at the rate of just over 60 million unitsper quarter. Q4 shipments surged, as you'd expect them to in the Christmas shopping season, and notched a record sales quarter of 74.8 million iPhones sold. If Pacific Crest is right about the impending sales decline reaching as high as 20%, therefore, Q4 2016 could see iPhone 7 shipments fall below 60 million. That number would be well below the average number of units shipped across all quarters last year -- and it could happen in the strongest sales season of the year.
The most important thing: Valuation
So you see why Pacific Crest is nervous. Should investors be nervous, too? And if so, about which stocks?
Let's look at the numbers. Right now, Cirrus Logic stock, subject of one of Pacific Crest's actual downgrades, is selling for 20.3 times trailing earnings. Analyst projections currently anticipate that the stock will grow earnings at just under 12% annually over the next five years. Accordingly, the stock's 1.7 PEG ratio puts it well into danger territory.
Skyworks Solutions, on the other hand, costs only 12.2 times earnings, and is pegged for 17% growth. That suggests that even if Pacific Crest is right about iPhone sales turning down, Skyworks stock is more defensively priced. (There is, however, some concern to be found on the stock's cash flow statement. According to data from S&P Global Market Intelligence, Skyworks Solutions generated less than $0.58 in real free cash flow for every $1 in claimed "net earnings" over the past 12 months. Cheap as the stock may appear on the surface, it may not be quite as cheap as it looks.)
Meanwhile, Analog Devices, priced at 27.5 times earnings and pegged for just single-digit growth, looks significantly more overpriced than either of the stocks that actually received downgrade" this morning. Likewise, see Texas Instruments at 21.7 times earnings and a 10% projected growth rate. If Pacific Crest is right at all about the iPhone sales decline -- it's almost certainly right to be leery of these two stocks.
Long story short? I see plenty of reasons to worry about all four of these stocks -- whether Pacific Crest is right about iPhone sales being about to crater, or not. Investors would be well advised to heed the analyst's warning: With high prices and a high level of dependence on one customer for their profits, this is an industry setting itself up for a fall.
The article Cirrus Logic and Skyworks Solutions Downgraded: 3 Things You Need to Know originally appeared on Fool.com.
Fool contributorRich Smithdoes not own shares of, nor is he short, any company named above. You can find him onMotley Fool CAPS, publicly pontificating under the handleTMFDitty, where he currently ranks No. 306 out of more than 75,000 rated members.The Motley Fool owns shares of and recommends Apple and Skyworks Solutions. The Motley Fool also has the following options: long January 2018 $90 calls on Apple and short January 2018 $95 calls on Apple. And The Motley Fool recommends Cirrus Logic. Try any of our Foolish newsletter services free for 30 days. We Fools may not all hold the same opinions, but we all believe that considering a diverse range of insights makes us better investors. The Motley Fool has a disclosure policy.
Copyright 1995 - 2016 The Motley Fool, LLC. All rights reserved. The Motley Fool has a disclosure policy.