Cintas Rides the Employment Boom Higher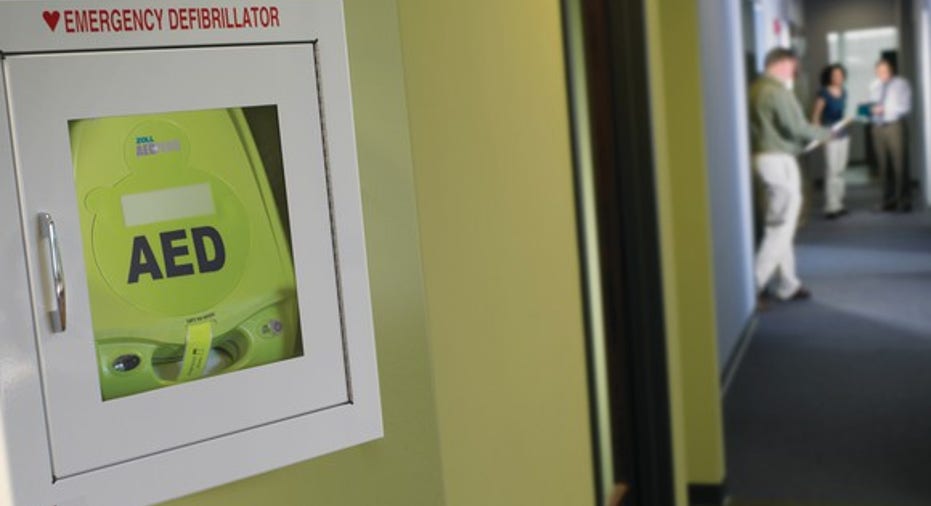 Most companies are sensitive to the health of the overall economy, but Cintas (NASDAQ: CTAS) in particular has to rely heavily on employment trends in the workplace. With its core uniform rental business, the more workers are in the workforce, the more demand Cintas sees for its products. Coming into its fiscal third-quarter financial report, Cintas investors expected the company to find ways to produce modest growth and keep its positive momentum tied to that of the U.S. economy. For the most part, Cintas delivered on that promise, and it sees a bright future for itself going forward.
Let's take a closer look at Cintas to see how it did and what's coming up in the future.
Cintas goes beyond uniforms to provide safety equipment as well. Image source: Cintas.
Cintas keeps climbing higher
Cintas' fiscal third-quarter results continued a steady pace of growth for the company. Revenue was up 5.3% to $1.28 billion, which roughly matched what most investors were looking to see from the uniform services specialist. GAAP net income was up just 1% to $118.6 million, but adjusted earnings from continuing operations of $1.08 per share was slightly more than the consensus forecast for $1.07 per share.
A closer look at Cintas' results adds some color to the company's corporate picture. Uniform rental and facility services revenue outperformed the overall gains for the company as a whole, posting top-line gains exceeding 6%. The first aid and safety services business saw more modest 5% growth, and the all-other catchall segment brought up the rear with a 2% growth rate. On the bottom line, though, only the uniform services business posted pre-tax profit gains, while first aid dropped about 3% and the all-other segment posted a more than 20% drop.
The biggest problem was the rise in its overhead expenses, which is a theme that has occurred time and time again for Cintas. Selling and administrative expenses jumped at more than a 9% clip during the quarter, and that led to compressed operating margin figures for the company. Acquisition costs were also a headwind that Cintas had to fight as it continued to prepare for its acquisition of G&K Services. Still, with organic growth trends continuing to stay in the range of 7%, it is capitalizing on its opportunities well.
CEO Scott Farmer was happy about the results. "[Our gross margin improvement] and our industry-leading revenue growth are indicative of a healthy company," Farmer said, "with significant opportunities ahead." Farmer also pointed to synergies from the acquisition of ZEE Medical in helping to support the first aid and safety services segment.
Can Cintas keep up its momentum?
Cintas anticipates that the coming year will continue to be lucrative for the company. Indeed, now that the acquisition of G&K is complete, Cintas expects to reap annual synergies of $130 million to $140 million by the fourth full year after the acquisition. That could produce a nice profit boost in the long run.
However, Cintas' success has created some short-term uncertainties. In response to the fact that achieving cost savings from synergies between G&K and Cintas will require time and effort, Cintas decided to pull its guidance for the remainder of fiscal 2017. That will leave investors without clear direction about where the company sees itself moving in the near term, but it also gives Cintas flexibility to take one-time charges as appropriate in order to set up its integration process in a way that will produce the most success in the long run.
Investors were generally happy with how Cintas did, and the stock has climbed to new all-time highs in response to the report. Looking ahead, if the U.S. employment picture continues to look strong, then Cintas should be in a prime position to capitalize and keep moving forward with its growth efforts well into the future.
10 stocks we like better than CintasWhen investing geniuses David and Tom Gardner have a stock tip, it can pay to listen. After all, the newsletter they have run for over a decade, Motley Fool Stock Advisor, has tripled the market.*
David and Tom just revealed what they believe are the 10 best stocks for investors to buy right now... and Cintas wasn't one of them! That's right -- they think these 10 stocks are even better buys.
Click here to learn about these picks!
*Stock Advisor returns as of February 6, 2017
Dan Caplinger has no position in any stocks mentioned. The Motley Fool recommends Cintas. The Motley Fool has a disclosure policy.