Cintas Climbs Higher With Solid Organic Growth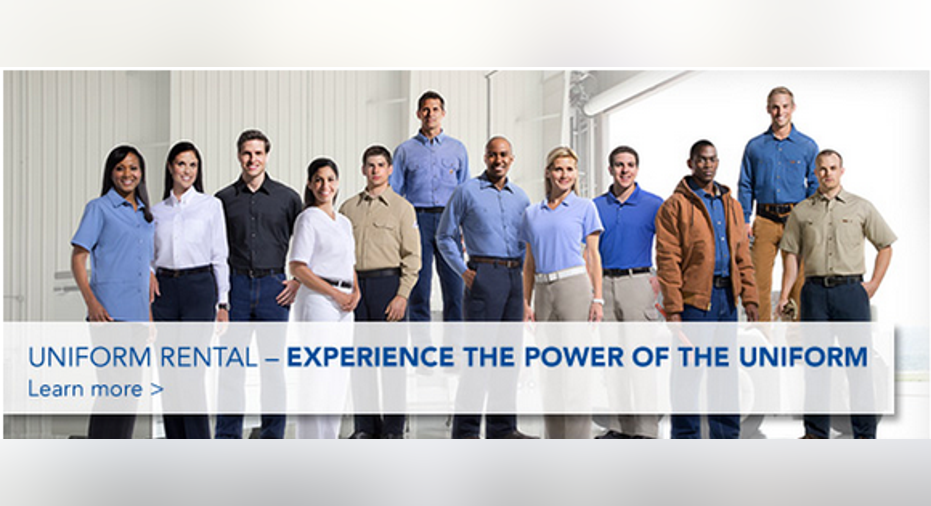 Image: Cintas.
Few people think about the uniforms that employees have to wear to work, but Cintas has made it its business to provide the clothing and other essentials that workers need to do their jobs. Coming into Tuesday's fiscal third-quarter financial report, Cintas investors were hoping that the company would be able to continue to grow by adding new customers and looking for smart ways to expand its reach. The results that Cintas posted were better than most investors had expected, and the company also boosted its guidance for the fiscal year once again. Let's take a closer look at the latest from Cintas and what lies ahead for the company going forward.
Cintas dresses up its growthCintas' fiscal third-quarter results gave investors more of the good results they've seen recently. Sales climbed almost 10% to $1.22 billion, which was nicely ahead of the $1.20 billion consensus forecast among investors following the stock. On the bottom line, Cintas also produced success, posting a 17% rise in net income from continuing operations to $117.3 million. That produced earnings of $1.05 per share, which was a dime per share higher than investors had expected to see.
A closer look at Cintas' numbers shows some of the success stories going on throughout the company. As we've seen in recent quarters, growth in the key uniform rental and facilities segments was sluggish at just 6%, but that pace is faster than we've seen lately. Gross margins for the segment expanded thanks to slower increases in costs of goods sold. For the Other category, which covers first aid, safety, fire-protection, and direct-sales, revenue jumped 24%, although a 26% rise in costs led to a slight decline in segment gross margins. Overall operating margins improved despite a 10% jump in overhead expenses, and reductions in interest expense helped boost profit margins as well.
CEO Scott Farmer looked at the quarter in the context of broader efforts. "We recently initiated our first national branding campaign," Farmer said, "and introduced our new tag line, 'Ready for the Workday.'" The CEO pointed to strong organic growth even in the acquisition-led Other segment of 12% as showing the demand for First Aid, Safety Services, and other needs beyond the uniform business.
What's ahead for Cintas? In response to its better than expected results, Cintas once again decided to boost its guidance for the full 2016 fiscal year. The company now expects that it will bring in between $4.86 billion and $4.89 billion in revenue, which takes the upper half of the previous guidance range and extends it upward by about $10 million. Similarly, earnings from continuing operations are now expected to be between $3.98 and $4.03 per share. That's up between $0.13 and $0.15 per share from previous guidance, accelerating from its previous pace of increase. The new figures imply growth rates of about 9% on the top line and between 19% and 20% on the earnings side.
Perhaps the biggest long-term threat to Cintas stems from its exposure to the employment market. Even though efforts to broaden the company beyond its uniform segment have given Cintas much-needed diversification, the company still watches metrics like workday-adjusted revenue growth closely. Given that uniform rental revenue relates directly to the number of workdays in a given period, Cintas clearly recognizes that it benefits from favorable conditions in the workplace. If unemployment stops falling, then a reversal of fortune for the U.S. economy could have an outsized impact on Cintas' business.
For now, though, Cintas investors were happy about the company's results, and the stock rose more than 1% in after-hours trading following the announcement. Cintas' combination of taking advantage of favorable conditions and making smart strategic moves to capture new opportunities should continue paying dividends well into the future for shareholders.
The article Cintas Climbs Higher With Solid Organic Growth originally appeared on Fool.com.
Dan Caplinger has no position in any stocks mentioned. The Motley Fool recommends Cintas. Try any of our Foolish newsletter services free for 30 days. We Fools may not all hold the same opinions, but we all believe that considering a diverse range of insights makes us better investors. The Motley Fool has a disclosure policy.
Copyright 1995 - 2016 The Motley Fool, LLC. All rights reserved. The Motley Fool has a disclosure policy.