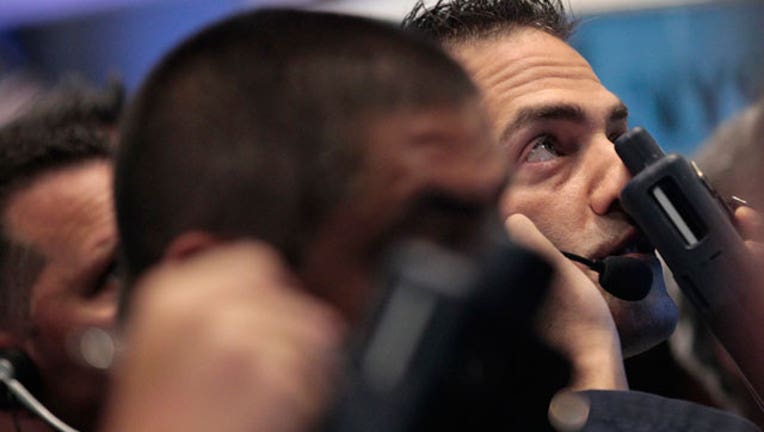 FOX Business: The Power to Prosper
The major market averages were mixed on Monday, with the Dow posting big gains and the Nasdaq sliding. Traders were digesting a better-than-expected read on the consumer sector with disappointing manufacturing data and ongoing worries about Spain's debt situation.
Today's Markets
As of 3:07 p.m. ET, the Dow Jones Industrial Average rose 102 points, or 0.79%, to 12950, the S&P 500 gained 1.3 points, or 0.1%, to 1372 and the Nasdaq Composite slid 19.5 points, or 0.65%, to 2992.
Apple (NASDAQ:AAPL) and Google (NASDAQ:GOOG), two Nasdaq heavyweights, both fell close to 3% in morning trading. Apple hasn't traded below the $600 mark since late March. Traders who focus on the technology sector said they weren't looking at specific headlines, but saw a continuation of the selling seen in the latter part of last week.
On the other side of the spectrum, climbing shares of IBM (NYSE:IBM), Caterpillar (NYSE:CAT) and Chevron (NYSE:CVX) helped boost the narrower Dow.
Overall utilities, often seen as safe-havens, performed the best on the day by a wide margin. Treasury yields also fell as traders shifted once again into the defensive asset class.
The markets are coming off the worst weekly selloff of the year, in which the S&P 500 shed 2%. The economic and corporate calendar is quite full this week.
Retail sales jumped 0.8% in March, more than doubling expectations for a 0.3% rise. Excluding the auto segment, sales were up 0.8%, topping estimates of 0.6%. Dan Greenhaus, chief global strategist at BTIG, wrote in a note to clients following the report that the report is "supportive of the moderate pace of consumption growth expected in the first quarter." Still, Greenhaus warned that the consumption sector is still likely to be weak in the first quarter as consumers have had to deal with largely stagnant wages and income.
The pace of expansion of the manufacturing sector in the New York region slowed down dramatically in April. The New York Federal Reserve's regional manufacturing gauge dropped to 6.56 in April from 20.21 in March, far short of expectations of 18. Readings above 0 point to expansion, while those below indicate contraction.
"Despite the headline decline in this volatile index, we still see manufacturing activity as being on a broadly upward trend," analysts at Barclays Capital wrote in a note to clients.
The more closely watched survey from the Philadelphia Fed is on tap for Thursday.
On the earnings front, Citigroup (NYSE:C) posted a first-quarter profit of 95 cents a share on $19.4 billion in revenue. Excluding certain debt valuation adjustments, the banking giant earned $1.11 a share on $20.2 billion. Analysts expected an EPS of $1.00 on sales of $19.81 billion.
The eurozone debt crisis is once again coming back into focus. The yield on Spain's 10-year bond surged to 6.14% from 5.98% on Friday. Additionally, the cost to insure the country's debt spiked to an all-time high, according to data from London-based Markit. Analysts have grown increasingly concerned about the country's ability to close its budget gap amid a weak economy and high borrowing costs.
Commodities were mixed. Crude oil traded in New York rose 4 cents, or 0.03%, to $102.86 a barrel. Wholesale RBOB gasoline fell 4 cents, or 1.2%, to $3.306 a gallon.
In metals, gold fell $7.20, or 0.43%, $1,653 a troy ounce.
Foreign Markets
European blue chips rose 0.4%, the English FTSE 100 gained 0.56% to 5683 and the German DAX climbed 0.56% to 6621.
In Asia, the Japanese Nikkei 225 sold off by 1.7% to 9471 and the Chinese Hang Seng dropped 0.44% to 20611.