Chipotle's New Goal Is Nothing but Net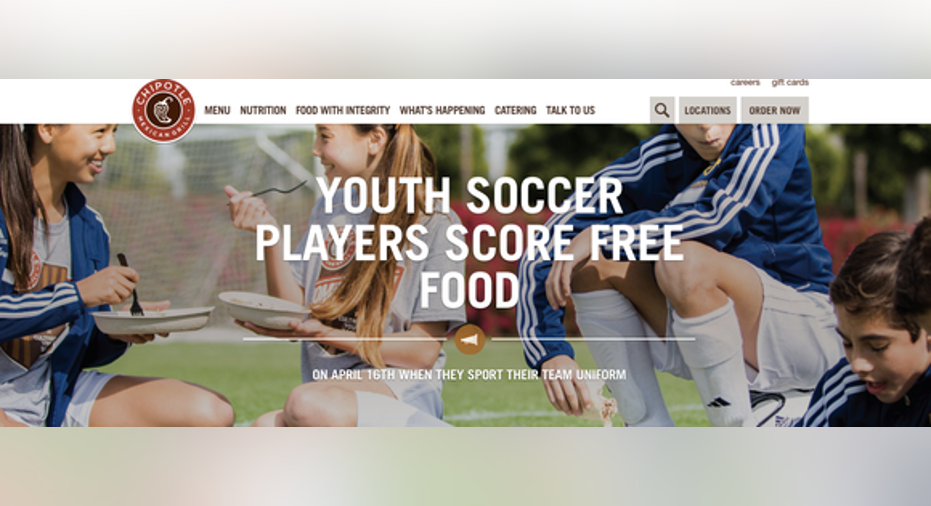 Image source: Chipotle.
Chipotle Mexican Grill(NYSE: CMG)has become a serial promoter, and this weekend it's turning its attention to soccer kids. The turnaround-hungry restaurant chain is offering "buy one, get one free" offers on Saturday to anyone under 14 that shows up in a youth soccer team uniform.
Offering soccer families a BOGO deal on burritos, salads, bowls, tacos, and kid meals isn't as silly as it may seem. Organized youth soccer leagues tend to have games early on Saturdays, so the kids on teams will be in uniform. It also has viral power. You can be sure that the event will be popular chatter among parents attending soccer practices after school this week.
Sure, it's unusual, but is this any more peculiar than having guests play a digital photo hunt to score a free order of chips and guacamole? The last day to redeem that mobile offer was this past Sunday, and it's not a surprise to see a new deal emerge this week. The only real surprise here is if Chipotle doesn't have a new deal for a discounted menu item next week.
This isn't the first time that you can score a deal based on what you're wearing. This is the same chain that for the last five years has offered up $3 burritos on Halloween to anyone that shows up to a participating eatery in costume. It's been running the Halloween deal as comps were soaring, so why wouldn't it try something similar in these more desperate times?
Yes, these are desperate times. Chipotle has rattled off five consecutive months of double-digit percentage declines in year-over-year comps. It's in an odd situation that forces it to be creative in order to drum up traffic. The former cult fave didn't have to do much to get folks to snake through its burrito assembly lines until late last year when a series of unfortunate food-borne illnesses gutted the brand's appeal. It's a different world these days. I drove past a Chipotle billboard yesterday. I don't recall ever seeing one before. The chain that at one time defined the fast casual dining movement now needs to restore its reputation, and it's going to do so one targeted promotion at a time.
It won't always be that way. If comps turn positive in the coming months it probably won't need Guac Hunter games or soccer promos. The Halloween costume promotions will be the one tradition that continues, but by then the stock will hopefully be more treat than trick.
The article Chipotle's New Goal Is Nothing but Net originally appeared on Fool.com.
Rick Munarriz has no position in any stocks mentioned. The Motley Fool owns shares of and recommends Chipotle Mexican Grill. Try any of our Foolish newsletter services free for 30 days. We Fools may not all hold the same opinions, but we all believe that considering a diverse range of insights makes us better investors. The Motley Fool has a disclosure policy.
Copyright 1995 - 2016 The Motley Fool, LLC. All rights reserved. The Motley Fool has a disclosure policy.