Chipotle's Loyalty Program (Chiptopia) Starts July 1: What You Need to Know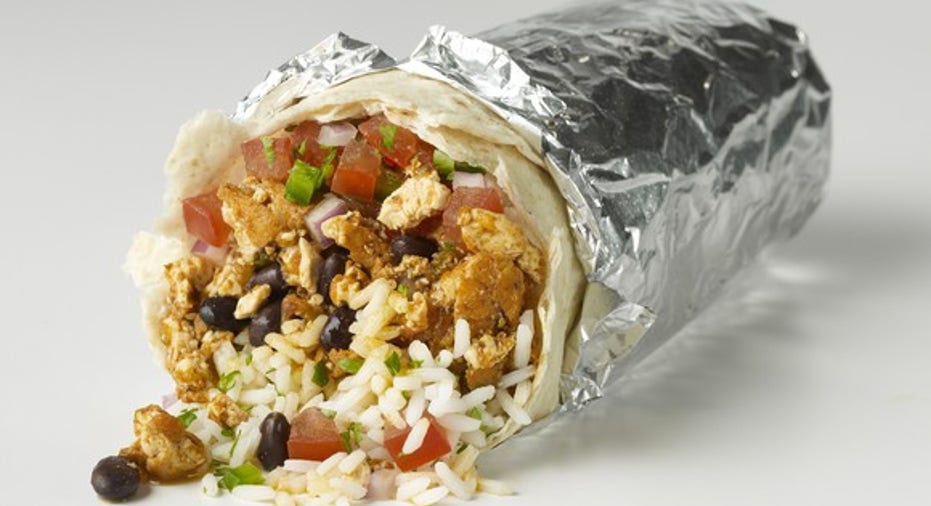 Chipotle plans to reward frequent visitors with free entrees. Image source: Chipotle.
For a long time, Chipotle did not need a loyalty program because its customers were loyal without one.
That changed this year as the chain suffered a 23.4% drop in revenue and a nearly 30% dip in same-store sales in Q1, largely due to the food safety problems the company faced earlier this year. Now, in a blatant attempt to bring people back to its restaurants, Chipotle will soon offer its Chiptopia Summer Rewards, a limited-time loyalty rewards program that gives people free food for making multiple visits in a month.
The three-month promotion begins July 1 and runs through Sept. 30.
What is Chipotle doing?
Unlike Starbucks , which uses its loyalty/rewards program to drive certain behavior -- like giving people bonuses for eating or drinking at certain times of the day -- Chipotle's limited-time offer is simply about getting people back in its stores. In addition, while Starbucks lets consumers earn "stars" (its rewards points) and build them up over time, the Mexican chain's promotion resets each month.
Like the coffee company's offer, Chipotle's has a lot of rules and may not be all that easy for some people to follow. But, at its core, the program gives consumers free entreesafter their fourth, eighth, and 11th visits each month when they spend at least $6 before tax in each visit. Only one visit per day counts and buying multiple meals in the same day does not help members earn more rewards.
It breaks down to the following steps:
Pick up a Chiptopia card in any of the chain's locations starting July 1.
Get a free guacamole and chips on the day of your first qualifying purchase.
Upon buying your fourth $6 meal, you achieve "mild" status and earn a free entree. Get to eight and gain "medium" status (and redeeming your free entree counts) and you get another one, then a third after your 11th $6 visit, or "hot" status (and the second free one counts, too, if you redeem it).
Rewards expire 30 days after they are earned.
All totals and status reset at the end of each month.
While it seems a little confusing, it's actually a pretty straightforward program where eating at Chipotle once a week would be enough to earn a free burrito or other entree every month during the promotion. Maxing it out in order to get three freebies would require visiting a little over every third day, but two of those visits would include a free entree, which as noted above does count toward the total.
"We created Chiptopia to reward our most loyal customers who continue to support our efforts to cultivate a better world," said Chipotle Chief Creative Officer Mark Crumpacker in a press release. "While Chiptopia Summer Rewards lasts just three months, we will be carefully listening to our customers and using what we learn as we consider the design of an ongoing rewards program."
The company also has special offers for customers who reach the same status level each of the three months of the promotion. Reaching mild status for all three earns one additional free entre. Hit medium for each of the three months and a Chiptopia member gets $20 in Chipotle merchandise at the chain's web store, while hitting hot status three months in a row earns catering for 20 (a $240 value).
Will this bring Chipotle's customers back?
Chipotle will eventually recover from its food safety issues not because it's giving food away but because it has stepped up its efforts to operate safely. At some point people will remember that they love the chain's food and that it is actually more natural than what many of its fast-food rivals sell.
A rewards program may hasten that recovery, but even if it does not, it may earn the chain some extra visits from the portion of is customers who never stopped visiting. Chipotle has a long road back -- maybe longer than it first expected -- and rewarding its loyal customers, while luring some lapsed customers back should make the process move faster.
The article Chipotle's Loyalty Program (Chiptopia) Starts July 1: What You Need to Know originally appeared on Fool.com.
Daniel Kline has no position in any stocks mentioned. He is really looking forward to trying the new chorizo at Chipotle. The Motley Fool owns shares of and recommends Chipotle Mexican Grill and Starbucks. Try any of our Foolish newsletter services free for 30 days. We Fools may not all hold the same opinions, but we all believe that considering a diverse range of insights makes us better investors. The Motley Fool has a disclosure policy.
Copyright 1995 - 2016 The Motley Fool, LLC. All rights reserved. The Motley Fool has a disclosure policy.