Chipotle's Cruel Rise and Bitter Fall of ShopHouse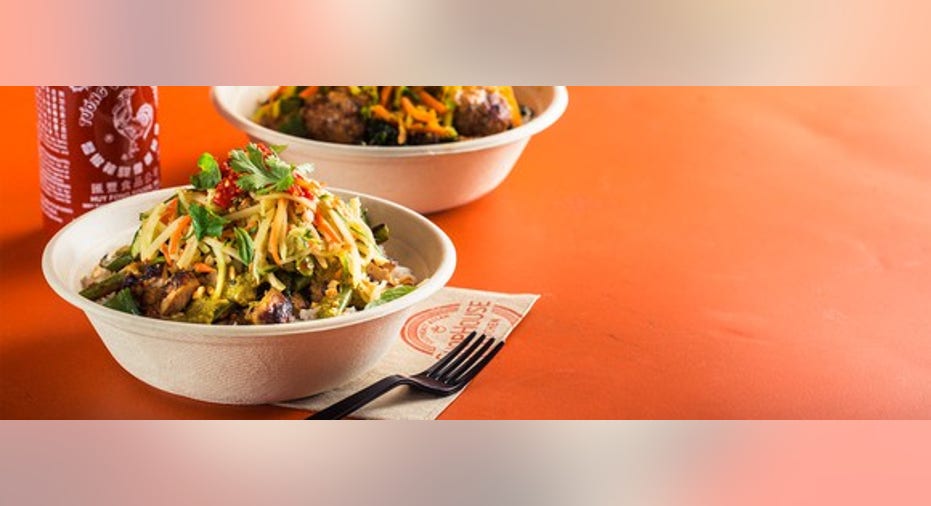 We're getting to the end of the line -- a food assembly line, if you will -- forChipotle Mexican Grill's(NYSE: CMG)ShopHouse Kitchen. Nation's Restaurant News is reporting that the leases for all 15 locations of the Southeast Asia-inspired concept have been sold, and that every unit will close effective March 17.
The closures aren't a shock anymore. The real stunner came in late October when Chipotle announced that it would be unloading ShopHouse. It took a one-time pre-tax hit of $14.5 million during last year's third quarter to write off the now-impaired assets, but the chain's vow to seek out "strategic alternatives" opened the door for either a sale or possibly even a spinoff opportunity. Neither scenario is going to play out. All of the restaurants will be closing next week.
Image source: ShopHouse Kitchen.
Satay it ain't so
The potential seemed strong in 2011 when ShopHouse opened its first location in Washington D.C.'s Dupont Circle. I was there a few days after the grand opening, tantalized by the bold ethnic flavors and the bustling scene. It was the same proven Chipotle assembly line and "Food with integrity" approach with a new culinary spin.
Chipotle would go on to open 14 more locations, expanding outside of D.C. to hit the metropolitan hotbeds of Los Angeles and Chicago. Six years and a presence in three major markets should be enough to determine if a concept is worth pursuing, and clearly it wasn't working for the burrito baron.
"Even though the food was delicious, the chain failed to attract the same level of customer loyalty and repeat visits that Chipotle did," then co-CEO Monty Moran said during Chipotle's third quarter call in announcing that ShopHouse wasn't in Chipotle's future plans.
It's not easy to curry favor
Image source: ShopHouse.
With the days now numbered for ShopHouse, it's probably worth exploring how unsuccessful Chipotle has been outside of its namesake concept. ShopHouse was Chipotle's first stab at creating a sister concept, but it hasn't been the last.
It would go on to buy into Pizzeria Locale, making a play for the booming niche of quick-baked gourmet pizzas. Last year, it opened its first Tasty Made burger joint. There may be more mainstream appeal for pizza and burgers than Asian rice or noodle bowls, but neither of the two surviving concepts should make Chipotle investors feel as if there's a back-up plan if the turnaround plan at its burrito chain falls short.
Pizzeria Locale has expanded to just half as many locations as ShopHouse. It's fading in the rearview mirror as rivals including MOD, Pieology, and Blaze now have more than 100 locations apiece across the country. Tasty Made opened its test location in Ohio last year. It's too soon to determine if the concept has legs, but the first wave of reviewshas been mixed at best.
For better or worse, Chipotle is going to have to keep riding its namesake concept. It has all of its eggs in the same basket, so it better not fumble the burrito chain's turnaround.
10 stocks we like better than Chipotle Mexican GrillWhen investing geniuses David and Tom Gardner have a stock tip, it can pay to listen. After all, the newsletter they have run for over a decade, Motley Fool Stock Advisor, has tripled the market.*
David and Tom just revealed what they believe are the 10 best stocks for investors to buy right now... and Chipotle Mexican Grill wasn't one of them! That's right -- they think these 10 stocks are even better buys.
Click here to learn about these picks!
*Stock Advisor returns as of February 6, 2017
Rick Munarriz has no position in any stocks mentioned. The Motley Fool owns shares of and recommends Chipotle Mexican Grill. The Motley Fool has a disclosure policy.