Chipotle's Comeback Could Be Led by Technology, Not Food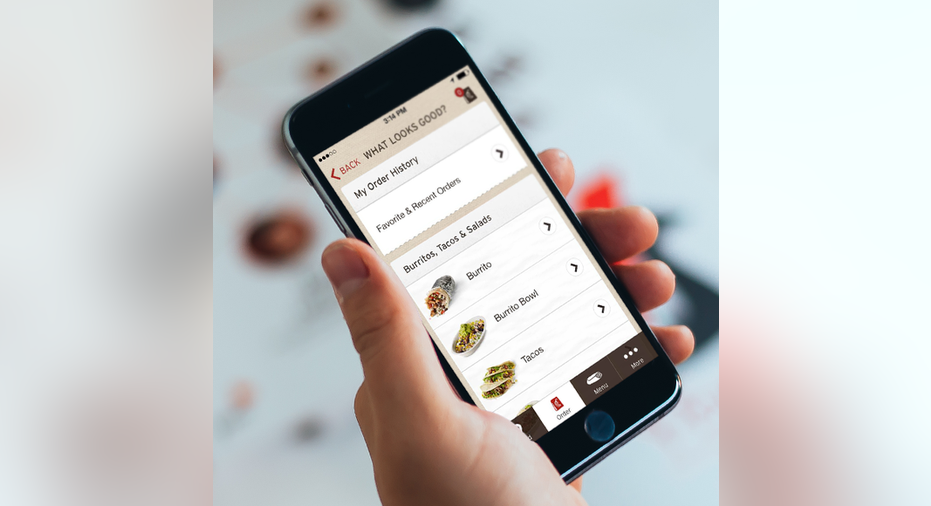 Chipotle Mexican Grill(NYSE: CMG) looks to be in recovery mode after a very rough year and a half. Things seem to be turning around, with traffic and sales picking back up as Chipotle continues to drive the message that its food is "as real as it gets." One area that could help to amplify its growth is if Chipotle's new digital strategy really starts to take off this year.
Chipotle's comeback starts to gain steam
Chipotle posted a strong start to 2017, with Q1 same-store sales up around 18% year over year. Of course, that's compared to a Q1 2016 report that saw comps down nearly 30% from the prior-year period, after E. coli drove away customers. Still,the renewed growth is encouraging. Other highlights from the recent quarter's results were the increased average customer spend and an operating margin more than double what it was a year ago -- though still well below its all-time high.
Chipotle management says it's working to overcome operational problems, including those that existed before the E. coli issues, and recently hired industry executive Scott Boatwrightto help out as its chief restaurant officer. At around $492, Chipotle stock is now up around 30% in 2017, but it's still well off its high of around $750 in 2015.
From Chipotle's new "as real as it gets" TV advertising campaign. Image source: Chipotle Mexican Grill.
The power of prioritizing digital
Some of what Chipotle is doing comes from Starbucks' (NASDAQ: SBUX) playbook. The coffee company was a trailblazer in creating a digital and mobile strategy that has truly transformed the customer experience and added to Starbucks' bottom line. Its app, which features a mobile wallet-style system of stored preferences and the ability to order ahead to pick up your drink without waiting in line, now has more than 13 million active users, and the company has pointed to its digital growth many times as a boost to its comparable-store sales and margin growth. Mobile payments now make up one-quarter of all Starbucks transactions.
Other companies have followed suit with great success, including PaneraBread (NASDAQ: PNRA), which has focused on improving the customer experience, including via shorter wait times. Panera 2.0 was largely successful because of the company's focus on its digital strategy and Chipotle looks to be doing the same thing.
Image source: Chipotle.
Chipotle's tech opportunity
Even if it comes a little late compared with others in the restaurant space, Chipotle sees the opportunity in focusing more efforts on its digital strategy and recent successes in that strategy are encouraging. Management said it has revamped parts of its mobile ordering process, which reduced wait times by half compared with its legacy ordering system, and has made upgrades to make its app more user-friendly.
Chipotle CEO Steve Ells said in the fourth-quarter earnings call in February that management planned to start pushing digital sales more aggressively going forward. During the first quarter, digital sales were up nearly 54% year over year. Ells said in the Q1 earnings call that digital orders are fulfilled in a second, dedicated line in the back of each store. "We're excited about the incredible potential of digital ordering and confident in our teams' ability to fulfill these digital orders," he said.
Chipotle still faces challenges. For one thing, the mobile order and pickup process can still be clunky, as my colleague Adam Levine-Weinberg reported from firsthand experience, and that may need to be solved in the same way it was at Panera -- with revamped designs of older stores to create better mobile-pickup flow. In addition, Chipotle still doesn't have a true loyalty program, something that's helped Starbucks' and Panera's programs grow. Chipotle started one last summer, but it was temporary and hasn't been back since it ended in September.
For the rest of 2017, you can probably expect Chipotle management to continue focusing on the digital strategy and increasing those sales. If it's successful in working out the kinks, continued digital sales growth could go a long way in helping the restaurant chain to increase comparable-store sales and margins further -- and continue the company's rebound.
10 stocks we like better than Chipotle Mexican GrillWhen investing geniuses David and Tom Gardner have a stock tip, it can pay to listen. After all, the newsletter they have run for over a decade, Motley Fool Stock Advisor, has tripled the market.*
David and Tom just revealed what they believe are the 10 best stocks for investors to buy right now... and Chipotle Mexican Grill wasn't one of them! That's right -- they think these 10 stocks are even better buys.
Click here to learn about these picks!
*Stock Advisor returns as of April 3, 2017
Seth McNew has no position in any stocks mentioned. The Motley Fool owns shares of and recommends Chipotle Mexican Grill and Starbucks. The Motley Fool owns shares of Panera Bread. The Motley Fool has a disclosure policy.