Chipotle Stock Is Turning Things Around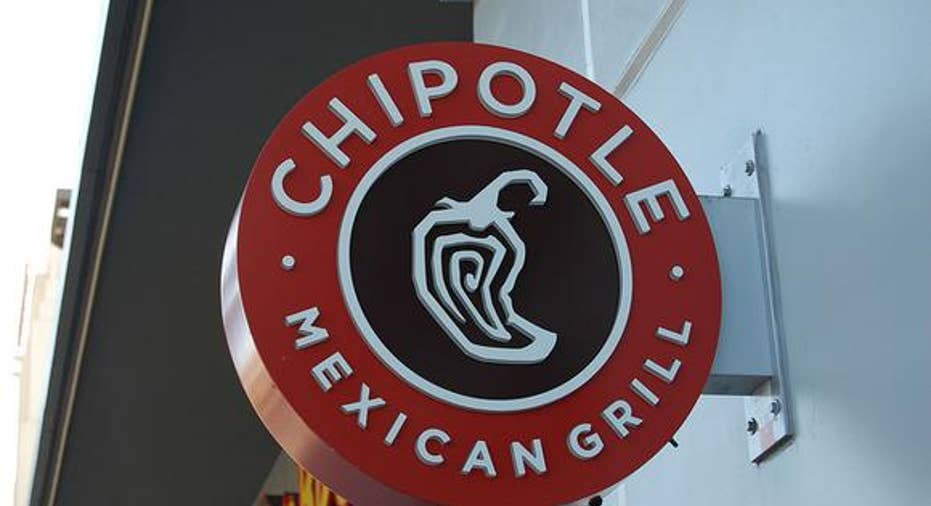 Patience is a virtue, but it may not be necessary to see the turnaround atChipotle Mexican Grillplay out. J.P. Morgan analyst John Ivanko upgraded shares of the struggling burrito roller on Thursday, going from neutral to overweight. He is also increasing his price target from $465 to $510.
The revised price goal suggests just 15% of upside from here based on yesterday's close, but it's a welcome sight for shareholders after a string of gloomy analyst notes through the month of March.
Wedbush Securities, Jefferies, and Maxim Group all downgraded Chipotle stock last month, following the chain's uninspiring financial update where it revealed comps were still trending sharply lower through the first half of last month.
Wedbush analyst Nick Setyan justified his downgrade by pointing out that sales are unlikely to recover until 2018, at the earliest. J.P. Morgan's Ivanko doesn't necessarily disagree with that point. However, there's also the real possibility that comps will at least turn positive later this year, getting back to levels that it used to be at before the recent slide several quarters later.
Comps turned negative in November as reports of E. coli and norovirus outbreaks at Chipotle made waves. We've now gone through five consecutive quarters of double-digit percentage declines in year-over-year comparable-restaurant sales. That will make it a lot easier for comps to start turning positive by November, if not December, this year once we're comparing the chain's performance to where it was a year earlier when Chipotle had the culinary cooties. It may take until 2018 for sales to hit their pre-food crisis level, but the start of the recovery should happen well before then.
There were several regional incidents that forced consumers to rethink the risks involved in satisfying a Chipotle craving, but 2016 has been pretty incident-free. The chain put some measures in motion to safeguard itself, and even the Centers for Disease Control and Prevention suspended its probe two months ago.
The recent past isn't pretty, and when Chipotle reports quarterly results in two weeks -- on April 26 -- it will be it's first quarterly loss. That isn't merely Wall Street's opinion. Chipotle confirmed that it would be posting a sharp deficit several weeks ago. The challenge will be to return to profitability for the quarter that began earlier this month. Narrowing comp declines to the single digits would also be a good first step to starting its turnaround later this year.
Most analysts aren't convinced that Chipotle stock is a good investment here. The fall from grace and the lofty valuation before the stumble complicate the analysis. However, I can't be the only one to have noticed that Chipotle lines are starting to get back to their previous frenzied state. Customers haven't forgotten, but they are starting to forgive. If the hungry have come around, it won't be long before other analysts follow suit and join Ivanko in the bullish camp.
The article Chipotle Stock Is Turning Things Around originally appeared on Fool.com.
Rick Munarriz has no position in any stocks mentioned. The Motley Fool owns shares of and recommends Chipotle Mexican Grill. Try any of our Foolish newsletter services free for 30 days. We Fools may not all hold the same opinions, but we all believe that considering a diverse range of insights makes us better investors. The Motley Fool has a disclosure policy.
Copyright 1995 - 2016 The Motley Fool, LLC. All rights reserved. The Motley Fool has a disclosure policy.